A Whole Lotta Love by Louise Lee – Book Review
A Whole Lotta Love by Louise Lee – Book Review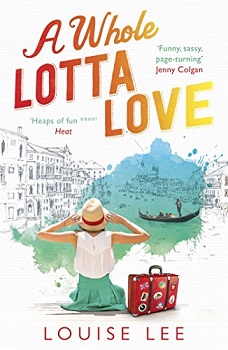 A Whole Lotta Love
Florence Love Book Three
Author – Louise Lee
Publisher – Headline
Pages – 320
Released – 28th June 2018
ISBN-13 – 978-1472224613
Format – ebook, paperback
Reviewer – Stacey
Rating – 4 Stars
I received a free copy of this book
Post contains affiliate links.
Florence Love became a Private Investigator for all the right reasons. She's extraordinarily nosy, it sounds cool on paper and she needed to find her missing mum.
Now she knows Bambi Love is hiding out in Italy – in a cloud of secrets and Chanel No. 5.
Every family has its skeletons, but Flo's lot are a particularly special case. And how is she supposed to get over her heart-stealing ex, who holds all the answers but refuses point-blank to ever see her again?
It's going to take a whole lot of love, sweat and tears to uncover the astonishing truth.

PI Florence Love is back in the third and final instalment of the 'Florence Love' series by Louise Lee. Florence is still on a personal case, her very first one and the only one she has never been able to solve. Just what did happen to her mum all those years ago and why did she leave her husband and two young children in suspicious circumstances.
If you have never read the first two in the series, A Girl Called Love (Previously called The Last Honeytrap) and In the Name of Love, I suggest you do so before reading this one, as this book won't make much sense to you unless you do.
I've been waiting for this book to be released since I finished book two in March 2017. Because of the fifteen month break between the two books I did find myself struggling a little bit to remember everything that had gone on and how the events in the previous books fitted in with this one. However, eventually, everything came flooding back.
If I'm being completely honest this book wasn't really on par with the other two in terms of Florence and Michael's character development and the plot jumped around a little bit too much time-wise for my liking. We do get to finally find out what happened to Bambi (Florence's mum) and that was worth the wait.
I was completely absorbed by Florence's new case involving teenager James and him trying to find out if his Grandmother's new boyfriend was trying to steal her antiques. It was refreshing to see the old Florence again and spend time with her and Micheal working together on a great case.
If you have read the other two books in the series then this is a must, or if you are looking for a series to sink your teeth into then this is would be a great choice as it is completely enjoyable, witty and often hilarious read.
Reviewed by Stacey
---
Purchase online from:
---
About the Author

Louise Lee was once a Geography teacher. When oxbow lakes no longer floated her boat, she took the next, natural step in her career progression and became a Private Investigator. Memorable cases include a high-functioning bigamist with three wives and six children, who was set to marry a fourth; and losing a target because George Clooney started chatting her up in a bar.
Louise undertook an MA in Creative Writing at Birkbeck, and has had work commissioned by BBC Radio Four. The Florence Love series follows the life of an irreverent, thoroughly 'modern' PI who specialises in entrapment, and Louise would love to hear from fellow Florences.
If Louise's mum is reading this, the books are in no way based on her true experiences. Honest.





---