Smoke and Ashes by Abir Mukherjee – Book Review
Smoke and Ashes by Abir Mukherjee – Book Review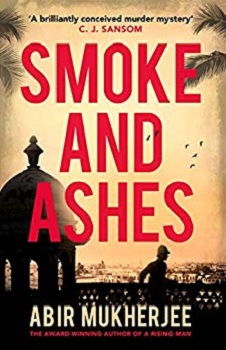 Smoke and Ashes
Sam Wyndham Book Three
Author – Abir Mukherjee
Publisher – Harvill Secker
Pages – 352
Released – 7th June 2018
ISBN-13 – 978-1911215141
Format – ebook, paperback, hardcover, audio
Review by – Linda
Rating – 4.5 Stars
I received a free copy of this book.
This post contains affiliate links.
India, 1921. Captain Sam Wyndham is battling a serious addiction to opium that he must keep secret from his superiors in the Calcutta police force.
But Wyndham finds himself in a tight spot when he stumbles across a corpse in an opium den. When he then comes across a second body bearing the same injuries, Wyndham is convinced that there's a deranged killer on the loose.
However, revealing his presence in the opium den could cost him his career.
As Wyndham and Sergeant 'Surrender-not' Banerjee set out to solve the two murders, Wyndham must tread carefully, keeping his personal demons secret, before someone else turns up dead…
"It's not unusual to find a corpse in a funeral parlour it's just rare for them to walk in the door under their own steam. It was a riddle worth savouring , but I didn't have the time, seeing as I was running for my life" ……….
These are the opening lines of Smoke and Ashes by Abir Mukherjee, who could not resist reading more! I certainly was captured and drawn in straight away.
This book is set in Calcutta in December 1921, written in the first person of Captain Sam Wyndham who is working for The Imperial Police Force. Abir Mukherjee's description of the time and place is so detailed I was instantly transported into another world of sights and smells. Captain Sam Wyndham describes that he's far from perfect but is determined to solve the murders going above and beyond to get justice. The other main character is Sam's sergeant Surrender-not Banerjee an Indian working in the Imperial Police Force who had sacrificed his family to work in the force.
The book held my attention from the first line to the last sentence, the author describes the country and settings in great detail that it's not hard to imagine Calcutta in 1921 a time in the history of changes when the Indians were peacefully protesting about British rule. A different and intriguing plot, excellent descriptive use of language and great knowledge of life and times in 1921 particularly of the military role as well as the Imperial Police force.
I certainly enjoyed all the twist and turns this book had to offer, the characters and ways of Captain Sam his use of opium, the opium dens and Surrender-not the sergeant a good man who was always trying to keep Sam on the straight and narrow did make me compare them to Sherlock Holmes and Doctor Watson!
I will definitely be recommending reading Smoke and Ashes by Abir Mukherjee to my friends and family. It is an excellent murder mystery and I look forward to more from this author.
Book Reviewer – Linda
---
Purchase online from:
---
About the Author

Abir Mukherjee grew up in the west of Scotland. At the age of fifteen, his best friend made him read Gorky Park and he's been a fan of crime fiction ever since. The child of immigrants from India, A Rising Man, his debut novel, was inspired by a desire to learn more about a crucial period in Anglo-Indian history that seems to have been almost forgotten.
A Rising Man won the Harvill Secker/Daily Telegraph crime writing competition and became the first in a series starring Captain Sam Wyndham and 'Surrender-not' Banerjee. It went on to win the CWA Historical Dagger and was shortlisted for the Theakstons Old Peculier Crime Novel of the Year award. Abir lives in London with his wife and two sons.




---
What did you think of the book? Share your thoughts in the comment section below!
---
The above links are affiliate links. I receive a very small percentage from each item you purchase via these link, which is at no extra cost to you. If you are thinking about purchasing the book, please think about using one of the links. All money received goes back into the blog and helps to keep it running. Thank you.
Like us on Facebook – Tweet us on Twitter – Pin us on Pinterest