Last Request by Liz Mistry – Book Review
Last Request by Liz Mistry – Book Review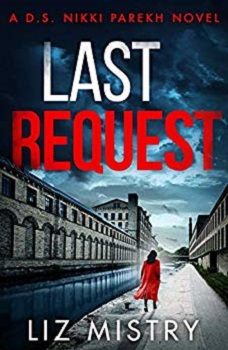 Last Request
Author – Liz Mistry
Publisher – HQ Digital
Pages – 352
Released – 16th October 2019
ISBN-13 – 978-0008358358
Format – ebook, paperback, audio
Review by – Stacey
Rating – 4 Stars
I received a free copy of this book.
This post contains affiliate links.
'You only have one shot at this. Your message to someone you love. What is your last request?'
When human remains are discovered under Bradford's derelict Odeon car park, DS Nikita Parekh and her team are immediately called to the scene.
Distracted by keeping her young nephew out of trouble, Nikki is relieved when the investigation is transferred to the Cold Case Unit, and she can finally focus on her family.
But after the identity of the victim is revealed, she's soon drawn back into the case. The dead man is a direct link to her painful past.
As the body count begins to rise, Nikki must do everything she can to stop the killer in their tracks before anyone else gets hurt – even if it means digging up secrets she had long kept hidden…
Author Liz Mistry might be an accomplished crime writer but this is the first book of hers I have read, I am now wondering why I haven't picked up her work beforehand.
Last Request is the first in a new series featuring DS Nikita Parekh (Nikki). She has a tough job as well as trying to raise two children alone and look after her extended family, especially her easily lead nephew, plus an increasing list of bills to pay and not enough money to go around.
The book opens with the death of a woman from Aids in 1983 after she was infected by someone who has infected numerous other males and females and is currently in court. The woman's child is there looking after her and before she takes her last breath the woman wants her child to remember to do something for her.
The opening scene had me hooked and I couldn't wait to jump straight into the story which had moved to the present day. Nikki has been called to a derelict car park that belonged to the local cinema in Bradford. Whilst building works were being carried out skeletal remains were found. The remains are over ten-years-old so the case is passed onto the cold case' department, unfortunately, that isn't the last Nikki will have to do with the remains as her past comes crashing into the present and secrets start unravelling.
Nikki knows that she has a killer to find but can she before many more get killed?
As I said the prologue had me hooked and I flew through the book eager to know more. I always love a crime thriller when we get to hear snippets from the killer, it helps to try to put the pieces of the puzzle together and work out the suspect before the book reveals the answer. 🙂
There are quite a lot of characters to get to know and remember and at times I did have to look back through the book to familiarise myself with some of them again. It is a great start to the series as we get to not only discover Nikki the detective but also the private Nikki too, a woman who has plenty of good points and plenty of flaws, so she was perfectly realistic.
If this book is anything to go by this is going to be an amazing series and one to watch out for.
Book Reviewer – Stacey
---
Purchase online from:
---
About the Author

Born in Scotland, Made in Bradford sums up Liz Mistry's life. Over thirty years ago she moved from a small village in West Lothian to Yorkshire to get her teaching degree. Once here, Liz fell in love with three things; curries, the rich cultural diversity of the city … and her Indian husband (not necessarily in this order).
Now thirty years, three children, two cats (Winky and Scumpy) and a huge extended family later, Liz uses her experiences of living and working in the inner city to flavour her writing. Her gritty crime fiction police procedural novels set in Bradford embrace the city she describes as 'Warm, Rich and Fearless' whilst exploring the darkness that lurks beneath.
Struggling with severe clinical depression and anxiety for a large number of years, Liz often includes mental health themes in her writing. She credits the MA in Creative Writing she took at Leeds Trinity University with helping her find a way of using her writing to navigate her ongoing mental health struggles. Being a debut novelist in her fifties was something Liz had only dreamed of and she counts herself lucky, whilst pinching herself regularly to make sure it's all real.
One of the nicest things about being a published author is chatting with and responding to readers' feedback and Liz regularly does events at local libraries, universities, literature festivals and open mics. She also teaches creative writing too. Now, having nearly completed a PhD in Creative Writing focusing on 'the absence of the teen voice in adult crime fiction' and 'why expansive narratives matter', Liz is chock full of ideas to continue writing.
In her spare time, Liz loves pub quizzes (although she admits to being rubbish at them), dancing (she does a mean jig to Proud Mary – her opinion, not ratified by her family), visiting the varied Yorkshire landscape, with Robin Hoods Bay being one of her favourite coastal destinations, listening to music, reading and blogging about all things crime fiction on her blog, The Crime Warp.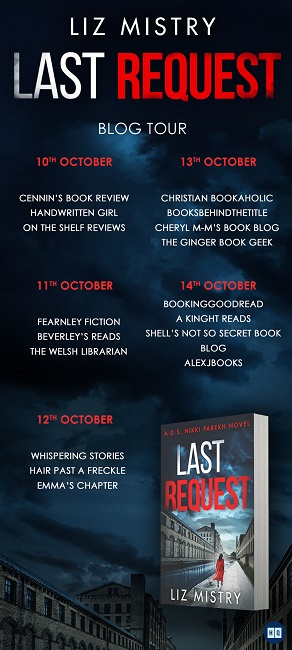 ---
What did you think of Last Request? Share your thoughts in the comment section below!
---
The above links are affiliate links. I receive a very small percentage from each item you purchase via these link, which is at no extra cost to you. If you are thinking about purchasing the book, please think about using one of the links. All money received goes back into the blog and helps to keep it running. Thank you.
Like us on Facebook – Tweet us on Twitter – Pin us on Pinterest