Revenge by Henry Scott – Book Review
Revenge by Henry Scott – Book Review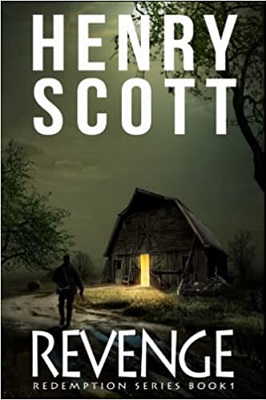 Revenge
Redemption Series Book One
Author – Henry Scott
Publisher – Pretty Lake Publishing
Pages – 219
Released – 20th October 2021
ISBN-13 – 978-1956781014
Format – ebook, paperback, hardcover
Rating – 4 Stars
I received a free copy of this book.
This post contains affiliate links.


Synopsis
Jake Bryant, a disgraced Chicago PD detective, rushes home after he learns of his best friend's murder. Desperate to redeem himself in the eyes of the woman he loves – the widow of his murdered best friend – he makes it his mission to catch the killer even if that means inserting himself into a police investigation where he's far from welcome.
But when the murderer is identified and slips through the fingers of the court system, Jake is faced with the ultimate moral dilemma. Does he let the man get away with the crime or exact his own kind of vigilante justice?
When someone murders Tom Morgan, his friend, former Chicago police detective Jake Bryant is eager to join the investigation. But Detective Noles, who has the case, doesn't want Jake's help. There are few clues; the crime looks like road rage that escalated to murder. Despite the odds, Jake does manage to identify the shooter, but Noles doesn't have enough evidence to arrest him. Will Jake be able to find the evidence he needs, or will he become judge, jury, and executioner?
Revenge is a book with many characters and a lot of moving parts. It's an engrossing tale, although there's a bit more blood and guts than some people may care for. Jake must deal with some dodgy people on his quest for justice, and Jake himself reveals more flaws than your typical hero. Regardless, the story is solid enough to hold the reader's interest. It's not a mystery; the killer is revealed early on and even Jake soon learns who he is. Instead, the main storyline revolves around Jake trying to determine what justice for Tom will look like. There are a few subplots thrown in as well.
My main difficulty with the book is that it leaves several loose ends hanging. For instance, as Tom Morgan is dying, one of his last thoughts is the hope Jake will discover and investigate some video evidence he's hidden. We never hear about that evidence—or its significance—again. Similarly, after an initial dustup with Noles, Jake appears to reach an understanding with the detective. But then Noles disappears from the book. Other characters are introduced only to vanish into limbo as well. All this makes a bit more sense when you consider that Revenge is the first book in a five-book series and, hopefully, the subsequent books may tie the loose ends together.
Still, Revenge is a decent read. It's not necessarily for those who like their murders neat and clean, yet it isn't a complete gorefest either. If you like thrillers, you should like Revenge. But you may need to read four more books for everything to totally make sense.
Purchase Online From:
---
What did you think of 'Revenge'? Share your thoughts in the comment section below!
---
The above links are affiliate links. I receive a very small percentage from each item you purchase via these links, which is at no extra cost to you. If you are thinking about purchasing the book, please think about using one of the links. All money received goes back into the blog and helps to keep it running. Thank you.
Like us on Facebook – Tweet us on Twitter – Pin us on Pinterest – Join us on Instagram