Out of the London Mist by Lyssa Medana – Book Review
Out of the London Mist by Lyssa Medana – Book Review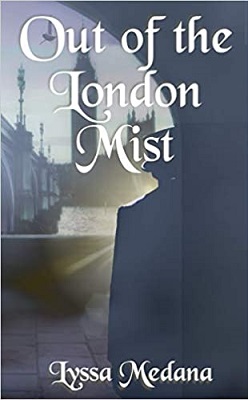 Out of the London Mist
Author – Lyssa Medana
Publisher – Three Furies Press
Pages – 178
Released – 23rd July 2020
ISBN-13 – 978-1950722440
Format – ebook, paperback
Review by – Tina
Rating – 3.5 Stars
I received a free copy of this book.
This post contains affiliate links.


When news of his brother's murder reached him, aether pilot John Farnley raced back to his old family home.
While he comforts his bereaved sister-in-law, and tries to sort the family business and holdings, he also wonders why his brother, Lord Nicholas Farnley, had ventured into the cramped streets of the East End of London where he had met his violent end. The slums are a deadly place where life was cheap and murderous thugs preyed on the weak and lost.
Now, in the midst of a thick, London fog, something even more monstrous is waiting in the mist-shrouded shadows. Something that has been brought to life by the refugees crowding Bethnal Green and Mile End. Something his brother might have had a hand in creating.
Aided by his friend, the resourceful Miss Sylvia Armley, his own understanding of the aether lines that flow above London, and guided by the erudite advice of Professor Entwistle, John is forced to find his way through the darkest part of London to avenge his brother and stop whatever aether powered monster is lurking there.

The story follows John, a newly appointed Lord in late 18th-century England, as he attempts to uncover who murdered his brother and why. Joined by his friend Sylvia, he works to unearth the mystery, comfort his sister-in-law, and traverse a thick fog that is pervading the streets.
The story is a lot of fun. For those who enjoy this time period, there's a glimpse into the life of both the upper and lower class, as well as a touch of the supernatural. The novel is easy to read as the prose is concise. There didn't appear to be any anachronisms regarding the time period, which I appreciated.
Yet, there are things that needed more detail. The characters' actions make sense and I liked them, but there could have been a lot more exposition to flesh them out. We're given a good reason for most of what happens in the novel, but the book denies us more extrapolation into the most interesting facets of the characters' backstories. For example, how did John and Sylvia meet? Why is Sylvia such an unorthodox woman? Did Clara really love Nicolas, or was it a marriage of convenience?
Tied to this, the world-building is lacking. I wasn't sure while reading whether this was set in the actual fin de siècle or some alternate steampunk reality – the blurb prepares for this but we're not given any sort of grounding in this regard. There are these "aether" stones that seem connected to electromagnetic fields (as far as I can tell). Unfortunately, we're not given a lot of detail into this aspect of the world. It's explained that not a lot is known about these stones, but it was distracting not to know the intent of the setting. The focus on the real historical discrimination that occurred in London during this time was well-done but was downplayed by the steampunk/paranormal aspects of the story.
Yes, despite these issues, I did enjoy it very much. The mystery was compelling, Clara's reaction to Sylvia is fun, and the story moves at a quick pace. It's a period piece with quirks that will entertain those who love the era.
Book Reviewer – Tina
---
Purchase online from:
---
About the Author
There isn't much to say about me. I'm a wife and mother living in Yorkshire, UK. I love telling stories and I feel privileged to be able to share them. I feel blessed that you have stopped by and I hope you enjoy reading the stories.
I also share my thoughts on books I have read and I love sharing wonderful stories from other authors and sharing glimpses into their journeys. I am always honest, but I also try to be kind.



---
What did you think of Out of the London Mist? Share your thoughts in the comment section below!
---
The above links are affiliate links. I receive a very small percentage from each item you purchase via these link, which is at no extra cost to you. If you are thinking about purchasing the book, please think about using one of the links. All money received goes back into the blog and helps to keep it running. Thank you.
Like us on Facebook – Tweet us on Twitter – Pin us on Pinterest