The House Witch by Arin Murphy-Hiscock – Book Review
The House Witch by Arin Murphy-Hiscock – Book Review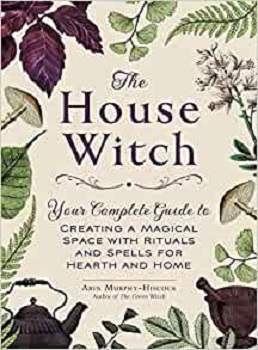 The House Witch
Author – Arin Murphy-Hiscock
Publisher – Adams Media
Pages – 256
Released – 13th December 2018
ISBN-13 – 978-1507209462
Format – ebook, hardcover, audio
Review by – Stacey
Rating – 3 Stars
This post contains affiliate links.


Everything you need to know to create your very own "sacred space"—perfect for practicing home-based witchcraft including spells, rituals, herbalism, and more!—from the author of The Green Witch.
Your home is an important part of who you are—it makes sense to tie your practice of witchcraft closely to the place where you build your life. In The House Witch, you'll discover everything you need to live, work, and practice in your own magical space. Follow expert Arin Murphy-Hiscock on a journey to building and fortifying a sacred space in your own home, with essential information on how to:
-Create magical cookbooks of recipes, spells, and charms
-Prepare food that nourishes body and soul
-Perform rituals that protect and purify hearth and home
-Master the secrets of the cauldron and the sacred flame
-Call upon the kitchen gods and goddesses.
-Produce hearth-based arts and crafts.
…and much more!
Learn how easy it is to transform your home into a magical place that enhances your practice and nurtures your spirit!

Have you ever seen a book, whether in a store online, and thought that is the book for me, but then when you purchase it and start reading you realise that you were wrong? Well, that's what happened to me with this book.
Now, first off let me be clear I'm not saying this book is bad, it just isn't a book for me. This is a book for those who are new to Wicca. In case you didn't know Wicca, Witchcraft, and Pagan are not entirely the same.
I'm not going to get fully into the what the differences are, they are easy to find if you Google them, but the main one is that you don't have to follow a spiritual path to consider yourself a Witch, in fact, there are a lot of Atheist Witches out there, for which this book might not be the right choice.
This is a book for those that follow the spiritual path. There is a lot of religious talk, blessings, prayers, shrine building, etc, within the pages. Being an Atheist I had no interest in any of this talk or saying prayers, praying to a higher power. I have no issue with anyone's belief system and I respect everyone no matter what you believe in or worship, it just isn't me. Hence why this book wasn't for me.
The book is split into eleven chapters, and then each chapter is split into sections. From subjects such as 'Your Spiritual Hearth' to 'The Spirituality of Food', this book talks about making your home a sacred space. There are things that the author explains to make your home magical that is not easily achieved for some people who don't have a garden or family who shares their Wicca beliefs.
Overall, if you are new to Wicca and by this I mean following the spiritual path alongside witchcraft then this book would be a useful tool. If you are not spiritually inclined then I would say give this book a miss. Also don't buy this book expecting it to be full of spells, as it is not that type of book.
Book Reviewer – Stacey
---
Purchase online from:
---
About the Author

Currently a resident of Montreal, Canada, Arin works as a freelance writer and editor. She is the author of Power Spellcraft for Life: The Art of Crafting and Casting for Positive Change (2005), Solitary Wicca for Life: A Complete Guide to Mastering the Craft on Your Own (2005), The Way of the Green Witch (2006), The Way of the Hedge Witch (2009), and Pagan Pregnancy: The Journey From Maiden to Mother (TBA). She is also the editor of the anthology Out of the Broom Closet (2009).
Arin is a third-degree Wiccan High Priestess in the Black Forest Clan, a tradition linked both by lineage and practice to several other branches of Wiccan thought and philosophy including the Caledonii Tradition, Druidism, Gardnerian practice, Seax-Wicca, general Celtic Wicca, and German witchcraft. She works as a priestess in her community performing rites of passage and giving occasional workshops, and leads a private coven.
Her hobbies include playing the cello, handspinning, and weaving.

---
What did you think of The House Witch? Share your thoughts in the comment section below!
---
The above links are affiliate links. I receive a very small percentage from each item you purchase via these link, which is at no extra cost to you. If you are thinking about purchasing the book, please think about using one of the links. All money received goes back into the blog and helps to keep it running. Thank you.
Like us on Facebook – Tweet us on Twitter – Pin us on Pinterest