The Blessed Girl by Angela Makholwa – Book Review
The Blessed Girl by Angela Makholwa – Book Review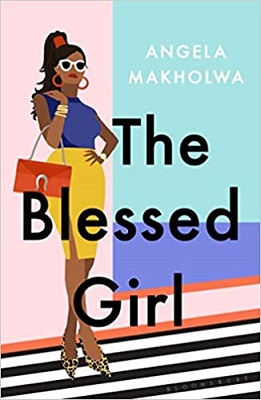 The Blessed Girl
Author – Angela Makholwa
Publisher – Bloomsbury Publishing
Pages – 304
Released – 13th June 2019
ISBN-13 – 978-1526608673
Format – ebook, paperback, hardcover, audio
Review by – Stacey
Rating – 4 Stars
I received a free copy of this book.
This post contains affiliate links.


Young, beautiful and ambitious, Bontle Tau has Johannesburg wrapped around her finger. Her generous admirers are falling over themselves to pay for her Mercedes, her penthouse, and her Instagrammable holidays. It's her duty to look fabulous – after all, people didn't sacrifice their lives in the freedom struggle for black women to wear the same cheap T-shirts they wore during apartheid.
Bontle's come a long way, and it hasn't been easy. Her shrink keeps wanted to talk about a past she's put firmly behind her. And what she doesn't think about can't hurt her, can it?

Bontle Tau has the beauty to turn men's heads and that she does, especially the older, wealthier men in Johannesburg who keep her living a life of luxury. From fast cars to designer gear, Bontle is used to living the kind of life other women in her city can only dream of and not paying for a penny of it – well not in cash!!.
But that is only one side of Bontle. She is also a businesswoman who wants to achieve something on her own and she has a past that still haunts her, though she would never admit it.
The Blessed Girl is a fascinating read. Bontle speaks to her audience as if we are firm friends, though friends that just might judge her decisions or lifestyle. She is cunning, sarcastic, and is always looking for a wealthier man to keep her in the life of luxury she is used to.
From the beginning, you are never quite sure whether Bontle does like the life she is leading or more that she is used to it and doesn't want to lose face by giving up her penthouse suite, convertible, or Louis Vuitton's. As the story progresses you find out more about her back story and how she came to be living the life she is.
The plot was executed well and I enjoyed delving into a storyline I had never read about before as well as the book being set in a place I have never encountered in a novel before.
This is a book I giggle along with. The humour is quite dark and subjective but I loved the way Bontle came across. The chapters are short and snappy which I found kept the book moving at a fast pace throughout. I loves that the Bontle we began our journey with isn't the same Bontle we ended it with.
Book Reviewer – Stacey
---
Purchase online from:
---
About the Author
Angela Makholwa Moabelo is a South African author born and raised in the East Rand township of Tembisa. Angela worked as a journalist, reporting mostly on crime in the 1990's. As a young journalist, Angela was concerned about the scourge of crime in South Africa and focused her energies on covering crime stories in the townships of Johannesburg. In the late 1990's, South Africa's East Rand townships were gripped by a wave of violent rapes and killings of young women. A pattern emerged that led police to believe that a serial killer was behind these crimes. Like many crime reporters, Angela followed this story with interest until the killer was finally arrested and convicted of serial homicide.
Angela has gained critical and popular acclaim for her contribution to African literature and has been nominated for several literary awards. The crime and women's fiction writer has been invited to speak at a number of local and international literary events and is committed to the advancement of literature on the African continent.
She works with a number of South African writers to encourage the love of reading amongst township and rural youth through various initiatives, including Read SA, a non-profit organisation.
She is married with two children and… one husband.



---
What did you think of The Blessed Girl? Share your thoughts in the comment section below!
---
The above links are affiliate links. I receive a very small percentage from each item you purchase via these link, which is at no extra cost to you. If you are thinking about purchasing the book, please think about using one of the links. All money received goes back into the blog and helps to keep it running. Thank you.
Like us on Facebook – Tweet us on Twitter – Pin us on Pinterest