Hermit by S.R. White – Book Review
Hermit by S.R. White – Book Review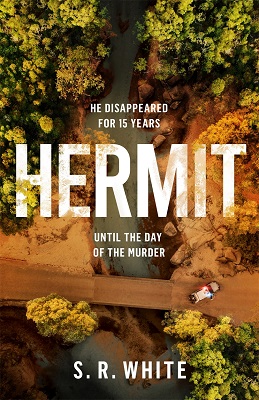 Hermit
Author – S.R. White
Publisher – Headline
Pages – 384
Released – 17th September 2020
ISBN-13 – 978-1472268419
Format – ebook, paperback, hardcover, audio
Review by – Stacey
Rating – 4 Stars
I received a free copy of this book.
This post contains affiliate links.


After a puzzling death in the wild bushlands of Australia, detective Dana Russo has just hours to interrogate the prime suspect – a silent, inscrutable man found at the scene of the crime, who disappeared without trace 15 years earlier.
But where has he been? Why won't he talk? And exactly how dangerous is he? Without conclusive evidence to prove his guilt, Dana faces a desperate race against time to persuade him to speak. But as each interview spirals with fevered intensity, Dana must reckon with her own traumatic past to reveal the shocking truth . . .

In an outback town in Australia, shop owner Lou Cassavette has been stabbed to death. The officers first on the scene believe the man that was found leaning over the body on their arrival is the killer, Nathan Whittler.
Detective Dana Russo has been called in on her day off to handle the case and interview Nathan. They need him to confess to the murder before he asks for a lawyer and their short time to keep him is up. Trouble is Nathan is a hermit who went off the grid 15 years ago. He hasn't touched his bank account in the last 15 years and according to him, he hasn't spoken to anyone in all that time too.
Dana needs to break down the walls Nathan has built around himself and to do that she needs to tread carefully and with calculated questions. But can she get him to open up to her before the time runs out? Is he really the killer or an innocent bystander and why has he been living in solitary for the last 15 years?
Hermit opens with a harrowing scene, not of the killing of Lou Cassavette but with Dana Russo sat at the top of a cliff talking about how easy it would be to 'fall' from the top and not make it look like a suicide, her suicide. Her thoughts are interrupted by a phone call and being called into work on the one day a year she always has off.
The book is quite a slow burn of a novel and whilst there are other characters in the story the main focus of the book is on Dana and Nathan. The two are quite similar in some ways. Both come across socially awkward and neither think they are good enough. Dana has impostor syndrome and feels like she isn't as good at her job as she could be or as good others think she is. There was a trauma in her past that controls her life now. This slowly unravels as the book progresses.
Nathan Whittler is at first a man of few words. He's not used to being around people. He lives somewhere out in the surrounding area where no-one goes. He likes being alone and has had to adapt over the 15 years. His words when they come are thought out first to give as little away as possible whilst still answering Dana's questions.
The plot is certainly different as there is no forensics to work with, no witnesses, no CCTV, not even a murder weapon, or a valid reason for the killing. All they have is one man found at the scene. The book is very interview focused and intense. For Dana to get Nathan to open up slightly to her she has to do so by opening up slightly to him, making for an intriguing drip-fed novel which includes both of their pasts and presents.
Overall, if you like slow-burn thrillers that are not about the murder but more about the person the police believe is the murderer – It is very character-driven. I certainly was held captivated by Dana and Nathan's stories and couldn't wait to find out what had happened in both their pasts to make them behave the way they did today – and of course to see if Nathan was guilty or not.
Book Reviewer – Stacey
---
Purchase online from:
---
About the Author

S.R. White worked for a UK police force for twelve years, before returning to academic life and taking an MA in Creative Writing at Nottingham Trent University. He now lives in Queensland, Australia.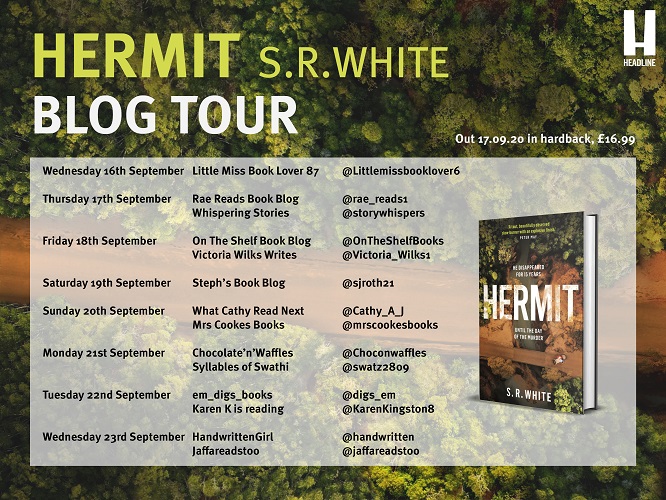 ---
What did you think of Hermit? Share your thoughts in the comment section below!
---
The above links are affiliate links. I receive a very small percentage from each item you purchase via these link, which is at no extra cost to you. If you are thinking about purchasing the book, please think about using one of the links. All money received goes back into the blog and helps to keep it running. Thank you.
Like us on Facebook – Tweet us on Twitter – Pin us on Pinterest