The Axe & Grindstone by Paul Phipps-Williams – Book Review
The Axe & Grindstone by Paul Phipps-Williams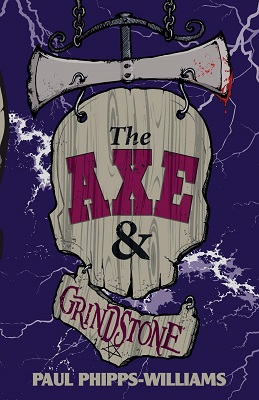 The Axe & Grindstone
Author – Paul Phipps-Williams
Publisher – BAD PRESS iNK
Pages – 276
Released – 29th September 2019
ISBN-13 – 978-1916084506
Format – ebook, paperback
Review by – Nia
Rating – 5 Stars
I received a free copy of this book.
This post contains affiliate links.


Ladies and Gentlemen, last orders please. Seriously, this could be your last ever order… Have you ever fancied running a pub?
What about two pubs?
And what if they were in different dimensions?
Enter Mark Adams who is in serious need of a pint.
Now the fabled landlord of Peacebattle, he's the only person who can stop the world from screaming for the rest of time.
But why chose a loser to save the world? What is the truth at the heart of the Binding Brothers' dark religion and the monsters who thrive in its heart? And will Mark survive long enough to remember the most important advice of his entire career:
Don't scream. Whatever you do. Don't scream.

I was cautious when starting The Axe & Grindstone as it was being touted as being perfect for fans of Terry Pratchett and Stephen King. Promoting a book with the name of best selling authors is always a huge risk but on this occasion it paid off – the book wasn't a rip off of either of these authors and the author had his own distinctive voice and style, but what he does have in common with these authors is a keen sense of perception for people, society and what makes them tick.
The story is told from the perspective of Mark Adams, a career barman and all-round good egg. He's been happy to stay in his role as barman rather than climb the ranks for 11 years but after a dramatic change in circumstance, he accepts a job offer from a friend to up sticks and become the landlord of a pub.
What he doesn't find out until he signs on the dotted line is that the pub straddles a portal between dimensions and as the landlord, it's his job to keep the peace. The premise that the local pub is a sacred place of communion and knowledge is a little bit lovely, and a big bit nostalgic at the moment.
Mark has to step up to overcome the challenges he now faces, namely a cult of scream-worshipping priests who want to cause an immense amount of suffering. He's a very introspective and personable character, which had me rooting for him from the start.
It's worth mentioning that the portal and supernatural elements of the book we easy to understand, which isn't always the case when alternate dimensions come out to play.
This story is a slow burn with a lot of introspection from characters, though the villains are downright nasty and the goodies are a spectrum of 'heroic' to 'reasonably good'. I'm a huge fan of the way this author's mind works and am very grateful to Stacey for recommending this book to me.
Book Reviewer – Nia
---
Purchase online from:
---
About the Author

Paul Phipps-Williams trained to be a film producer, wandering around student films shouting 'Time is Money' at people before stealing their cake. Having figured out that wasn't the most successful way to get hired, he went on to sell pencils and pints for a living because people always seemed to need one or the other.
For the last eighteen years, Paul has told people he works for the Government in the hope they'll think him a super-spy. He isn't, but that's what you'd expect a super-spy to say. He's passed at least a couple of new laws, convinced one government minister to quote the Spice Girls in the House of Commons and spent London 2012 in an underground bunker. On at least one occasion he's had tens of thousands of people march through central London protesting against what he's doing with his life. Whether this was work related or not, we'll leave to your imagination.
When he's not Making The World A Better Place/Contributing To The Fall of Society (delete according to your political affiliations) Paul is also a photographer and can be regularly found at cult TV events telling people to smile as they stand nervously next to their childhood heroes. His motto is 'What happens in Paul's photo studio, stays in Paul's photo studio.' At least, that's what Paul's been told by his lawyers. His photographs have been published in an eclectic range of magazines, from The Amorist to Scottish Field and Doctor Who Magazine.
Paul writes audio books for Big Finish Productions' gothic horror series Dark Shadows. 2020 sees the release of Windcliff, a terrifying 13-part full-cast audio horror serial set in an asylum and performed in real-time. Other audiobooks for Big Finish include Doctor Who: A Small Semblance of Home. He was also a contributor to 1001 TV Series You Must Watch Before You Die where, amongst other things, he was paid to watch The Real Housewives of Orange County and a programme about a cowboy cop in New York City. He's not quite got over it yet.
The Axe & Grindstone is Paul's first novel, and he's had to convince his mother that its main character isn't really based on him. She's not entirely convinced. He lives on a roundabout in Lewisham with his husband, Gareth, and their two cats, Billy and Hartnell. His favourite pizza is an abomination of hot and spicy things with BBQ sauce and his favourite colour is TARDIS Blue (1987-1989).



---
What did you think of The Axe & Grindstone? Share your thoughts in the comment section below!
---
The above links are affiliate links. I receive a very small percentage from each item you purchase via these link, which is at no extra cost to you. If you are thinking about purchasing the book, please think about using one of the links. All money received goes back into the blog and helps to keep it running. Thank you.
Like us on Facebook – Tweet us on Twitter – Pin us on Pinterest