Dangerous Women by Hope Adams – Book Review
Dangerous Women by Hope Adams – Book Review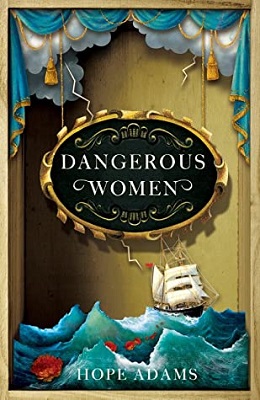 Dangerous Women
Author – Hope Adams
Publisher – Michael Joseph
Pages – 352
Released – 4th March 2021
ISBN-13 – 978-0241411407
Format – ebook, paperback, hardcover, audio
Rating – 4 Stars
I received a free copy of this book.
This post contains affiliate links.


Synopsis
London, 1841.
The Rajah sails for Australia.
On board are 180 women convicted of petty crimes, sentenced to start a new life half way across the world.
Daughters, sisters, mothers – they'll never see home or family again. Despised and damned, all they have now is each other.
Until the murder.
As the fearful hunt for a killer begins, everyone on board is a suspect.
The investigation risks tearing their friendships apart . . .
But if the killer isn't found, could it cost them their last chance of freedom?
Based on a real-life voyage, Dangerous Women is a sweeping tale of confinement, hope and the terrible things we do to survive.
Dangerous Women is a fascinating story that blends a wonderful fictional story based on real historical events. In 1841 the Rajah convict ship set sail from London, UK to Tasmania, Australia, or as it was known back then, Van Diemen's Land with 180 convicted criminal women onboard.
Whilst on their 105-day long journey some of the women began a sewing group and made a quilt, known as The Rajah Quilt which can be viewed online as it is still on show at The National Gallery of Australia.
Author Hope Adams has blended this real-life story and created a murder mystery in which one of the women shouldn't have been there as she took the place of another passenger and another of the women, young Hattie, is murdered just over half-way through their journey, stabbed to death, leaving a young son behind.
The book is engrossing as no-one knows who the murderer is and an investigation is set up to try to find them, but everyone starts to suspect one another and new friendships become strained. As well as the mystery I loved the factual aspect of the Rajah, a ship I'd never heard of before. I knew about convicts being sent to Australia but nothing more.
The story began quite slowly and at the beginning, I had to make myself stick with it as I knew that the story would pick up. It is also written in two close-together timelines, 'Then' and 'Now'. Both time periods give you the date, with the 'Now' also telling you how many days at sea the ship has been sailing. Plus we get to hear from the different women on the ship, including the Matron, the only female not a convict on board, Kazia Hayter, based on a real person of the same name.
The women and their stories all felt so real, so did their sorrow at leaving loved ones behind, knowing that for some of them they would never see their families again as there was no coming back from Australia. It is a remarkable book that once I had gotten through the first few chapters and worked out who each woman was I became engrossed and mesmerised by each of their stories as well as a need to know why Hattie had been murdered and would there be more killings.
Purchase Online From:
---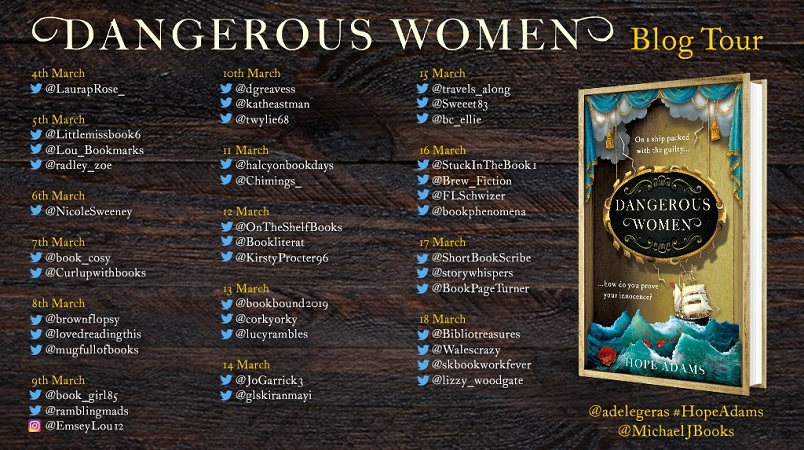 ---
What did you think of 'Dangerous Women'? Share your thoughts in the comment section below!
---
The above links are affiliate links. I receive a very small percentage from each item you purchase via these link, which is at no extra cost to you. If you are thinking about purchasing the book, please think about using one of the links. All money received goes back into the blog and helps to keep it running. Thank you.
Like us on Facebook – Tweet us on Twitter – Pin us on Pinterest