The History Behind the DCI Jack Callum Mysteries by Len Maynard – Guest Post
The History Behind the DCI Jack Callum Mysteries by Len Maynard – Guest Post
Today on the blog we welcome author Len Maynard, with his guest post 'The History Behind the DCI Jack Callum Mysteries', as part of the blog tour for his new book 'Three Monkeys' which was released on 22nd July 2020. This post contains affiliate links.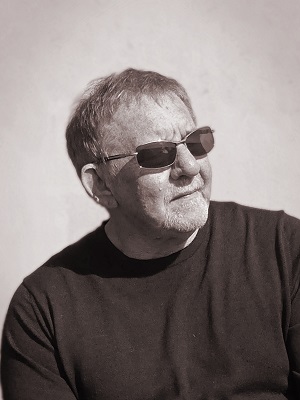 Len Maynard was born in North London in 1953.
In 1978, a book of short ghost stories, written in collaboration with Michael Sims, was published by London publisher William Kimber. For the following forty years the pair wrote ten more collections of ghost stories before moving into novels in 2006, completing over thirty more books, including the successful Department 18 series of supernatural/crime crossover novels as well as several standalone novels and novellas in the supernatural and crime genres.
Always a keen reader of crime novels, and with a passion for the social history of the twentieth century it was fairly inevitable that, when he decided to branch out and write under his own name, some kind of combination of these two interests would occur.
The six DCI Jack Callum Mysteries were the result of several years of total immersion in the world he created for Jack Callum, his family, his friends (and enemies) and his work colleagues.
He has also written a trilogy of adventure thrillers set in the Bahamas (also available from Sharpe Books)
He is currently at work on the seventh book in the DCI Jack Callum series.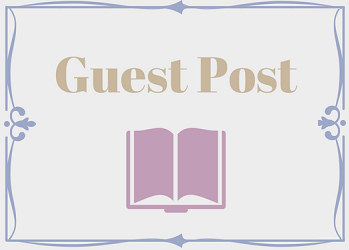 The History Behind the DCI Jack Callum Mysteries
On September 13th 1958 my father died aged thirty three.
For a five-year-old growing up in Enfield, North London, I was suddenly cast adrift. I had just started infant school and suddenly I was treated like something of a curiosity by my school friends and teachers alike. I had no father like the other kids. It marked me out as different from everyone else. It also made me determined to hold on to the memories I had amassed in my first five years.
So, when an agent I had about fifteen years ago suggested that a series of historical crime novels could generate some interest. It gave me pause for thought. But not for too long. At that point in my writing career I was trying to sell a series of supernatural/crime novels, so I thanked him for his suggestion and sacked him.
But the idea had taken root deep in my subconscious and gradually, over the next few years, the idea grew in its appeal and gradually developed legs.
When I finally decided to write a historical crime series, the time period I would write about was a no brainer. I had a wealth of memories from the early 1950's stored in the filing cabinet of my mind. All that was really necessary was an intensive period of research, to check the veracity of my memories and to clarify names and dates. I was prepared for some serious work.
What I was unprepared for was the unbridled joy that was to come.
The first thing I did was to invest in some old Black and White film series from the 'fifties featuring the two Edgars, Wallace and Lustgarten. I was watching them, not for the plots, but just to study the backgrounds – the social history aspects of the films that were fascinating and jogged so many of my memories I found them tumbling out of my brain quicker than I could utilise them. So, my mind entered its 'storage' mode as I absorbed the images and sounds.
My next port of call was YouTube as I summoned up the soundtrack of my early childhood, revelling in the delights of Lonnie Donegan, Wanda Jackson, Tennessee Ernie Ford and Elias and his Zig Zag Jive Flutes (Tom Hark/Ry Ry, a 45 rpm Columbia single that I have to this day in all it scratched and battered glory!)
If anything, the music unlocked even more memories than the films. Music, like a certain smell, has the ability, to transport you back to a specific point in time, and the more I delved back into my musical past the more memories were stirred up. Names and faces appeared like spectres from the past and slowly but surely found their way onto the page, weaving themselves into the plots and often becoming major players in the narrative. Names and characteristics were changed to avoid possible legal action some time in the future, but they still exist as vibrant and as three dimensional as they are in my memories.
The whole Jack Callum series is set in 1950's/60's Hertfordshire, primarily around Letchworth Garden City and its nearest neighbours. All subterfuge I'm afraid, my friends. As I said, I'm a North London, Enfield boy, born and bred and the Letchworth of the series is a thinly disguised Enfield of my childhood.
There is a reason for this. When I first moved from Enfield to Letchworth over twenty years ago, part of the Hertfordshire town's appeal was that it was so much like the rural Enfield of the 1950's. I had watched the beloved town of my birth slowly succumb to the pernicious urban creep as London gradually spread out its tentacles, taking first Tottenham and Edmonton, Wood Green, Palmers Green and even reaching Winchmore Hill. The writing was on the wall. Enfield would soon be swamped as London reached out and swallowed it.
So, like Jack Callum, I upped sticks and took myself North. Not surprisingly many of my family members followed me and now the community of Enfield ex-pats continues to flourish…and long may we continue to do so. And the DCI Jack Callum series will continue, its North London origins cloaked in its North Hertfordshire disguise.
In the series I have reached 1960. It's still too early for the Beatles and the social revolution they started. Cliff and the Shadows still reign supreme. Tommy Steele and Lonnie Donegan are starting to fade from public favour and will soon become footnotes in the pop music world as they carve out their positions as 'family entertainers'.
The Goons are still a mainstay of British Radio humour, but not for much longer. Sellers, Secombe, Milligan and Bentine will soon have the laughter pen plucked from their fingers by the likes of Barry Took and Marty Feldman, and the Python team will soon capitalise on Goonish humorous anarchy, and build a world of fun that still influences to this day.
Jack Callum's world is changing, and I want to be there to record the changes as they happen. I hope you will all come along for the ride.
---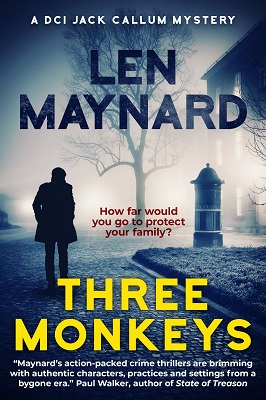 Three Monkeys


DCI Jack Callum series Book One
Author – Len Maynard
Publisher – Sharpe Books
Pages – 280
Release Date – 22nd July 2020
ISBN 13 – 979-8679546912
Format – ebook, paperback

1958.
A girl's body is found in Hertfordshire.
Her eyes and mouth have been sewn shut. Candle wax has been poured into her ears to seal them.
DCI Jack Callum, policeman and dedicated family man, who cut his teeth walking the beat on the violent streets of London, before moving his family away from the city, to a safer, more restful life in the country, leads the investigation into this gruesome crime that shatters the peace of the sleepy English town.
Images of three monkeys are sent to the police to taunt them: see no evil, hear no evil, speak no evil. Something more sinister than a mere isolated murder seems to be going on as more victims come to light.
Who is doing this and why?
At the insistence of the first victim's father, a local dignitary, officers from Scotland Yard are brought in to bring about a speedy conclusion to the case, side-lining Jack's own investigation.
In a nail-biting climax, one of Jack's daughters is snatched. Before she can become the next victim, Jack has to go against the orders of his superiors that have constantly hampered his investigation, and risk his own career in an attempted rescue at the killer's own home.
Three Monkeys is the first book in the DCI Jack Callum Mystery series.
Purchase online from:
---
Author Links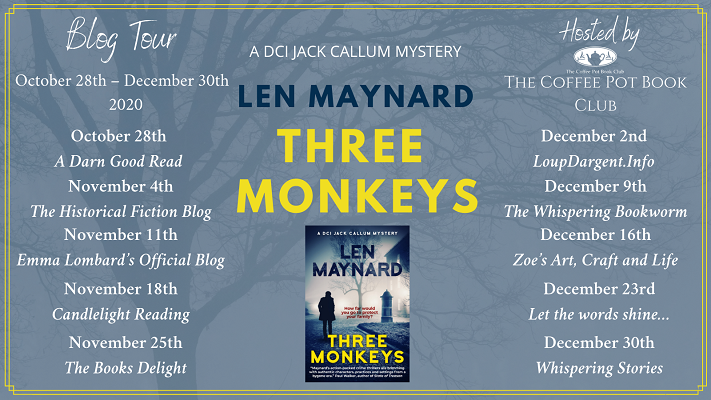 ---
Share your thoughts on 'The History Behind the DCI Jack Callum Mysteries' in the comment section below!
---
The above links are affiliate links. I receive a very small percentage from each item you purchase via these link, which is at no extra cost to you. If you are thinking about purchasing the book, please think about using one of the links. All money received goes back into the blog and helps to keep it running. Thank you.
Like us on Facebook – Tweet us on Twitter – Pin us on Pinterest