A Perfect Cornish Christmas by Phillipa Ashley – Book Review
A Perfect Cornish Christmas by Phillipa Ashley – Book Review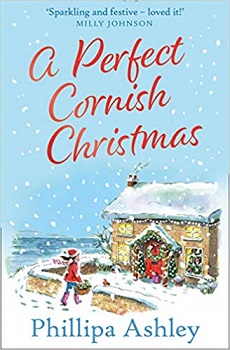 A Perfect Cornish Christmas
Author – Phillipa Ashley
Publisher – Avon
Pages – 400
Released – 31st October 2019
ISBN-13 – 978-0008316150
Format – ebook, paperback, audio
Review by – Stacey
Rating – 4.5 Stars
I received a free copy of this book.
This post contains affiliate links.
Christmas in Cornwall is just around the corner…
But after last Christmas revealed a shocking family secret, Scarlett's hardly feeling merry and bright. All she wants this Christmas is to know who her real father is.
So Scarlett heads to the little Cornish town of Porthmellow, where she believes the truth of her birth is hidden. She just didn't bargain on being drawn into the Christmas festival preparations – or meeting Jude Penberth, whose charm threatens to complicate life further.
Everything will come to a head at Porthmellow's Christmas Festival … But can Scarlett have the perfect Christmas this year, or are there more surprises on the way?

Sisters Ellie and Scarlett thought getting their DNA tested to check their ancestry would make an amazing Christmas present to give to their parents, however, not everything goes to plan when it turns out that they have different fathers. Christmas is ruined and subsequently, the family starts to fall apart with their mother denying everything and declaring that the test must be false.
Move forward a year and their parents are living in separate rooms and their mother is still refusing to talk about the issue. Ellie is living in Porthmellow, Cornwall, and Scarlett believes that's where the answers to who her real father is lies, so she asks Ellie if she can live with her for a while.
As Scarlett gets closer to the truth more and more problems arise and more secrets start to unravel. Has Scarlett bitten off more that she can chew in pursuit of the truth?
This is the first Phillipa Ashley book that I have read but it won't be my last. I was a little unsure when starting this story whether it was part of a series or not due to Ms. Ashley's previous novel 'A Perfect Cornish Summer', however, whilst I realised the setting is the same in both of the books and a few of the characters from the first make an appearance, this book certainly works as a standalone.
The book opened strongly and straight into the aftermath of the Christmas fallout. Then we get to find out what everything was about before moving forward in time.
The book was a sheer delight to read and for a romance book, there were a lot of twists, turns, and surprises along the way which kept me on my toes. The scenery is just beautiful and you can certainly see Porthmellow in all it's Autumn glory as well as the Winter Solstice festival which I would love to attend.
There are two love interests in the plot and it was enjoyable to watch both of them develop although neither runs smoothly. Whilst Scarlett was the main character, Ellie played a major role too and I really enjoyed both of their stories equally.
This is a book that brings family life to the forefront and shows you that no family is perfect, everyone makes mistakes in their lives but it is how you deal with the issues together and come together as a unit that matters. Family is precious and comes in all shapes and sizes so make sure you treasure it.
Book Reviewer – Stacey
---
Purchase online from:
---
About the Author

Phillipa Ashley is the author of a string of Amazon Top 10 and Bookseller Heatseekers best-selling Cornish novels. Before she became a full-time writer, she studied English at Oxford and worked as a copywriter and journalist.
She also writes rom coms as Ashley Croft and steamy romance as Pippa Croft.
She lives in a Staffordshire village with her husband and has a grown-up daughter. When she's not writing, she loves falling off surf boards and following Poldark around in a camper van.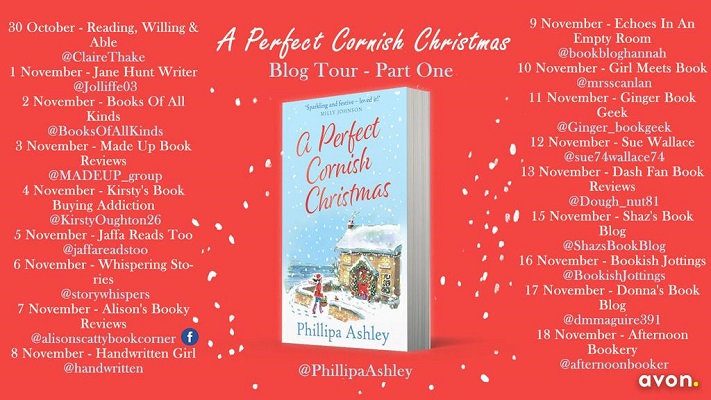 ---
What did you think of A Perfect Cornish Christmas? Share your thoughts in the comment section below!
---
The above links are affiliate links. I receive a very small percentage from each item you purchase via these link, which is at no extra cost to you. If you are thinking about purchasing the book, please think about using one of the links. All money received goes back into the blog and helps to keep it running. Thank you.