At Least the Pink Elephants are Laughing at Us by Chris Westlake – Book Review
At Least the Pink Elephants are Laughing at Us by Chris Westlake – Book Review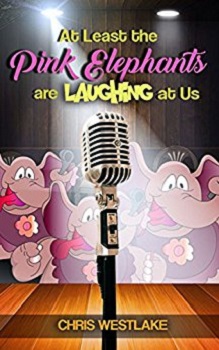 At Least the Pink Elephants are Laughing at Us
Author – Chris Westlake
Publisher – Createspace
Pages – 350
Released – 13th November 2017
ISBN-13 – 978-1978215788
Format – ebook, paperback
Reviewer – Abby
Rating – 4 Stars
I received a free copy of this book
Post contains affiliate links.
Eternally optimistic newspaper reporter, Herbert, has a fantastic idea for a book. All it requires is a simple proposal to a trio of unlikely comedians: join forces to perform a week of shows at the prestigious Edinburgh Festival Fringe. They are to be his central characters and their misadventures will form the plot. After all, nowt is stranger than fact.
The chosen three have nothing in common and are all linked only by childhood trauma and their upbringing in Bridgend. Or are they? Why has Herbert chosen them as his central characters? Is he writing the story line before it unfolds…?
At Least the Pink Elephants are Laughing at Us is life-affirming contemporary fiction at its very best. The story combines intrigue with a relentless dose of dark and often outrageous humour. It takes you on a journey of demotivating motivational speeches, dingy back-alley pubs and disastrously funny comedy gigs. You will laugh out loud; but will anyone else apart from you and those pesky pink elephants…?

At its simplest level, Chris Westlake's novel is about three Welsh comedians and an ambitious newspaper reporter's mission to make it big at the 2016 Edinburgh Festival Fringe.
So, where do we begin? In the prologue, we stand, rather charmingly – and where all dark comedies ought to begin – in the men's toilets at The Regency pub, Bridgend. Walls are plastered with lewd graffiti and the stench isn't much better. Here we meet James, who is standing in the same spot as his father regularly did over 35 years ago. James is clearly nervous, flushed cheeks and bleary-eyed.
It's here that we learn that, whatever he's doing, whatever "barmy adventure" he's on, he's not alone. He's with Connor and Mandy, organised by a man named Herbert.
He's just about to step out from the toilets when we're transported (the reader, not James) into 1950. Totally unrelated, a little boy named George is at the fun fair, watching a Punch and Judy show, absolutely fascinated with a puppeteer named "The West Virginia Wisecracker" …
Next chapter, and we're in 1973, watching over Roy and Bobby's tea break in the local factory. Bobby had something about him: "He talked at such pace, with such energy, that his ongoing struggles were something of a sketch show."
And so, after a fair bit of decade-hopping, it transpires that Bobby is James from the prologue's father. The infamous Bobby Jones. Bobby Jones the great local comedian. Handsome, funny, troubled. Back to the present day, and it's James' turn to be the star of the show. A local reporter who works for The Observer ("The South Wales Observer, actually") is keen to write a book about local comedians, mostly because he just loved Rob Brydon's turn as Uncle Bryn in Gavin & Stacey. In his quest, this reporter, Herbert, puts together a trio of local talent to take with him to the next Edinburgh Festival Fringe.
Alongside James, he convinces Mandy, a young but well-established local comedienne on the Bridgend scene, and Connor, and up-and-coming comedian with a reputation for his somewhat grumpy attitude on stage.
Of course, just like James, they have their own baggage. Baggage that spills over into their sets. Mandy's father walked out on her family when she was young, while Connor's mother Nanya has had a troubled life. His relationship with his father is not great, either.
We follow as the trio initially meet and warm up with some tentative local gigs, with mixed reactions – no spoilers here! After all, the road to Edinburgh is a long one…
One recurring theme throughout At Least The Pink Elephants Are Laughing At Us is the "daddy issues". Mandy has no contact with her father, Connor's relationship with his is fraught and distant, while James – a father himself – is seemingly destined to make the same mistakes as his father, Bobby. Even James's friend's father, Roy, has kept secrets from his son, Terry.
It's this "daddy issue" that causes one of the major plot twists in the novel – a fantastic red herring that, just like James, I fell for too.
And, where does George fit in all this? His triumphant return to the novel is heart-warming and hilarious in equal measures, proving that all male role models don't need to be flawed in Westlake's world.
Overall, At Least The Pink Elephants Are Laughing At Us is a great read. Initially, the decade-hopping was a bit confusing to keep up with but keep with it and you'll meet a trio of flawed heroes who have found strength through their dedication to comedy. For James, Mandy and Connor, life might be difficult, and Edinburgh might not be the ultimate resolution – but they know that laughter is one strong medicine.
Reviewed by Abby
---
Purchase online from:
---
About the Author

Chris Westlake's short story, Welsh Lessons, won the Global Short Story Award and was placed second in the HASSRA Literary competition. Heatwave of 76 was placed 1st in the Stringybark Short Story Award. Sucker Punch was published as part of the anthology Fight or Flight, and Ten Pounds for Your Thoughts was published in The Road Home.
Chris has written two novels, Just a Bit of Banter, Like and At Least the Pink Elephants are Laughing at Us. He has recently published a short story collection, Now the Party is Finally Over.
Chris's books are dark and gritty and true to life. His books are not for the faint-hearted! Chris tackles complex and dark issues but with a heavy dosage of dry and often outrageous humour.


---