What Meets the Eye by Alex Kenna – Book Review
What Meets the Eye by Alex Kenna – Book Review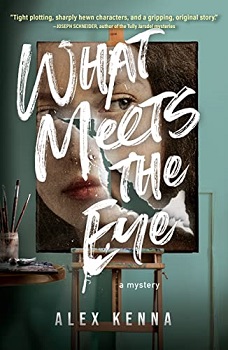 What Meets the Eye
Author – Alex Kenna
Publisher – Crooked Lane Books
Release Date – 6th December 2022
Pages – 288
ISBN 13 – 978-1639101849
Format – ebook, hardcover, audio
Star Rating – 4.5
I received a free copy of this book.
This post contains affiliate links.

Synopsis
Kate Myles was a promising Los Angeles police detective, until an accident and opioid addiction blew up her family and destroyed her career. Struggling to rebuild her life, Kate decides to try her hand at private detective work—but she gets much more than she bargained for when she takes on the case of a celebrated painter found dead in a downtown loft.
When Margot Starling's body was found, the cause of death was assumed to be suicide. Despite her beauty, talent, and fame, she struggled with a host of demons. But as Kate digs deeper, she learns that Margot had a growing list of powerful enemies—among them a shady art dealer who had been selling forged works by Margot. Kate soon uncovers a dirty trail that leads straight into the heart of the city's deadly underworld.
Margot died for her art—and if Kate doesn't tread lightly, she could be the next to get brushed out.
Once upon a time, Kate Myles was a standout homicide detective with the Los Angeles Police Department. But that was before a car crash, and the ensuing spinal injuries catapulted her into an addiction to painkillers. Now Kate has a daughter, a mortgage, and an arrogant ex-husband obsessed with winning. She's scraping by as a private detective subsisting largely on chasing adulterous spouses.
Kate's routine life changes the day a distraught father hires her to investigate the death of his daughter, Margot, a prominent artist. Police ruled it a suicide, but the father doesn't believe it. After some digging, neither does Kate. As she investigates, Kate uncovers many layers and encounters some evil, ruthless people. The FBI and her former LAPD partner tell her the case is dangerous and to back off, but does Kate listen? No, she doesn't! Can Kate solve the riddle of Margot's death before the bad guys get her?
What Meets the Eye is an intriguing tale of fraud, blackmail, and murder within the often inscrutable art community. The narration point of view shifts between the main characters and bounces back and forth in time, which can be challenging to follow. But once I got into the story, I had difficulty putting the book down.
Anyone who's read my reviews knows I like strong female characters, and Kate Myles is strong when she's working. Yet when it comes to parenting, she's filled with doubt. I found the conflict between the confident detective and the insecure mother hard to reconcile. On the other hand, John, the ex-husband, is one-dimensional, constantly harping on Kate's perceived shortcomings as a mother and a person. His litany of complaints and put-downs wears thin at times. But overall, Kate is a relatable character the reader will instinctively root for.
Detective stories are one of my favorite genres, so I naturally liked What Meets the Eye. The plot and pacing held my interest throughout. I also enjoyed the story's foray into the world of art and artists since art isn't one of my areas of expertise.
---
Purchase Online:
Alex Kenna

Alex Kenna is a lawyer, writer, and amateur painter based in Los Angeles.
Before law school, Alex studied painting and art history at Penn. She also worked as a freelance art critic and culture writer.
Originally from Washington DC, Alex lives in Los Angeles with her husband, son, and giant schnauzer, Zelda. When she's not writing Alex can be found nerding out in art museums, exploring flea markets, and playing string instruments badly.
Author Links:
---
The above links are affiliate links. I receive a very small percentage from each item you purchase via these links, which is at no extra cost to you. If you are thinking about purchasing the book, please think about using one of the links. All money received goes back into the blog and helps to keep it running. Thank you.