The Left-Handed Booksellers of London by Garth Nix – Book Review
The Left-Handed Booksellers of London by Garth Nix – Book Review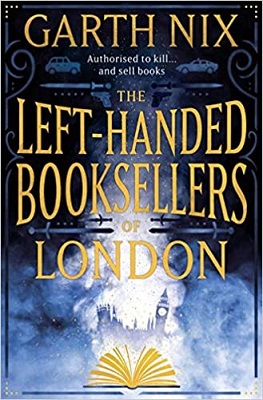 The Left-Handed Booksellers of London
Author – Garth Nix
Publisher – Gollancz
Release Date – 8th July 2021
Pages – 416
ISBN 13 – 978-1473227781
Format – ebook, paperback, hardcover, audio
Star Rating – 5
This post contains affiliate links.

Synopsis
A girl's quest to find her father leads her to an extended family of magical fighting booksellers who police the mythical Old World of England when it intrudes on the modern world. From the bestselling master of fantasy, Garth Nix.
In a slightly alternate London in 1983, Susan Arkshaw is looking for her father, a man she has never met. Crime boss Frank Thringley might be able to help her, but Susan doesn't get time to ask Frank any questions before he is turned to dust by the prick of a silver hatpin in the hands of the outrageously attractive Merlin.
Merlin is a young left-handed bookseller (one of the fighting ones), who with the right-handed booksellers (the intellectual ones), are an extended family of magical beings who police the mythic and legendary Old World when it intrudes on the modern world, in addition to running several bookshops.
Susan's search for her father begins with her mother's possibly misremembered or misspelt surnames, a reading room ticket, and a silver cigarette case engraved with something that might be a coat of arms.
Merlin has a quest of his own, to find the Old World entity who used ordinary criminals to kill his mother. As he and his sister, the right-handed bookseller Vivien, tread in the path of a botched or covered-up police investigation from years past, they find this quest strangely overlaps with Susan's. Who or what was her father? Susan, Merlin, and Vivien must find out, as the Old World erupts dangerously into the New.
A couple of years ago I received some vouchers for Blackwell's and when I saw the title of The Left-Handed Booksellers of London, without even reading the synopsis I knew I had to have it. Just something was drawing me to it.
What surprised me the most about loving this book was that I'm not a massive fantasy reader. However, right from the first page I was hooked, though it did take me quite a while to get through it as I was trying to finish other books at the same time and this one kept being put on the back burner.
The premise is in 1983 there is a secret society of magical folk that keep the mythical Old World in order and they use bookshops/booksellers as their cover story. Different-handed members have different roles in the society and different powers.
One of the members, left-handed Merlin, encounters human Susan when he goes to keep crime boss Frank Thringley in check but ends up turning him to dust. It turns out Susan was at Frank's house looking for information about her father, who she has never met. It also turns out that she is somehow related to the 'old world' but doesn't know anything about it, though someone/or thing knows about her and is trying to kill her.
With Merlin, his right-handed sister Vivien and the bookseller's help they search for her father and who is trying to destroy her.
The Left-Handed Booksellers of London had me totally immersed in the lives of the young booksellers and Susan. Merlin is such a colourful character, especially next to his more straight-laced sister. It was also fabulous to be back in 1983, even in an alternate reality, it was a wonderful walk through memory lane.
The book was filled with one-liners, off-the-cuff remarks, fighting, action, mythical beasts, epic battles, and some words of wisdom. The setting was perfect, the characters were easy to like, and the whole book just clicked with me. I now can not wait to read book two – The Sinister Booksellers of Bath when it is released in March.
---
Purchase Online:
Garth Nix

Garth Nix has been a full-time writer since 2001, but has also worked as a literary agent, marketing consultant, book editor, book publicist, book sales representative, bookseller, and as a part-time soldier in the Australian Army Reserve.
Garth's books include the Old Kingdom fantasy series: Sabriel, Lirael, Abhorsen, Clariel, Goldenhand and Terciel and Elinor; SF novels Shade's Children and A Confusion of Princes; fantasy novels Angel Mage and The Left-Handed Booksellers of London; and a Regency romance with magic, Newt's Emerald. His novels for children include The Ragwitch; the six books of The Seventh Tower sequence; The Keys to the Kingdom series and Frogkisser! His short fiction includes more than 60 published stories, some of them collected in Across the Wall and To Hold the Bridge.
He has co-written several books with Sean Williams, including the Troubletwisters series; Spirit Animals Book Three: Blood Ties; Have Sword, Will Travel; and Let Sleeping Dragons Lie.
More than six million copies of Garth's books have been sold around the world, they have appeared on the bestseller lists of The New York Times, Publishers Weekly, The Bookseller and others, and his work has been translated into 42 languages. He has won multiple Aurealis Awards, the Ditmar Award, the Mythopoeic Award, CBCA Honour Book, and has been shortlisted for the Locus Awards, the Shirley Jackson Award and others.
Author Links:
---
The above links are affiliate links. I receive a very small percentage from each item you purchase via these links, which is at no extra cost to you. If you are thinking about purchasing the book, please think about using one of the links. All money received goes back into the blog and helps to keep it running. Thank you.