When the Night Ends by M J Lee – Book Review
When the Night Ends by M J Lee – Book Review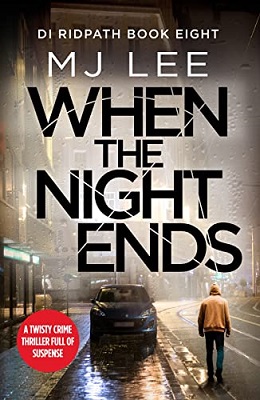 When the Night Ends
DI Ridpath Crime Thriller Book Eight
Author – M J Lee
Publisher – Canelo Crime
Release Date – 9th June 2022
Pages – 403
ISBN 13 – 978-1800327795
Format – ebook, paperback
Star Rating – 4
I received a free copy of this book.
This post contains affiliate links.

Synopsis
When Ben Holdsworth dies alone in a police cell, riots erupt in Manchester. But after a post mortem, the authorities have decided nobody was to blame.
DI Ridpath is asked to investigate by the coroner before an inquest, and immediately uncovers some discrepancies in the witness statements.
Why was the CCTV not working that night? Where was the custody sergeant, and did he know the victim? Wherever he turns there are lies and gaps. It's a dangerous game and the net is closing… On Ridpath himself.
There is only one way out: uncover what really happened in the prison cells on that dark Manchester night.
When the Night Ends is the Eighth book in the DI Ridpath series by author M J Lee. I have read all the previous books and loved them all, rushing through them normally within a day or two.
However, I found it hard to get into this one, in fact, it took me over three weeks to finish it as I just couldn't connect with it like I did the others.
On reflection, I believe it is down to the storyline, as rather than there being the usual murder/victim, with the murderer on the lose and DI Ridpath working two angles, the murder with MIT and the death with the Coroner's Office, this time it was more one-sided as the death happens in custody and DI Ridpath is looking into fellow officers. We also don't get to hear as much from the murderer as in previous books which left the book feeling less tense and edgy.
Don't get me wrong I still enjoyed the story and I love spending time with DI Ridpath. I also love Eve, his daughter, who is certainly growing up and it was nice for an author to include things like starting her period, I mean these things happen to girls.
Here's hoping that book nine hits the mark, despite this minor setback, as I am really looking forward to it.
---
Purchase Online:
M J Lee

Martin (M J Lee) has spent most of his adult life writing in one form or another. As a University researcher in history, he wrote pages of notes on reams of obscure topics. As a social worker with Vietnamese refugees, he wrote memoranda. And, as the creative director of an advertising agency, he has written print and press ads, tv commercials, short films and innumerable backs of cornflake packets and hotel websites.
He has spent 25 years of his life working outside the North of England. In London, Hong Kong, Taipei, Singapore, Bangkok and Shanghai, winning awards from Cannes, One Show, D&AD, New York and London Festivals, and the United Nations.
When he's not writing, he splits his time between the UK and Asia, taking pleasure in playing with his daughter, researching his family history, practising downhill ironing, single-handedly solving the problem of the French wine lake and wishing he were George Clooney.
Author Links:
---
The above links are affiliate links. I receive a very small percentage from each item you purchase via these links, which is at no extra cost to you. If you are thinking about purchasing the book, please think about using one of the links. All money received goes back into the blog and helps to keep it running. Thank you.