Palm Beach Finland by Antti Tuomainen – Book Review
Palm Beach Finland by Antti Tuomainen – Book Review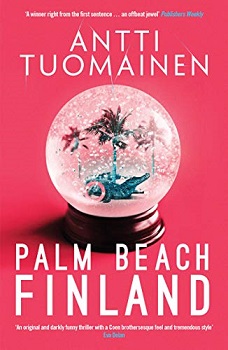 Palm Beach Finland
Author – Antti Tuomainen
Publisher – Orenda Books
Pages – 304
Released – 18th October 2018
ISBN-13 – 978-1912374311
Format – ebook, paperback
Reviewer – Stacey
Rating – 4 Stars
I received a free copy of this book
Sex, lies and ill-fitting swimwear … Sun Protection Factor 100
Jan Nyman, the ace detective of the covert operations unit of the National Central Police, is sent to a sleepy seaside town to investigate a mysterious death. Nyman arrives in the town dominated by a bizarre holiday village – the 'hottest beach in Finland'. The suspect: Olivia Koski, who has only recently returned to her old hometown. The mission: find out what happened, by any means necessary.
With a nod to Fargo, and dark noir, Palm Beach, Finland is both a page-turning thriller and a black comedy about lust for money, fleeing dreams and people struggling at turning points in their lives – chasing their fantasies regardless of reason.
Palm Beach Finland is an odd little book. If it was made into a film it would rival some of the strangest movies ever made. At times I wasn't sure whether it was the way the author intended or the translation that made the plot so 'out there' – Think of it as a Tarantino-Esq book.
The story begins with someone being killed in a house, accidentally and in a most bizarre way, but the person isn't the owner and no-one knows who they were. We then move onto the owner of the property returning. Olivia Koshi has inherited the family home after the death of her father. The house is in need of a lot of repairs and Olivia is flat broke. The house is also on the edge of the new holiday resort, Palm Beach.
Detective Jan Nyman is going undercover to find out who the killer or killers were. His cover is that he is a maths teacher on vacation. What Jan discovers is an exceptionally strange holiday resort – Palm Beach, run by Jorma Leivo. Jorma is a man who is determined to make the holiday resort a success and throws everything at making it that way – Legally or not.
As you can tell from the small snippet I have given you, the book is completely and utterly different from anything I have ever read. I was unsure how I was going to fair with it at first and three chapters in I was thinking of giving up as I kept on having to re-read sections to fully understand them. However, I like wacky things, so why should this book be any different, so I continued.
The book has an undertone of having a dark sense of humour, I was never quite sure whether I should be laughing or in shock at some of the scenes. The character development is superb and I especially loved Jan and his detective skills.
After my initial concerns, I soon realised that I was whizzing through the pages and I was fully submerged in this outlandish book. Sometimes you need a break from the norm and this book will certainly give you that.
Reviewed by Stacey
---
Purchase online from:
---
About the Author

Finnish Antti Tuomainen was an award-winning copywriter when he made his literary debut in 2007 as a suspense author. The critically acclaimed My Brother's Keeper was published two years later. In 2011, Tuomainen's third novel, The Healer, was awarded the Clue Award for 'Best Finnish Crime Novel of 2011' and was shortlisted for the Glass Key Award.
Two years later, in 2013, the Finnish press crowned Tuomainen the 'King of Helsinki Noir' when Dark as My Heart was published. With a piercing and evocative style, Tuomainen was one of the first to challenge the Scandinavian crime genre formula, and his poignant, dark and hilarious The Man Who Died became an international bestseller, shortlisting for the Petrona and Last Laugh Awards.





---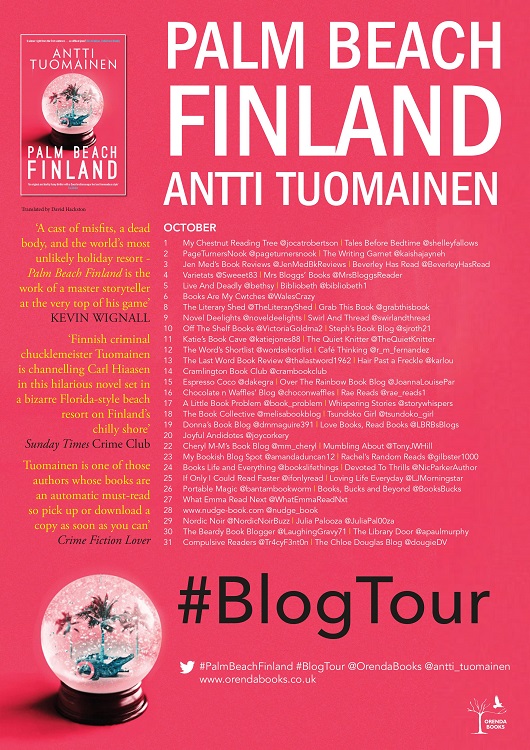 Blog posts straight to email via Bloglovin – Like us on Facebook – Follow us on Twitter