Dear Mr Pop Star by Derek & Dave Philpott – Book Review
Dear Mr Pop Star by Derek & Dave Philpott – Book Review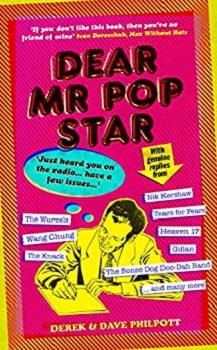 Dear Mr Pop Star
Author – Derek & Dave Philpott
Publisher – Unbound
Pages – 416
Released – 20th September 2018
ISBN-13 – 978-1783525980
Format – ebook, hardcover
Reviewer – Stacey
Rating – 4 Stars
I received a free copy of this book
For more than a decade, Derek Philpott and his son, Dave, have been writing to pop stars from the 1960s to the 90s to take issue with the lyrics of some of their best-known songs.
But then, to their great surprise, the pop stars started writing back…
Dear Mr Pop Star contains 100 of Derek and Dave's greatest hits, including correspondence with Katrina and the Waves, Tears for Fears, Squeeze, The Housemartins, Suzi Quatro, Devo, Deep Purple, Nik Kershaw, T Pau, Human League, Eurythmics, Wang Chung, EMF, Mott the Hoople, Heaven 17, Jesus Jones, Johnny Hates Jazz, Carter the Unstoppable Sex Machine, Chesney Hawkes and many, many more.
Derek Philpott has been on what he calls a 'bonkers crusade' writing to bands and singers about their lyrics and even their chose of name. You see when you actually listen to some of the lyrics in a song not all of them make sense. It is these that Derek, with the help from his son Dave, has been writing letters about.
This book is not a story about Derek's letter, more a collection of the letters and the response which he received. Derek has a way with words and his letters are exceptionally funny, however, some of the replies were even funnier. It's as if every pop star wants a letter from Derek.
Opening with Derek's critical analysis of the title of the band 'Doctor and the Medics' and including some very famous names, from Spandau Ballet, Scissor Sisters, Take That, Aerosmith to Iron Maiden, Nelly and even Sting. Some bands I'd heard of, a few I haven't a clue about, though he did start writing these letters in the 60s and I wasn't born until the end of the 70s, so you can forgive my lack of knowledge of some lesser known groups.
The book is fun to read and gave me a proper giggle and I even laughed-out-loud on more than one occasion. This is a something you can delve into now and again, you don't have to read it in one go or even like a novel. Just pick it up and read a few entries and put it down again. Do this whenever you want a laugh.
Both Derek and Dave have great humour and they are pure geniuses to come up with this idea in the first place. If you like music, then this is a book to read.
Dear Mr Pop Star reviewed by Stacey
---
Purchase online from:
---
About the Authors
Derek and Dave Philpott are the noms de plume of two ordinary members of the public, working with help from a worldwide social networking community.


---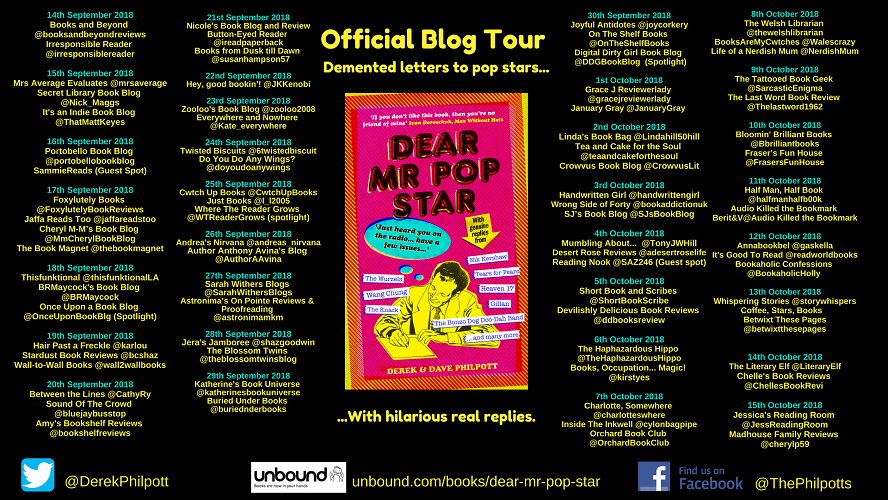 Blog posts straight to email via Bloglovin – Like us on Facebook – Follow us on Twitter