Christmas Carols by Daisy Banks – Book Review
Christmas Carols by Daisy Banks – Book Review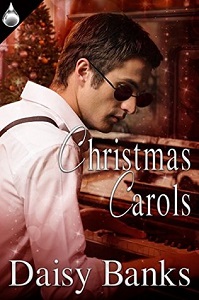 Christmas Carols
Author – Daisy Banks
Publisher – Liquid Silver Books
Pages – 75
Release Date – 10 August 2015
Format – ebook
Reviewer – Jodie
I received a free copy of this book

One man's courage and one widow's beautiful voice lead an unlikely pair on a tender journey toward happiness. You'll love Christmas Carols by Daisy Banks, a charming Victorian tale about taking chances and learning to love again.
Stephen Grafton, the blind organist at Holy Trinity Church, is gaining a reputation for his fine playing and compositions. Alice Broadbrace's initial venture back into society after years in deep mourning brings her to the notice of the talented organist, and he offers her the opportunity to sing a solo carol to his accompaniment.
His courage convinces her to find her own, while her charm entices him into thoughts of romance. A difficult walk in a snow storm is only the beginning of Stephen and Alice's journey to happiness. Enjoy this sweet Victorian tale of talent and love blossoming.

Alice Broadbrace has been a widow for some years having lost her young husband to the long suffering injuries of war. Forever dressed in black, Alice keeps herself as distant from society as possible.
Stephen Grafton is strong-minded, abrupt gentleman. He is a talented organist who happens to be blind. Whenever Alice and Stephen meet, they clash.
Alice feels upset and insulted at Stephen's request that her beautiful flower arrangements in the church be shut away, due to his affliction to pollen. Stephen appears blunt and occasionally a little rude to Alice. As time passes, they eventually find a way of working together. Slowly, love begins to blossom between the two.
Stephen helps Alice to let go of her past and overcome her lack of courage to find herself again. She begins to shed her black clothes, and move forward. Alice enables Stephen to share his joy of music by singing for him in the church, which ultimately enables her to feel alive and free. Stephen softens a little at Alice's presence in his life and his character becomes more likeable.
Stephen's blindness and his ability to thrash forward with life despite this, is quite refreshing. You don't feel sympathy for him because he doesn't sit there feeling sorry for himself at all. He gets on with his life in a positive way and doesn't see his blindness as an obstacle.
The story is set in the Victorian era which is made clear by the captivating and vivid detail of the surroundings, clothing, and even the transport. The way every detail is described really helps paint a beautiful picture for the story.
You also feel and smell what Stephen is sensing as the author has splendidly captured the other senses that Stephen uses instead of sight. You can smell the coffee and feel the crunch of the cold snow beneath the feet with the descriptions.
The story is set in the run up to Christmas, but it's such a beautiful tale that it is perfect to read any time of year.
This is a gentle, romantic piece of fiction which was very easy to digest. Christmas Carols is a heart-warming tale with a lesson that anyone can overcome obstacles, whether physical or emotional, and find happiness and love.
Book Reviewed by Jodie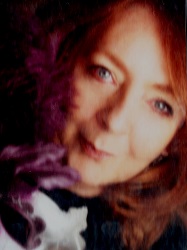 I am a romance writer. I write sweet, sensual, and sexy romance with a bit of a bite. I love writing fantasy stories and letting my mind run free with them. I also write paranormal stories and historical tales.
I was born in the Black Country in the West Midlands in England. I am very proud of that heritage. My home is in Staffordshire and I split my time between caring for my mother and writing.
I have retired from a career in teaching and can now concentrate on other things. My inspiration to write is one of long standing and I continue to develop my skills as an author to tell the stories in my mind.
I always hope the stories I write give readers enjoyment.
Author Links