Raining Embers by Jessica Dall – Book Review
Raining Embers by Jessica Dall – Book Review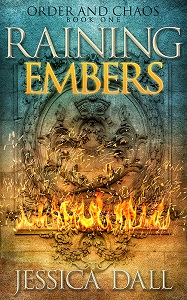 Raining Embers
Author – Jessica Dall
Publisher – Red Adept Publishing
Pages – 287
Release Date – 3rd November 2015
Format – ebook, paperback
Reviewer – Nia
I received a free copy of this book
Post Contains Affiliate Links

Palmer Tash always follows the path of least resistance. He has an unusual disability involving his hearing. But in theocratic Latysia, being different isn't a good thing, so he conceals his problem.
Brier Chastain's malady is even more debilitating, and she often must take to her bed for long periods. Her days are spent in meaningless pursuits as she awaits an arranged marriage.
When Palmer and Brier are kidnapped on the same night, they meet and discover that their so-called disabilities are actually budding powers. They are the incarnations of Order and Chaos. With their country on the brink of war, the two must step into their predestined roles and learn to take control of their own destinies.

This story took place in a city called Latysia, which has an Ancient Roman/Greek feel to it, full of intrigue and on the brink of war. Palmer, one of the main characters, is a church ward currently studying in the University with a gift for star charts and predicting the future though he doesn't believe in his visions.
Brier, the second main character plays a more central role to the story. She is a privileged young woman who is plagued by an unfortunate problem which causes her to spend most of the summer months either drunk or in bed. She has just found out that she has been pledged to an arranged marriage above her position and is sceptical as to the motivations of their parents.
Both Brier and Palmer are kidnapped one night from their home city of Latysia and wake up in a stone fortress high up in the mountains, held captive by a man and a woman with unusual powers.
It's in this stronghold that they learn that they both have powers of their own, as they are the living embodiment's of Chaos and Order. Brier, as the force of Chaos, is a destructive force and is training to learn how to use her powers properly so that she doesn't accidentally cause harm and Palmer, as the embodiment of Order, is omniscient and is able to help calm and channel chaos.
While they are held in the stronghold, one of their captors' brother arrives with a young girl with strange powers of her own.
One night, Brier, Palmer and the young girl, Rosette, manage to escape from the mountain and hide themselves in a small village where they start to make a home for themselves. Eventually, they are forced to go back to their home city and Brier is in mortal danger as someone attempt to harness her powers as a weapon to win a civil war and only the powers of the mysterious little girl can save her.
What I found appealing about this story was that the most active characters were all female and that the male characters played quite passive, emotive roles for a change – it was just subtle enough that it didn't feel like a point was being made.
As a YA novel, I felt that Raining Embers was particularly good as the main protagonist wasn't the only strong female character though it felt that maybe the men were being undersold a little bit at times.
I enjoyed the concept of Chaos and Order being complementary forces in this book and that they could be incarnated in humans, though there were also other powers in this world that weren't fully explained yet which will be interesting to read about in the next instalment of this series.
I'm particularly curious to see if the author will be continuing along the Greek Mythology thread, as I have particularly enjoyed this idea in books I've read this year.
The pacing of this book was excellent, we get to know the characters and their backgrounds before the main journey begins and each stage is fully laid out so that it doesn't feel rushed. I particularly enjoyed the ending of this book, with the final battle bringing the characters together.
Of all the characters, Rosette is my favourite. She is a 6 year old girl with the power of wilfully causing sickness and disease to people, but she is a sweet girl who feels things very deeply.
Her powers are tied to the powers of Chaos by their nature, which is something that comes in handy at the end of the book (I'm not giving the game away here!).
The one thing that I did find a little confusing was that the political structure of Latysia was never fully explained, by which I mean that I'm not entirely sure why the city was going to war or what the previous wars had been about. It was quite difficult to fully invest in the conflict in the story as everyone's motives for fighting were pretty unclear, though the battles themselves were enjoyable to read.
This story is quite formulaic and predictable, but I would recommend it for YA readers looking for a good adventure and strong female characters.
Book reviewed by Nia
Purchase Links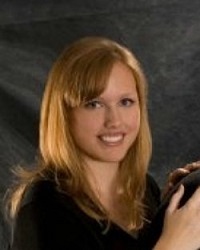 Jessica Dall finished her first novel at the age of fifteen and has been hooked on writing ever since. In the past few years, she has published two novels The Copper Witch and The Porcelain Child, along with a number of short stories that have appeared in both magazines and anthologies.
In college, Jessica interned at a publishing house, where her "writing hobby" slowly turned into a variety of writing careers.
She currently works as both as an editor and creative writing teacher in Washington, DC. When not busy editing, writing, or teaching, Jessica enjoys crafting and piano, and spending time with her friends and family. She can most often be found at her home in Maryland with a notebook and her much-loved, sometimes-neglected husband.
Author Links