Christmas at the Falling-Down Guest House by Lilly Bartlett – Book Review
Christmas at the Falling-Down Guest House by Lilly Bartlett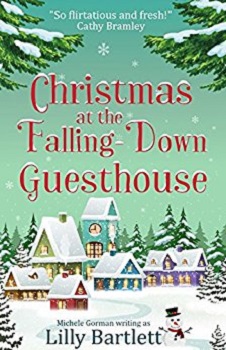 Christmas at the Falling-Down Guest House
Author – Lilly Bartlett
Publisher – Notting Hill Press
Pages – 100
Released – 25th October 2017
Format – ebook
Reviewer – Stacey
I received a free copy of this book
Post contains affiliate links.
Put your feet up and tuck into the mince pies, because you won't have to lift a finger to enjoy this Christmas at the Falling-Down Guesthouse!
Too bad the same can't be said for single mother and extremely undomestic goddess, Lottie. When her beloved Aunt Kate ends up in hospital just before Christmas, Lottie and her seven-year-old daughter rush to rural Wales to take over her B&B. A picky hotel reviewer and his mad family are coming to stay, and without the rating only he can give them, Aunt Kate will lose her livelihood.
But Lottie can barely run her own life, let alone a hotel. How will she manage to turn the falling-down guesthouse into the luxurious wonderland the reviewer expects? And could the mysterious taxi driver, Danny, who agrees to help her, turn out to be the real gift this season?
Review
Lottie receives a phone call in the middle of the night with some terrible news. Her Aunt Kate has been in a car crash and is currently in hospital in an induced coma.
Kate runs a guesthouse in Wales and normally shuts over the holidays, but this year she has a reviewer and his family coming to stay. She needs the review to be good in order to obtain that all important high rating.
Lottie and her daughter Mabel head to Wales to help look after the guesthouse, and of course Aunt Kate. Lottie is determined that she will get that good rating from the reviewer, but arriving at the guesthouse she is taken aback. It is falling apart. Enlisting the help of the taxi driver who dropped them off, the three of them set to work cleaning, fixing and trying to make the place look amazing. There is just one problem, Lottie hasn't a clue what she is doing?
The book was originally released in 2014 under the title, 'The Reluctant Elf', but this year had a makeover. As always with Michele Gorman/Lilly Bartlett, we are introduced to warm and inviting characters, beautiful scenery, (this time Snowdonia), and all set amongst a sweet, light-hearted plot that has a lovely pace to it.
Being only 100 pages long, this book is a quick read, but it does pack a lot into those pages, including lots of humour. It's one of those books that you can grab a cuppa, put your feet up and lose yourself in someone else's world for a while.
This is a sweet, festive read that is pure chick-lit from beginning to end; whilst I had a few 'eye-rolling' moments, I did enjoy getting to know Lottie and the cast, especially adorable Mabel.
Reviewed by Stacey
---
About the Author

Michele writes books with heart and humour, full of best friends, girl power and, of course, love and romance. Call them beach books or summer reads, chick lit or romcom… readers and reviewers call them "feel good", "relatable" and "thought-provoking".
She is both a Sunday Times and a USA Today bestselling author, raised in the US and living in London. She is very fond of naps, ice cream and Richard Curtis films but objects to spiders and the word "portion".
I spend way too much time on Twitter and Facebook when I should be writing, so please come say hello.



---