The South in Winter by Peter Benson – Book Review
The South in Winter by Peter Benson – Book Review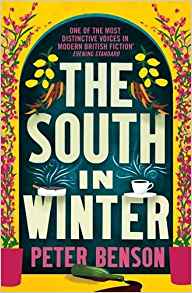 The South in Winter
Author – Peter Benson
Publisher – Alma Books
Pages – 256
Released – 22nd June 2017
ISBN-13 – 978-1846884238
Format – Paperback
Reviewer – Clive
I received a free copy of this book
Post contains affiliate links
Matthew Baxter was almost there. Almost a writer, almost a lover, almost a traveller. He wrote for the Tread Lightly range of travel guides, he loved his boss and he was about to catch a plane to the south. His job was to give an out-of-season slant to the Italian guide, and he was ready.
Almost. For everything wasn't exactly as it should have been. In fact, nothing was exactly as it should have been. Especially Matthew Baxter.
Peter Benson's new novel is a story of (almost) unrequited love and a meditation on the possibility of redemption. It's also a tour of southern Italy, and aims to prove that although some people say "Never go back", some people don't know what they're talking about.
Review
I found this book a delight from start to finish. Peter Benson's English is so prosaic I almost feel unworthy to compose a review.
The basic story is a simple one, Matthew is travelling around southern Italy to research his guide and as he travels he is contemplating a lost love. Within this framework we get descriptions of his journeys, the places he visits and recollections of past events, all combining to give us an in-depth insight into the character.
But the joy is in the writing and the author's use of words which wrap around like a cosy duvet. He uses the short chapter technique which draws you in. I found myself thinking, "I'll just read one more chapter…" and before I knew it half a dozen had drifted past.
As I approached the final chapters I was concerned as to how the story would end. Given that the main storyline was thin I worried that I would be left flat. No such chance, as the story is tied up with some lovely touches.
The South in Winter gave me a few days of the most captivating reading. It can be awarded nothing short of five stars.
Reviewed by Clive

---
About the Author

Peter Benson's first novel, The Levels, won the Guardian Fiction Prize. This was followed by A Lesser Dependency, winner of the Encore Award, and The Other Occupant, which was awarded the Somerset Maugham Award.
Peter Benson has also published short stories, volumes of poetry and screenplays, some adapted for TV and radio.
His works have been translated into many languages. He lives in Exeter with his wife.
---