Fifty-Fifty by Steve Cavanagh – Book Review
Fifty-Fifty by Steve Cavanagh – Book Review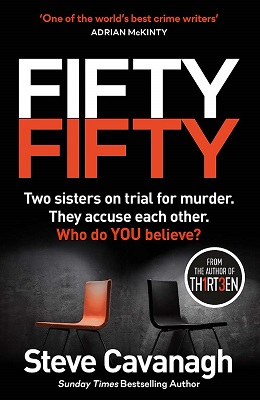 Fifty-Fifty
Eddie Flynn Book Five
Author – Steve Cavanagh
Publisher – Orion
Pages – 384
Released – 3rd September 2020
ISBN-13 – 978-1409185864
Format – ebook, paperback, audio
Review by – Stacey
Rating – 5 Stars
I received a free copy of this book.
This post contains affiliate links.


Two sisters on trial for murder. They accuse each other. Who do YOU believe?
'911 what's your emergency?'
'My dad's dead. My sister Sofia killed him. She's still in the house. Please send help.'
'My dad's dead. My sister Alexandra killed him. She's still in the house. Please send help.'
One of them is a liar and a killer.
But which one?

Frank Avellino, the ex-NYC mayor has been stabbed 53 times in his own home. His two daughters, Alexandra and Sofia are both in the house and making 911 calls blaming the other for the crime.
Both women are arrested at the scene on the suspicion of murder and it is up to their lawyers Eddie Flynn, representing Sofia and Kate Brooks representing Alexandra to prove that their clients are innocent.
But which sister is the murderer and not only of her father but a serial killer too. Is it the cool, calm, and confident Alexandra or the mentally unstable Sofia?
This is the first book in the Eddie Flynn series that I have read and I can tell you that this book is a real corker. It gets under your skin, has you trying to decipher each bit of information you are given and playing jury, although there was something that happened very early on in the book that had me pointing my finger at one of the women, turns out I was right!
There are plenty of twists and turns to keep you on your toes as well as a few red herrings are thrown in for good measure. The chapters are short which in my opinion always makes a book feel more intense, and there was never a dull moment.
I really liked Eddie and his way of working, especially as he is an ex-con-come-lawyer so he is good at working out his clients.
The book was certainly different from anything I have read before, I don't think I've ever come across a female serial killer, nor one who is as cold and emotionless as this culprit was.
Overall, it is a fantastic read that had me engrossed from the first page to the last. It works perfectly well as a standalone but I now need to go back and read the four other Eddie Flynn series novels.
Book Reviewer – Stacey
---
Purchase online from:
---
About the Author

Steve Cavanagh was born and raised in Belfast before leaving for Dublin at the age of eighteen to study Law. He practiced civil rights law and was involved in several high-profile cases; in 2010 he represented a factory worker who suffered racial abuse in the workplace and won the largest award of damages for race discrimination in Northern Ireland legal history.
He holds a certificate in Advanced Advocacy and lectures on various legal subjects (but really he just likes to tell jokes). His novel The Liar won the CWA Gold Dagger award while his follow-up novel Thirteen won the Theakston Old Peculier Crime Novel of the Year Award in 2019. Twisted was a Sunday Times Top 10 Bestseller. He is married with two young children.




---
What did you think of Fifty-Fifty? Share your thoughts in the comment section below!
---
The above links are affiliate links. I receive a very small percentage from each item you purchase via these link, which is at no extra cost to you. If you are thinking about purchasing the book, please think about using one of the links. All money received goes back into the blog and helps to keep it running. Thank you.
Like us on Facebook – Tweet us on Twitter – Pin us on Pinterest