The Second love of my Life by Victoria Walters – Book Review
The Second love of my Life by Victoria Walters – Book Review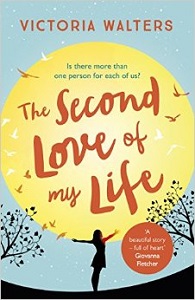 The Second love of my Life
Author – Victoria Walters
Publisher – Headline Review
Pages – 320
Release Date – 7th April 2016
Format – ebook, paperback
Reviewer – Stacey
I received a free copy of this book
Post Contains Affiliate Links

In the Cornish town of Talting, everyone is famous for something.
Until recently Rose was known for many things: her infectious positivity; her unique artistic talent; and her devotion to childhood sweetheart Lucas.
But two years ago that changed in one unthinkable moment. Now, Rose is known for being the young woman who became a widow aged just twenty-four.
Though Rose knows that life must go on, the thought of carving out a new future for herself is one she can barely entertain. Until a newcomer, Robert, arrives in Talting for the summer…
Can Rose allow herself the chance to love again?

Artist Rose had her whole life come crumbling down on her, the day she got that knock on the door, with the news that her childhood sweetheart, and husband of only two years, Lucas, had been killed by a drink-driver.
Two years on, and Rose's life is in limbo. She feels like she can't move on with her life, that she will never be able to be happy again, and that her painting days are numbered, as she hasn't been able to pick up a brush since that fateful night.
The paintings that she had already painted before her husband's death, now only bring back painful memories, so they must go.
When Robert comes to town and snatches up all of Rose's paintings, he ignites something in her that she hasn't felt for a long time. But can she truly ever feel happiness again?
'The Second Love of my Life' is set in the picture-perfect fictional seaside town of Tatling, Cornwall. With her vivid descriptions, Victoria brings Tatling into your heart, and has you wishing that it was real. You will get swept along by the idea of this idyllic place where the villagers are all exceptionally friendly, the beach is inviting, even on rainy days, and the relaxing atmosphere will melt away your stress.
Rose is a beautiful, loving, young woman who has been through the most devastating time in her life. She will have you warming to her and wanting to comfort her, as she tries to move forward in her life, whilst at the same time trying to cling on to the past.
Lucas was her everything. He made her smile everyday, and she loved him with all her heart. She feels numb inside, one minute wanting to think about Lucas, and the next trying to get him out of her mind.
You do feel at a loss when reading the book, as you know that this is a fictional book, with a fictional character, and yet you just want to tell her that everything will be okay, and that you are there for her if she needs a shoulder to cry on.
The raw emotions that Rose feels, especially towards her art is heart-breaking at times. This is a very talented woman who needs an outlet, and her art would be perfect, yet she feels to scared to even pick up a brush.
You know that there is going to be some kind of love interest with Robert, by the very title of the book, yet it was nice to see that the author didn't just jump in quickly and throw the two together. I was not prepared for the twist though, yet I knew something was coming, and in fact I thought that it was going to be worse than it turned out to be.
The book was quite a difficult read for me, as I had very recently lost my dad, so emotionally reading about someone dying and what their loved ones go through hit a nerve, but Victoria shares lots of words of wisdom throughout her book. Words that I will keep with me forever.
Grippingly beautiful, each chapter had me hooked. A fantastic début from an author I feel we will see much more from.
Book Reviewed by Stacey
Purchase Links

Excerpt – Chapter One
Now
They say that everyone is famous in a small town.
In my home town of Talting I had always been known as an artist.
The Last Painting?
I stare again at the bold headline on the front page of the Cornwall News. 'This might be your last chance to own a painting by renowned local artist Rose Walker', reads the opening line of the article.
'Why are you reading that again?' my best friend, Emma, demands as she comes to sit opposite me in the booth. 'Who left this here?' She looks around the room accusingly. It's been two weeks since the article was printed and I'm still haunted by its words.
Joe, our boss, comes over then, guilt flashing in his eyes when he sees the paper. 'I thought we agreed to get rid of them all,' he says.
'I just can't forget it,' I say, thinking back to the young journalist interviewing us all in this very bar a few weeks ago to publicise our town's annual Easter Fair, which takes place this Saturday.
Emma snatches the paper from my hands. 'I still can't believe the nerve of him,' she says.
I don't need the paper in front of me to remember the words: 'Ms Walker hasn't painted anything new in two years and it looks unlikely we will see any work in the future by this talented woman, so head for her stall at the Fair and grab an original Walker before it's too late.'
'I'm sorry, Rose,' Joe says for the hundredth time, looking at the paper fearfully. 'I only wanted him to know how proud I am that you're taking part in this year's Fair with everything that you've been through. How proud we all are.'
'He twisted everything you said,' Emma says indignantly, trying to console him. I know how bad he feels about the article. She screws up the paper in her hands. 'We are all really proud of you. This article doesn't change that.' Two years ago, my world changed forever.
I was no longer known in Talting for being an artist. Instead I became known for being something I could have never imagined: a widow at the age of twenty-four.
It's April and the weather is beginning to warm up, which means Talting is beginning to turn from an inconspicuous coastal town in Cornwall to a busy tourist destination, thanks to our stretch of golden sand and, more importantly, waves ripe for surfing. Our Easter Fair used to be one of my favourite events here but I missed last year's, unable to think about attending without Lucas by my side. It would have been my first time there without him in ten years and I wasn't ready to accept that. I'm still not sure if I'm ready to face the Fair alone, but I need to sell my last few paintings.
The remaining pieces of my past life.
It's the only way I can start to get some of myself back. I used to love these events and I'm determined to take part again. This is what living in Talting is all about, and I've never wanted to live anywhere else.
Although the past two years have severely tested that resolve.
The door to the bar swings open and a group of tourists come in, talking loudly and drawing our attention to them. Thanks to the forecasted warm weather this weekend, the Fair is going to be packed, and Talting Inn and our various B&Bs are already booked up for it.
This group are almost certainly here for the waves. I'd guess they are city types, working in banks or similar and here for a break to blow off steam. Their outfits are trying to be surfing cool but look expensive. Maybe they won't even get out to the sea, just take photos of it to brag to their Facebook friends.
'Here we go again,' Mrs Morris mutters as she walks over to collect her bag and coat from next to me, her eyes narrowing at the newcomers to the bar. She has displayed my paintings in her café since I was a teenager, but she's having it refurbished as it gets so packed during the tourist season and there won't be room for them. It gave me the perfect opportunity to free myself of them. 'I'm always relieved when it's all over,' she adds. Everyone in Talting calls her Mrs Morris. She's about seventy but we don't know her exact age, as she doesn't ever seem to have a birthday. She has one daughter who moved up north when she got married, but her granddaughter Amanda lives with her here.
'It'll be a busy few months,' I reply non-committally. Mrs Morris exemplifies a typical Talting view. We like to moan to one another about our town being invaded each season, even though we'd all sink otherwise. It's just one more eccentricity I love about this place. I don't actually mind that we'll be seeing tourists now all through the summer and into September. Anything that occupies my mind is welcome.
'It'll be over before you know it,' Joe consoles her, with a wink at me. I know exactly how much his profits are boosted during the summer months. Joe is Emma's uncle, so I've known him all my life. He's past sixty now with a mop of unruly hair and a round belly that Emma constantly pokes fun at. I've worked for him for eight years and he likes to think of himself as my surrogate father. He has taken to popping by my cottage to 'fix things' – and check up on me. It's almost impossible for me to stay upset with him about the article; I just need to put it behind me and hope that he and Emma are right that it will mean a sell-out of my stall. And keep quiet about the main reason I can't be mad at him: I'm worried the journalist will be proved right – that these will be the last paintings I ever sell.
'Right, we better get to work then,' Emma says, linking her arm through mine as we go out to the back to put on our Joe's Bar aprons. Her heels clip-clop against the wooden floor, her chestnut, shoulder-length curls bouncing as she walks.
The bar is pretty small but we have a few booths at the back and a terrace with outside tables, although it's too cold tonight for them to be occupied by non-smokers. The décor is rich dark wood and creams, from when Emma and I spruced the place up when we started working here as eighteen-year-olds. Joe's only acknowledgement that the summer brings tourists, mostly young ones, is to play music in the bar. And usually it's the Beatles at a very low volume, but he thinks it makes the place seem hipper. He doesn't need to worry, though, as apart from the Inn, which is more expensive, and the fish restaurant on the beach, it's the only place serving alcohol in town, so we're pretty much guaranteed customers.
The place soon fills up and Emma and I circulate the room taking drinks and food orders whilst Joe mans the bar. I don't know how Emma wears heels all night; my feet are already aching, and I'm in ballet pumps. What I love about this place is how central it is to life in town. I always know everything that's going on. Of course, it can be negative when you're one of the news items, but apart from some extra warm smiles and sympathetic looks when I serve people, which I used to get a lot, the conversation is easy and light.
The group of tourists quickly start to cause annoyance, though. They are drinking quickly and heavily and getting louder and more obnoxious with each round.
I reluctantly go over to clear their table when they've finished eating.
'You live here then, darling?' one of them asks. He's about my age with short hair and is wearing a white shirt, open to show off his chest hair. He half lunges at me as he speaks but the drink has made him too uncoordinated to reach me.
Then his friend nudges him. 'I wouldn't bother, check out her rings,' he says, slurring his words. They all gawp at my left hand. I follow their gaze; my fingers tightening around the glass in my hand and making my knuckles turn white.
Then I shake my head. 'Because you'd have really been in with a chance otherwise.'
'Ha ha, mate, she's got you there,' another one of them cries out with loud laughter. They continue their tasteless banter as I empty the table and hurry away. Emma is beside me in an instant, taking one of the glasses from me even though I can carry six without breaking into a sweat.
'They tried it on with me earlier too,' she says, propelling me into the kitchen and sweeping the glasses from me, crouching down to put them in the dishwasher, whilst I lean against the counter and take a deep breath. 'Can you imagine what John would have said if he'd been here?'
Emma's husband John is the most good-natured person I know. I squeeze my eyes shut for a second then open them. 'Take her off my hands?'
Emma stands up and beams at me. 'Precisely. But are you okay?' Her eyes sweep over me as if checking for signs of hurt. She has always done this. We met at primary school when she sat next to me on the first day and stared at me for a full minute before telling me I had weird hair. She tugged on one of my bunches then laughed. 'I like it that you're not cool,' she said matter-of-factly, then pulled her hair into bunches too. We've been best friends ever since. I watch her take in my long, blond hair pulled into a topknot as usual when I'm at work, my blue eyes which have dark circles under them thanks to my restless nights, and my tall, lean figure which has got a hell of a lot leaner these past two years. She frowns slightly and I wonder how much of the girl she used to know has faded away.
'I'll be fine,' I promise, looking away and shifting my feet, uncomfortable with her assessment. I used to just stare back when she did this, confident that she'd find nothing wanting, but now I fear the study because I know how different I am.
Everything I've experienced since Lucas's passing has changed me.
'I'll serve them for the rest of the night,' she says with a wave of her hand which always means no arguments. 'Take five.' She breezes out through the double doors, a true force of nature. Logical and forthright in comparison to my headin-the-clouds creativity. A perfect team, she always said, but lately our dynamic has become skewed as my creativity has become a burnt-out flame.
I follow her out five minutes later, annoyed that I let those jerks get to me. I sweep the bar for more empties and when I glance at their table I see that they're getting up, ready to leave. I breathe an inward sigh of relief. I'm proud of my comeback but I dread the questions of strangers. At least I don't have to explain anything to the people who live here, a perk of small-town life. It's the worst moment when you have to tell someone what happened. You look into their eyes and you just see one thing overwhelm them.
Pity.
It still hasn't got any easier to deal with seeing that.
The guys take their time in leaving. They are completely wasted and even pulling on their coats is a massive effort, but finally they make it to the door, calling out thanks and goodbyes to the whole place, which are met with eye rolls and shaking of heads. I check their table as I usually do when a group leaves to make sure they have taken everything, and I look up as the door starts to close on them. That's when my eyes focus on something in one of their hands. A flash of silver and black. A glint of light.
I've only experienced this sensation twice in my life. A cocktail of sudden heat and ice-cold washing over me. Feeling like my heart has stopped beating. Time standing still. Horror sinking in with reality. Car keys.
Seeing them in his hands sends me straight back to that night.
Hearing a knock at the door and opening it to PC Thomas. I've known him all my life too. I remembered the talks he had given at my school showing us pictures of the damage drugs could do to you. I had never done anything to warrant his attention apart from serving him drinks in the bar on his nights off, so I was confused when he appeared at my door, but not unduly concerned. Until I saw the look on his face. And I knew then that something terrible had happened.
This time though I might actually be able to do something. I shake off the memory of the worst night of my life and take off at a run. My legs move automatically as I push through the door and try frantically to find out where they are. I hear someone call my name but all I can think about is stopping them. My heart in my throat, I spot them across the road opening the car doors, laughing and talking loudly, utterly oblivious to the danger they are about to put themselves, and others, into.
This is my fear coming true. Ever since the night PC Thomas told me what had happened, I have dreaded being confronted with this. I thought about leaving the bar. Emma and John thought I should. But I needed the money to supplement the income I made from painting, and jobs in Talting are hard to come by, plus I couldn't cope with any more change. When your world is ripped apart, you cling to familiarity. Right now, though, I feel like I made a huge mistake.
'Stop,' I yell, anger boiling up under my skin at their stupidity. I was safe with people in town; they would never even consider it after what happened. But this bunch of idiots haven't got a clue about what kind of damage they could do. They look over but just laugh. I move closer to them and hear footsteps behind me. Emma calls my name but I continue moving into the road.
'Did we forget something?' the one who tried to flirt with me before asks, looking confused.
I grab hold of the car door so he can't shut it. 'Yeah, how much you've drunk.'
He laughs. 'Oh, I'm fine, I always do this.'
'You selfish prick. You could kill yourself or your friends but you could also kill an innocent person,' I shout at him. In my head I'm screaming at someone else, I realise that, but I couldn't stop him and I can stop this.
'Let's just go,' one of them says.
'You are drunk, you can't drive,' I tell him, planting myself closer to the car. They can run me over for all I care.
'This is getting boring, get lost,' the driver says, starting to raise his voice back at me.
Then we're not alone. Emma and Joe arrive with a couple of other men.
One of them steps forward. 'She's right,' he says in a cool, deep voice. I glance at him and recognise him from the corner seat in the bar. He had been nursing a beer all night.
I haven't seen him here before.
'She's crazy,' the guy says to him.
'Give me your keys.'
'No way.'
The guy grabs them from his hand. The man starts to protest but Joe steps in between them. 'Enough. There's no way I'm letting you drive after what I've seen you drink tonight. You can walk to the Inn from here.'
'Walk?'
'You have two legs, use them,' Emma says, putting her arm through mine.
'I'm staying there too, come on. You can pick up your car in the morning,' the guy from the bar says, pulling one of them by the sleeve of his coat. They look at one another, then their drunken good humour returns and they shrug and laugh and set off with him. He tucks the keys in his pocket and glances back, lifting his hand in a quick wave to the rest of us before turning the corner and disappearing from sight.
I slump against Emma. 'Jesus.'
Joe sighs. 'I knew they'd be trouble, bloody bankers. I'd ban them all if I could.'
'You girls okay?' the other guy asks, who I now see is Steve the postman.
'We're okay,' Emma says, pulling me closer. 'I think we should call it a night, though.' I see her exchange a look with her uncle.
'Definitely. Home now, both of you. And well done.' He briefly touches my arm before nodding to Steve. They both walk back inside the bar. I let out a shaky breath.
'You did good,' Emma says. 'I didn't even think . . . I'm glad you were here.'
I touch my wet cheeks. I didn't even know I was crying. 'I just can't believe they thought they were okay.' Just like I couldn't believe PC Thomas telling me about a man called Jeremy Green. A drunk driver who ripped my world in two. It only takes a second to make a bad choice but the consequences of his choice that night will be with me forever. 'I'm glad I was here,' I say, thinking about what she just said.
That had been hard, but if I saved someone else . . .
'You want to stay over tonight?'
'I just want to sleep.' I let her walk me home as I sense there's no point in arguing with her about it. I stayed with Emma and John after it happened as I couldn't bear to be in our house without Lucas. To be honest I stayed with them too long. I'll never be able to repay their kindness to me. They never once even hinted that I should look for somewhere else and were both shocked when I said I was going to move out on my own a few months ago. But it was time. I needed to start to build some kind of life for myself alone. I needed a fresh start. A place I could find myself again.
I was also hoping it would become a place I could paint in again. But that hasn't happened yet.
'Ring me if you need me,' Emma says, giving me a hug outside my front door, lingering a little as if she wants to say something else but isn't sure what or how.
'I will,' I promise, just to get her to leave, and watch her walk away. I let myself in to my cottage, weariness enveloping me from head to toe. It was like I had a burst of adrenaline and now it's all seeped away, leaving me drained.
Walking upstairs in the dark, I ignore the closed door of the second bedroom. It's the room I set up to paint in. I thought having a room just for painting would awaken my muse, but the door has remained shut so far.
In my bedroom, I climb on to the bed in my clothes, too exhausted to get undressed. I curl up into a ball and press my face into the cool pillow. There are moments now when I don't think about it constantly, moments when I can smile and live in the present, when happiness feels within touching distance, then something happens to bring it all back so vividly, so painfully, it's like it happened yesterday.
Tonight has done that. I'm right back there.
When there was a knock on my door. When I was told that my husband Lucas had been in a car crash. When I discovered that a drunk driver had hit his car head on. When I learned that the man I thought I'd be with forever had been killed. He had died instantly.
Two years ago, when I lost the man I loved, my childhood sweetheart, my everything.
I lost myself and, without him, I have no idea how to get me back.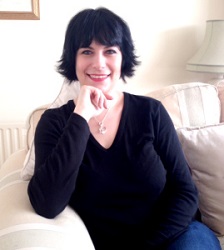 Victoria Walters has always loved creating stories. Her first book was handwritten when she was sixteen years old, and was closely modelled on the Sweet Valley High series.
Victoria studied sociology at Warwick University and has since worked for a business publisher and as a Waterstones bookseller.
She lives in Surrey with her cat Harry (named after Harry Potter, not Harry Styles).
Author Links