No-One Ever Has Sex on a Tuesday by Tracy Bloom – Book Review
No-One Ever Has Sex on a Tuesday by Tracy Bloom – Book Review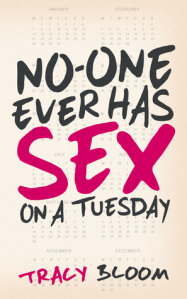 No-One Ever Has Sex on a Tuesday
Author – Tracy Bloom
Pages – 352
Publisher – Arrow
Release Date – 21st April 2014
Format – ebook, paperback, audio
Reviewer – Stacey
Rating – 4 Stars
Contains Affiliate Links

Childhood sweethearts Matthew and Katy agree they must never see each other again following a school reunion.
So all is forgotten … until eight months later when a shock meeting at an antenatal class forces them to confront the fact that Matthew could be the father of Katy's baby.
Love and life are messy, but Katy and Matthew take things to a whole new level as deep emotions begin to resurface and hormones run riot.
Never has a one-night-stand led to such chaos!

Katy is a 36 year old pregnant woman living with her younger P.E teacher boyfriend Ben, who has an approach to life that normal people just don't have, and some logical (if only to him) ideas why people don't have sex on Tuesdays.
At their first antenatal class, Katy who is eight months pregnant, and Ben bump into Katy's old high school sweetheart Matthew who is there with his pregnant wife, the highly strung, perfect, Alice, who is pregnant with their twins.
What Ben and Alice don't know is that a few months ago at a high school reunion, Katy and Matthew let their old emotions get the better of them and had a one night stand. They decided that it would be best if they never saw each other and never spoke of what happened again. But there is no escape at the antenatal class!
Matthew quickly does the maths and works out that he could be the father of Katy's baby. Katy realises that she doesn't know which one of them is the father and life gets very complicated for all involved.
Katy, although a bit of a dim wit comes across very sweet and charming even if she makes a lot of bad choices, though with good intentions. She has a wicked sense of humour often accompanied by inappropriate comments. Matthew for me blew hot and cold – one minute I thought he could be the knight in shining armour, the next I wanted to string him up.
The title of the book 'No-One Ever Has Sex on a Tuesday', makes the book sound much raunchier than it actually is. Actually, its not raunchy at all. It is however full of romance, chaos, irony and insane situations which kept me intrigued throughout, most of the time laughing out loud.
The subject of the story, that wouldn't be funny in the real world, was dealt with sensitively if in a humorous way and wasn't made centre of attention throughout. Tracy fills the book with plenty of personalities who work well together. My favourite being Daniel, Katy's gay friend who to me is the funniest character in the book and had me in stitches. If your looking for a cheerful pick me up then this is the book for you.
Book Reviewed by Stacey
Purchase online from:
---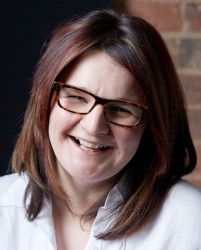 I started writing when my cruel, heartless husband ripped me away from my dream job, shopping for rollercoasters for the UK's leading theme parks, to live in America with a brand new baby and no mates.
In a cunning plan to avoid domestic duties and people who didn't understand my Derbyshire accent, I wrote NO-ONE EVER HAS SEX ON A TUESDAY. It went on to be successfully published internationally and became an ebook Number 1 Best Seller in the UK in 2013 before being named Best Author Published Read at the Festival of Romance.