Intruders by E.C. Scullion – Book Review
Intruders by E.C. Scullion – Book Review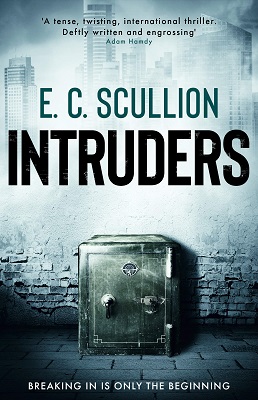 Intruders
Author – E.C. Scullion
Publisher – RedDoor Press
Pages – 320
Released – 18th June 2020
ISBN-13 – 978-1913062293
Format – ebook, paperback
Review by – Stacey
Rating – 5 Stars
I received a free copy of this book.
This post contains affiliate links.


"There is a safe, in a house, inside a secure compound in South America.
Your job is to bring me the contents of that safe."
Disgraced security consultant Tom Holt accepts a job from a mysterious lawyer, on behalf of a client named Capricorn.
Holt's team comprises Anil, a safe-cracking ex-con; Ray, a disgruntled logistics man, and Becca, a fiery red-headed thief with as much attitude as she has talent for picking pockets.
On arrival in the alluring Argentine city of Buenos Aires, Holt's past swiftly catches up with him. As he begins to question the client's motives, he finds there are darker, more sinister characters who show loyalty to his employer.
Who is Capricorn?
What's inside the safe?
Tom Holt is about to discover how far he will go to expose the truth, even if it means risking everything, including his own life…

Tom Holt's job use to be providing the security knowhow to keep people safe in a gated community, that was until his gambling habits got the better of him. Now down on his luck, he is offered the job of breaking into a gated community in Uruguay for a high price by the lawyer for a mysterious man calling himself Capricorn.
Tom arrives in Argentina to a team already assembled by the lawyer. Anil is the safe expert, Ray is the logistics man and Becca is a pickpocket who has taken on the job on the understanding that if she gets the job done her fee won't be money but her brother's freedom from prison.
The unlikely group move between Argentina and Uruguay trying to work out how best to get into the gated community that is heavily patrolled by security teams, the houses are all alarmed and the safe they are after is behind a thick metal door and the person whose safe it is carries the key to the door on her person at all times.
Capricorn grows restless with the team and orders them to crack the safe within five days, but are the team ready and what is so important to him that he is willing to send people thousands of miles to get into a heavily guarded safe? One thing is for certain the team will never know as they have been warned not to look at the contents of the safe, but will their intrigue get the better of them?
Intruders is a superb book that had me engrossed from the very first page. The book is 3/4 the build-up to breaking into the safe and 1/4 what happens afterward. The team members are all unique and had clashing personalities. Anil for a safe-cracker was quite quiet and reserved. He was doing this one last job for his family and a need to know what was happening at every stage.
Ray was an ex-copper who disliked ex-con Anil from the outset. They clashed on about every subject. He reminded me of an old man still trying to keep up with his youth that he'd wasted.
I was unsure why Becca was there. Yes, she was a pickpocket but I wasn't sure how good her skills would be in breaking and entering and getting into a safe. As the book progressed the reason she was there became more glaringly obvious.
Tom was a man who liked danger. He liked the thrill, and the thoughts of using his skills in security both made him giddy and worried. He asked a lot of questions and needed a lot of answers.
Until I began reading this book I'd never heard of gated communities – Okay that may not be entirely accurate, I'd never heard of them outside of movies or dystopian novels. I didn't realise they actually existed I even spent my time googling and having a nose at some of them.
The book flowed well and the pace felt fast throughout. I was a little disappointed at the scene with the safe, I wanted more drama, but apart from that, it was entertaining and thrilling the whole way through.
This is a fabulous heist thriller that will keep you on your toes. It will have you wanting to know what is in the safe and trying to work out if the team makes it out of Uruguay alive and back to their normal lives.
Book Reviewer – Stacey
---
Purchase online from:
---
About the Author

E.C. Scullion is British Author. She joined the Foreign & Commonwealth Office in 2003. For the past eleven years she has managed to escape Westminster, working in British Embassies in Beijing, Bangkok, Panama City and Montevideo in Uruguay.
She is a graduate of the Faber Academy and INTRUDERS is her first published novel. She now lives in Rome with her husband and two children.



---
What did you think of Intruders? Share your thoughts in the comment section below!
---
The above links are affiliate links. I receive a very small percentage from each item you purchase via these link, which is at no extra cost to you. If you are thinking about purchasing the book, please think about using one of the links. All money received goes back into the blog and helps to keep it running. Thank you.
Like us on Facebook – Tweet us on Twitter – Pin us on Pinterest