The Complete Deeper Realms Volume 2 by Ian Roberts – Cover Reveal
The Complete Deeper Realms Volume 2 by Ian Roberts – Cover Reveal
Today we welcome author Ian Roberts with the cover reveal for his upcoming new book 'The Complete Deeper Realms Volume 2', which will be released on 12th July 2020. This post contains affiliate links.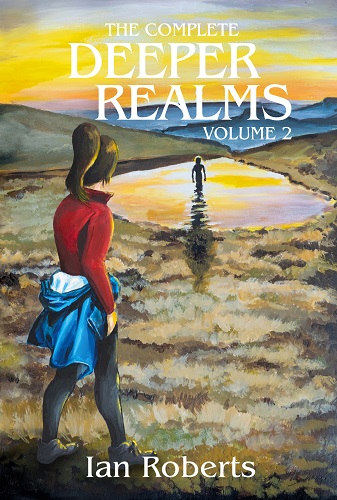 The Complete Deeper Realms Volume 2
Author – Ian Roberts
Pages – 487
Release Date – 12th July 2020
Format – ebook, paperback (coming soon)

"'No!' she heard Eve yell, feeling the breath catch in her throat as her mind made the leap. They were seeing another lost day – a different moment – a window to a world yet deeper still." Forced to put aside her misgivings about the enigmatic Ravenna Friere, Dr Eve wells finds herself consultant to the mysterious time traveler once more, and, along with museum curator Polly Nightingale, is drawn into a series of increasingly terrifying adventures.
With the safety of her fiance in question, Eve is forced to join Ravenna in the jungles of West Africa in The Nandi Bear, on the trail of a prehistoric beast alleged to survive in the remote highlands; yet the appearance of a young woman who shares Ravenna's gift sets a terrifying series of events in motion.
Trapped on an ocean liner destined for destruction in The Lusitania, Eve and Polly must struggle to survive as Ravenna faces her nemesis, before becoming embroiled in the spine-tingling mystery of The Mermaid on the Peak District moors; yet as events reach a deadly conclusion on the trail of The Almasty – the Russian Bigfoot – Eve is left wondering who she can trust, in the face of global catastrophe.
---
Pre-Order online from:
---
About the Author

The elusive Ian Roberts is a writer, historian and former tutor of medieval history who has been making-up implausible adventures for as long as he can remember.
Often writing with a strong female lead, he uses the medium of time travel as a way of exploring the past, creating a world where the miraculous is possible – and his brand of quirky historical fiction will be sure to delight lovers of both fantasy adventure and classic science fiction.





---
Share your thoughts on the cover of The Complete Deeper Realms Volume 2 in the comment section below!
---
The above links are affiliate links. I receive a very small percentage from each item you purchase via these link, which is at no extra cost to you. If you are thinking about purchasing the book, please think about using one of the links. All money received goes back into the blog and helps to keep it running. Thank you.
Like us on Facebook – Tweet us on Twitter – Pin us on Pinterest