Knock Knock by Chris Merritt – Cover Reveal
Knock Knock by Chris Merritt – Cover Reveal
Today we welcome author Chris Merritt with the cover reveal for his upcoming new book 'Knock Knock', which will be released on 17th March 2020, the first in a new series. This post contains affiliate links.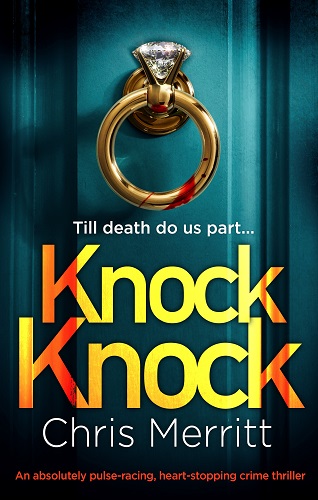 Knock Knock


Detectives Lockhart and Green Book One
Author – Chris Merritt
Publisher – Bookouture
Pages – 416
Release Date – 17th March 2020
Format – ebook, POD, audio

Natasha Mayston wasn't expecting anyone to knock on her door so late at night and she has no idea that the face staring back at her is the last one she'll ever see…
As Detective Dan Lockhart is called to a wealthy London street to investigate Natasha's death, he's startled by the similarity to another case. Noticing the cable-tie restraints and the tiny scratches on Natasha's wedding finger, Dan already knows what he will find if he looks in her throat – the small metal ball which choked her to death. He knows for sure that this isn't the killer's first victim and that he will strike again.
Months earlier, Kim Hardy was found in the same position in a hotel across the city – the same cable ties around her wrists, lacerations on her left hand and the same silver ball in her throat. But Kim's murderer was caught and sent to prison – did they arrest the wrong man? Fearing that he's dealing with a serial killer, Dan calls in psychologist Lexi Green to help with the case.
Then another body is discovered just days later, just as Lexi finds a clue online leading to the killer. Dan and his team aren't convinced she's found the right man, but Lexi reaches out to the suspect, putting herself in unthinkable danger. Dan thinks he knows who's next on the killer's list. But can he reach her before it's too late?
Fans of Angela Marsons, Robert Dugoni and Cara Hunter will love this thrilling new series from Chris Merritt. From an explosive start to a heart-stopping finale, you will not want to put this book down!
---
Pre-Order online from:
---
About the Author

Hello! I'm a British author whose crime thrillers combine psychology, suspense, and characters you care about.
All my novels are set in London, where I live. My first trilogy starred Zac Boateng and Kat Jones, two detectives motivated by family, who tackle organised crime and police corruption. LAST WITNESS, the second Boateng and Jones book, reached #13 in the UK Kindle chart in 2019.
My second series features detective Dan Lockhart – an ex-soldier with a missing wife – and psychologist Dr Lexi Green, an American living in London. These novels are darker, more psychological serial-killer cases, with romantic relationships as a central theme.
I began writing fiction in 2014, after previous careers as a diplomat, based in Iraq and Jerusalem, and later as a psychologist working with victims and perpetrators of crime. I specialised in treating Post-Traumatic Stress Disorder (PTSD), which sparked my interest in telling stories about how people cope when faced with extreme adversity.
Now, I spend most of my time writing novels and drinking coffee while *thinking* about writing novels. When I'm not writing, I love climbing and playing basketball.



---
Share your thoughts on the cover of Knock Knock in the comment section below!
---
The above links are affiliate links. I receive a very small percentage from each item you purchase via these link, which is at no extra cost to you. If you are thinking about purchasing the book, please think about using one of the links. All money received goes back into the blog and helps to keep it running. Thank you.