Colombiano by Rusty Young – Book Review
Colombiano by Rusty Young – Book Review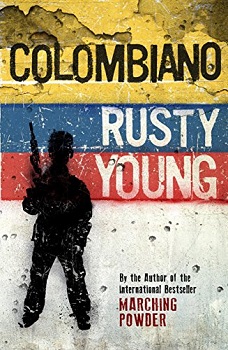 Colombiano
Author – Rusty Young
Publisher – Havelock & Baker
Pages – 689
Released – 1st March 2019
ISBN-13 – 978-0648445326
Format – ebook, paperback, audio
Review by – Linda
Rating – 5 Stars
I received a free copy of this book.
This post contains affiliate links.


Blending fact and fiction, Colombiano is a heart-thumping journey into the violent and unpredictable world of post-Escobar Colombia.
For four years Rusty Young, author of the international bestseller Marching Powder, worked secretly for the US government in Colombia. During this time he was shocked by the stories of child soldiers he encountered. He vowed that one day he would turn their tales into a book.
In Colombia you have to pick a side. Or one will be picked for you . . .
All Pedro Gutiérrez cares about is fishing, playing pool and his girlfriend Camila's promise to sleep with him on his sixteenth birthday. But his life is ripped apart when Guerrilla soldiers callously execute his father in front of him, and he and his mother are banished from their farm.
Swearing vengeance against the five men responsible, Pedro joins an illegal Paramilitary group with his best friend, Palillo, where he is trained to fight, kill and crush any sign of weakness.
But as he descends into a world of unspeakable violence, Pedro must decide how far he is willing to go. Can he stop himself before he becomes just as ruthless as those he is hunting? Or will his dark obsession cost him all he loves?

Author Rusty Young having worked for the US government in Columbia was shocked by the stories of child soldiers and vowed he write a book about their tales and Colombiano is just that.
This is a very harrowing book about a young lad, Pedro Gutiérrez, whose world was changed by the killing of his Papa and him seeking revenge. Not all of Pedro's decisions were right but reading how things were at that time in the rural villages; people being held ransom, drugs, drug traffickers, murders and a lot worse! I can see why young people, just like Pedro, did what they did to survive.
Colombiano is a very emotional, heart-rendering, epic tale. At times it is almost too hard to read given the shocking violence especially Pedro going after his father's killers and the undeniable treatment the Autodefensas and what the guerrillas did to people.
Then we have the love Pedro has for his best friend Palillo, his Mama, and his girlfriend Camila. All these characters are so effortlessly described by Rusty Young. I felt that I knew them and could understand why they behaved as they did. It made me realise how lucky I am to live the life I have!
This is a magnificent, powerful read that even with the very worst of shocking, somewhat unbelievable, violence I couldn't stop reading. The knowledge the author has of life in the Colombian villages and his imagination has led to this remarkable book.
This is certainly not my normal read and it took me right out of my comfort zone but well done Rusty Young on such a superb book. I will definitely recommend it and I award 5 stars.
Book Reviewer – Linda
---
Purchase online from:
---
About the Author

Rusty Young is the international best selling author of MARCHING POWDER and COLOMBIANO. Voted by his colleagues at law school as "the most likely to end up in prison", he spent 4 months living in Bolivia's San Pedro Prison (voluntarily) to research his first book, MARCHING POWDER, written with Tanzanian-born UK inmate, Thomas McFadden.
Rusty then moved to Colombia for 7 years, working in counter-terrorism for the US government, driving a bulletproof car and assisting in anti-kidnapping efforts. His interviews with child soldiers from the FARC and Paramilitaries formed the basis of his next book, COLOMBIANO.
He recently interviewed various "legends" of the drug trade, including George Jung (played by Johnny Depp in "Blow") and Pablo Escobar's chief assassin, for the award-winning documentary WILDLANDS, directed by Colin Offhand and available for rent on Amazon and other major platforms.
Marching Powder is due to be made into a major Hollywood film. Rusty is no longer able to practise as a lawyer…




---
What did you think of Colombiano? Share your thoughts in the comment section below!
---
The above links are affiliate links. I receive a very small percentage from each item you purchase via these link, which is at no extra cost to you. If you are thinking about purchasing the book, please think about using one of the links. All money received goes back into the blog and helps to keep it running. Thank you.