Three Days in Florence by Chrissie Manby – Book Review
Three Days in Florence by Chrissie Manby – Book Review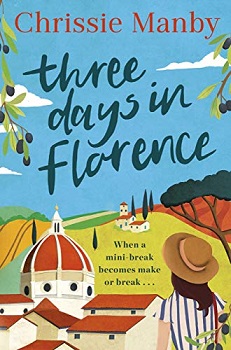 Three Days in Florence
Author – Chrissie Manby
Publisher – Hodder Paperbacks
Pages – 352
Released – 8th August 2019
ISBN-13 – 978-1473682955
Format – ebook, paperback, audio
Reviewer – Stacey
Rating – 4 Stars
I received a free copy of this book.
This post contains affiliate links.
When a mini-break becomes make or break…
Kathy Courage has never visited the famous Italian city of Florence before, so she's thrilled when she and her boyfriend Neil are invited there for a wedding. Unfortunately, with Neil's constant complaining and his teenage children in tow, it's not exactly the romantic break Kathy was hoping for.
But when a mix-up with her flights leaves Kathy stranded in the city, she decides to embrace the unexpected and stay on alone.
What follows is a life-changing few days in the Tuscan sun, as Kathy begins to question the choices that have led her here. With the help of the colourful Innocenti family, who offer Kathy a place to stay, she gradually begins to realise that there's a much bigger world out there, if only she can be brave enough to explore it.
Could Italy hold the answers to her future happiness? Or is Kathy destined to return to her old life?

Kathy Courage has travelled with her long-term boyfriend Neil to Italy for his brother's wedding. In tow is Neil's three rude and antisocial teenage children. They arrive a couple of days before the wedding and are due to leave the very next morning as Neil wants to get back home.
From the moment the wedding is mentioned Neil has been like a bear with a sore head about it and his children are annoyed that they have to attend. Things don't get any easier for Kathy from issues on the journey to the hotel, Neil's constant moaning and needing the air-con on Arctic blast setting, the teenagers wanting everything their way and then, of course, needing new bridesmaid dresses and Kathy's shoes just happen to go with the new dress leaving her with flip-flops for the big day.
If the first two days were bad, the worse was to come when Neil not only proposes at his brother's wedding. But the next morning there has been a mix-up and Kathy isn't on the flight home with the family. Neil orders her to stay at the airport and wait for another flight, but when you have been in love with Florence all your life and you are given three days alone, what else would you do then make the most of your time.
Three Days in Florence is a fun book featuring an amazing young woman, Kathy Courage – I love her name. Kathy and Neil have been together for a long time but she never expected him to propose, especially when she'd been having doubts about the relationship for a while. I'm not surprised she was having doubts, I'd of kicked him to the kerb a long time ago with his constant me, me, me attitude. He uses Kathy like a doormat and what is with the 'Chicken Licken' he calls her when he knows she doesn't like the name. Grrrr.
The book takes a while to get to Kathy being alone, but once she has her freedom and time to explore the story comes alive. I've never been to Italy, but it sounds so beautiful and there is so much to see, the descriptions were so vivid it often felt like I was were there. There are some lovely people in Florence that show Kathy what true friendship means.
This is the perfect book for lounging by the pool with or reading on the beach. Even better if you are holidaying in Florence, what an amazing way to make the book come alive that reading it in the city it is set.
Book Reviewer – Stacey
---
Purchase online from:
---
About the Author

I grew up in Gloucester and studied Experimental Psychology at St Edmund Hall, Oxford. Writing under my own name and the pseudonyms Olivia Darling, Stella Knightley and Stephanie Ash, I am the author of thirty-six novels including Sunday Times Bestsellers 'Running Away From Richard', 'Seven Sunny Days' and 'The Matchbreaker'. My work has been published in over 14 countries including Taiwan (where my Olivia Darling debut 'Vintage' was a top five bestseller) Romania, Russia, Japan, Thailand and Turkey, among others.
I have also worked as a screenwriter and have recently applied the knowledge I gained in that field to teaching creative writing. I've written features (and obituaries) for several national papers and magazines. Together with Jessica Adams, I was one of the original editors of the Girls' Night In series of anthologies in aid of WarChild.
When I'm not writing, I enjoy drawing and creating book covers. I am also learning to speak German.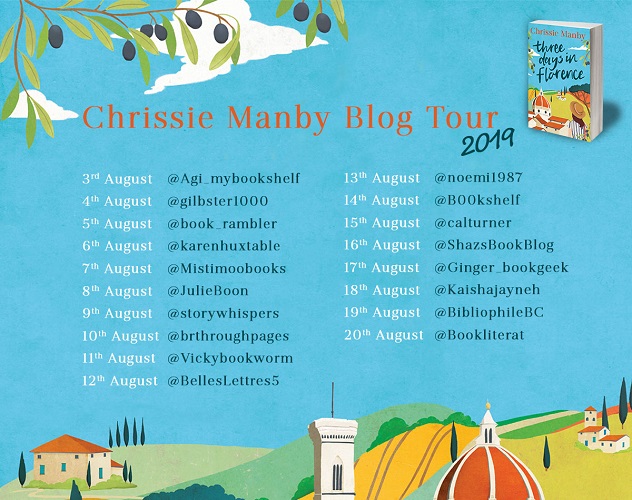 ---
What did you think of the book? Share your thoughts in the comment section below!
---
The above links are affiliate links. I receive a very small percentage from each item you purchase via these link, which is at no extra cost to you. If you are thinking about purchasing the book, please think about using one of the links. All money received goes back into the blog and helps to keep it running. Thank you.