Miss You by Kate Eberlen – Book Review
Miss You by Kate Eberlen – Book Review
Miss You
Author – Kate Eberlen
Publisher – Mantle
Pages – 464
Release Date – 11th August 2016
ISBN-13 – 978-1509819935
Format – ebook, paperback, hardcover, audio
Reviewer – Francesca
I received a free copy of this book
Post Contains Affiliate Links

Tess and Gus are meant to be. They just haven't met properly yet. And perhaps they never will . . .
Today is the first day of the rest of your life is the motto on a plate in the kitchen at home, and Tess can't get it out of her head, even though she's in Florence for a final, idyllic holiday before university. Her life is about to change forever – but not in the way she expects.
Gus and his parents are also on holiday in Florence. Their lives have already changed suddenly and dramatically. Gus tries to be a dutiful son, but longs to escape and discover what sort of person he is going to be.
For one day, the paths of an eighteen-year-old girl and boy criss-cross before they each return to England.
Over the course of the next sixteen years, life and love will offer them very different challenges. Separated by distance and fate, there's no way the two of them are ever going to meet each other properly . . . or is there?

A romance novel with a heart on the cover. Two characters who are meant to be. Alternating first person narratives following them through their lives. Sound familiar and wearingly clichéd? Kate Eberlen might not have made herself immediately appealing to the critic's eye, but in her novel 'Miss You' she has written an interesting, enjoyable and immersive work that is both light and literary, and a gently provocative read.
We're introduced to the main characters in 1997, when Tess and her best friend Doll are inter-railing in Italy after their A Levels, and bump into a lonely and slightly awkward boy, our other protagonist Gus, away with his parents before he goes to fulfil their dreams at university. Tess however can not head to the big city to study, as following the death of her mother, she is left to bring up her autistic sister Hope, and with it sacrifice her own dreams and wonder what might have been. Things aren't easy for Gus either, and he lives in the shadow of his handsome, successful and adored older brother Ross, whose death in a ski accident concretes his place as an idol in his parents' eyes.
Through chapters that alternate between their two stories, both experience grief, betrayal, love, career struggles, and the general yearning to find oneself that life involves – right up until summer 2013. Over the sixteen years, their paths not only echo one another's, but threaten to intersect – never quite making it.
A book lover, Tess's early comment that 'my romantic education had come from novels and all my favourite heroines had to suffer misunderstanding and despair in their pursuit of true love' confirms what we know – they'll end up together eventually (spoiler alert!) but the route there is interesting and varied to make the journey engaging. Both characters' narratives are interesting enough to form novels in their own right, and the characters likeable but flawed. There's some great twists to the plot – the identity of Gus's wife surprised me, as did his relationship with Nash, and the changes in Hope's character.
Description is often vivid, and the emotional or physical landscape illuminated, whether it's the 'shimmering palms of iridescence in the night sky' as Gus's teenage girlfriend gazes at fireworks, the 'candyfloss-blossom trees, yellow daffodils, lime-green grass; a paintbox row of houses' that make up Notting Hill's Portobello Road, or Gus's exhaustion as 'my eyelids jerkily fluttering like the wings of a dying bird.'
The book drawn comparisons to David Nicholls's super successful One Day, both dealing with the idea of love and fate and written through vignettes over the years, and whilst is certainly not a rip off, will benefit from the popularity of the genre. It's an easy read, but not fluffy – more accessible and immersive. The trope of fate and serendipity is a well-worn one, but like Gus ponders himself, so much of who we spend time with and the relationships we engage in are a result of circumstance more than anything – and you never know what could have happened if you'd spoken to that person, not this one. 'We think we choose our friends, but perhaps it's always a matter of chance.' The premise might be timeworn, but the book certainly isn't, dealing with all of the issues of life in a warm, compassionate and honest manner.
Endearing and engaging, it thawed this reader's hard heart towards romance novels. Thoroughly recommended as the un-guiltiest of guilty pleasures.
Book Reviewed by Francesca
Purchase Links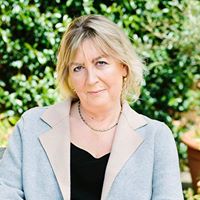 I grew up in a small town thirty miles away from London and spent my childhood reading books and longing to escape. I even learned the London Underground Map off by heart just so I would be ready if and when the opportunity arose. My fascination with different lives and cultures led me to study Classics at Oxford University, but I discovered that I was much less interested in academia than I was in the world of work.
I've had lots of jobs – from running my own jewellery business at the age of twelve, au pair in Rome and New York, lift girl at Harrods (smiling, as if for the first time, whenever someone remarked 'I bet this job has its ups and downs'), to working in publishing and writing books. Most recently, I've trained to teach English as a Foreign Language with a view to spending more time in Italy, a country I love.
I wrote Miss You in the afternoons when I was teaching in the mornings. For my next novel, I'm revisiting my passion for classical literature by weaving the poems of Catullus into contemporary narrative about identity and love.
I'm married to a lovely man and we have a son who is at university now. We moved out of London so that our son could grow up by the sea, but I go up several times a month. I'm passionate about dance and adore the pure romance of classical ballet, so I try to see as many productions as I can. My husband and I recently decided to learn ballroom dancing, which is really good fun, although much more difficult than it looks.
I love films and drama on television, but I think my greatest pleasure is still that feeling of being transported to another world when I'm reading a good book.
Author Links
www.kateeberlen.com
@kateeberlen
Facebook
Instagram
Pinterest