The Wayward Girls by Amanda Mason – Book Review
The Wayward Girls by Amanda Mason – Book Review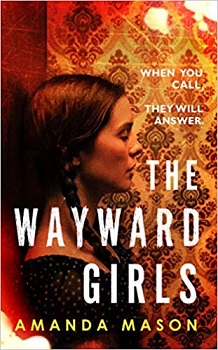 The Wayward Girls
Author – Amanda Mason
Publisher – Zaffre
Pages – 448
Released – 5th September 2019
ISBN-13 – 978-1785767135
Format – ebook, paperback, hardcover
Reviewer – Stacey
Rating – 4 Stars
I received a free copy of this book.
This post contains affiliate links.
THEN
1976. Loo and her sister Bee live in a run-down cottage in the middle of nowhere, with their artistic parents and wild siblings. Their mother, Cathy, had hoped to escape to a simpler life; instead the family find themselves isolated and shunned by their neighbours. At the height of the stifling summer, unexplained noises and occurrences in the house begin to disturb the family, until they intrude on every waking moment . . .
NOW
Loo, now Lucy, is called back to her childhood home. A group of strangers are looking to discover the truth about the house and the people who lived there. But is Lucy ready to confront what really happened all those years ago?

In 1976 Loo, her sister Bee and their siblings, plus their mum Cathy moved into Iron Sike Farm, as far as Loo knew her father Joe was working away and would join them someday.
Not long after they arrived at the farm strange occurrences began, things moved, voices were heard and the girls received injuries but they didn't know where from. Sure that their house was haunted they let paranormal investigators investigate the goings-on, Simon, Michael, and Issy were there to talk to the children and observe the farm and to try and catch any paranormal activity on camera.
In the present day, Cathy has dementia and is living in a residential home. She has received a letter from the daughter of one of the investigators who had since died and she wanted to follow up on his investigation at the now derelict farm and wants to talk to Cathy about what went on all those years ago. Nina and her team Hal and Lewis are students. Nina had read her fathers books on the events and wants to find out if the place really was/is haunted.
Lucy (Loo) is called to the residential home after her mum wanders off, she discovers the new investigation at the farm but isn't happy. She doesn't want her mum brought into the story again so she agrees to visit the farm with the students and talk to them about what happened in 1976. Is the place haunted and if so by whom?
The Wayward Girls is a mild horror, paranormal book that revolves around an isolated farm. It is told in alternative chapters of Now and Then. The first 3/4 of the book is gripping and I was eager to find out what was happening and who could this possible poltergeist be and what did they want and would the farm still be haunted. The book captivated me and I found myself flying through it not wanting to put it down, I needed answers!
We then move on to the last 1/4 and this is where it felt like things were rushed. I got to the end and then had to re-read sections as all my questions hadn't been answered, but alas I didn't find many answers by going back over the chapters. Because it was written in a manner that felt rushed it became a little confusing too, and to be honest I closed the book still unsure if the farm was haunted or not. There was enough evidence produced for and against this idea.
If you are easily scared then this book will give you chills, but my advice is to take it slowly and absorb all the story.
Book Reviewer – Stacey
---
Purchase online from:
---
About the Author

Amanda Mason was born and brought up in Whitby, North Yorks. She studied Theatre at Dartington College of Arts, where she began writing by devising and directing plays. After a few years of earning a very irregular living in lots of odd jobs, including performing in a comedy street magic act, she became a teacher and has worked in the UK, Italy, Spain, and Germany.
She now lives in York and has given up teaching for writing. Her short stories have been published in several anthologies. The Wayward Girls, her debut novel, was longlisted for the Deborah Rogers prize.

---
What did you think of the book? Share your thoughts in the comment section below!
---
The above links are affiliate links. I receive a very small percentage from each item you purchase via these link, which is at no extra cost to you. If you are thinking about purchasing the book, please think about using one of the links. All money received goes back into the blog and helps to keep it running. Thank you.