Someone Else's Life by Kevin J Simington – Book Review
Someone Else's Life by Kevin J Simington – Book Review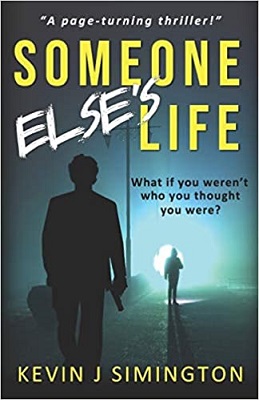 Someone Else's Life
Author – Kevin J Simington
Pages – 274
Released – 12th July 2020
ISBN-13 – 979-8665577203
Format – ebook, paperback
Review by – Julie
Rating – 4 Stars
I received a free copy of this book.
This post contains affiliate links.


What if you weren't who you thought you were? A mysterious case of identity switching turns deadly when struggling private investigator, John Targett, becomes involved. As the plot deepens and more layers are uncovered, John must fight for his life against a well-organised crime gang who will do anything to remain undetected.
As he is drawn deeper into the rabbit hole of subterfuge, he will need to risk everything in order to protect his daughter and remain alive himself.

'Someone Else's Life' is a contemporary thriller by Australian-based author, Kevin J Simington. The story, set in the USA, is told in the first person and the present tense. To capture his readers' attention, the author throws us straight into an action scene involving our main protagonist, Private Investigator, John Targett.
As the story develops, we learn more about John's background and the brisk pace inevitably dips a little. The chapters are all short and some would have benefitted from stronger hooks, making it hard for the reader to put the book down.
From the title and synopsis, I thought the plot would revolve around a case of identity substitution but in fact, this was only one element of a story which focuses on several of his cases. His involuntary involvement with a ruthless criminal gang is by far the dominant storyline and actually doesn't link to the identity thread. With this, I was a little disappointed.
As we follow John's life, we meet his daughter and learn a bit of youth-speak on the way. His new assistant, Quinn, has the most amazing hacking skills and is, without doubt, too good to be true. He would certainly be lost without her input into his various cases.
On a negative note, I feel overall the structure hangs together like a collection of short encounters in the life of our main character. On the plus side, the book is engaging and the humour alone makes it a very easy read and I fully appreciated the amount of research the author has brought to every element of the overall tale.
John's adventures bring themselves to a fairly neat conclusion and he even finds romance along the way; no doubt readers who enjoy such things will be delighted. There is a small twist at the end and it might be that this leads to another outing for this character and his foils.
Someone Else's Life will appeal to readers who like clean-cut action stories mixed with intrigue and I award a well-deserved four stars.
Book Reviewer – Julie
---
Purchase online from:
---
About the Author

Kevin J Simington is a highly acclaimed writer whose fiction and non-fiction books have been lauded for their intelligence, wit and captivating writing style. He is a sought after keynote speaker who regularly speaks at conferences in the areas of philosophy, science and apologetics. He also writes for several magazines. Kevin lives on the Central Coast of New South Wales, Australia, and has a wide range of interests.
These include squash (he's pretty good), running (he's very fit), golf (he's very bad), surfing (he thinks he's pretty good, so let's not spoil his fantasy), bike riding, tennis and music (he plays guitar in a covers rock band). He lives on a small farm (55 acres) with his wife and his daughter and her family. Together they have 1 cat, 3 dogs, 6 sheep, 10 pigs, 12 ducks, 100 cattle, 1,800 chickens and 1 horse. Kevin's main contribution to farm work is patting the horse and dogs.

---
What did you think of Someone Else's Life? Share your thoughts in the comment section below!
---
The above links are affiliate links. I receive a very small percentage from each item you purchase via these link, which is at no extra cost to you. If you are thinking about purchasing the book, please think about using one of the links. All money received goes back into the blog and helps to keep it running. Thank you.
Like us on Facebook – Tweet us on Twitter – Pin us on Pinterest