Rainy Season by Kurt Brindley – Book Review
Rainy Season by Kurt Brindley – Book Review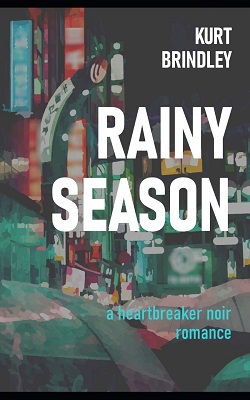 Rainy Season
Author – Kurt Brindley
Pages – 174
Released – 1st July 2020
ISBN-13 – 979-8650556084
Format – ebook, paperback
Review by – Jenna
Rating – 4 Stars
I received a free copy of this book.
This post contains affiliate links.


Tokyo during rainy season, when the sun rarely shines and the days are hot, wet, and long, is the perfect place for a man like Rich, a man who has traveled the world trying to outrun a past determined to haunt him forever.
Settled now in a street-side apartment, Rich spends his Tokyo days mostly out on the balcony where he leans against the railing, smokes his cigarettes, and watches the rain as it falls upon a sea of umbrellas flowing by on the sidewalk below.
But he spends his nights at The Low Point, a mostly unknown, cozy little jazz club where he is left alone to smoke, write in his journal, and drink Japanese whiskey… a lot of it.
With Tokyo, the largest metropolis in the world, Rich has become, if not happy, then at least content within his self-imposed solitude.
That is until Miko is hired on to perform at the club. With her comes beauty, grace, a magical singing voice, and a large following that turns the once obscure jazz club into the it place to be.
Also with her comes trouble… a lot of it.

Rainy Season by Kurt Brindley starts with a poetically beautiful description of our setting, Tokyo, Japan. The rain, neon lights, cigarette smoke in the humid air all set us up for a moody romance – a heartbreaker noir romance.
A jazz club in Tokyo, mysterious men in black suits, money owed, and bones are broken. Yes, just the perfect storyline for a noir title. Brindley writes settings and atmosphere so well. You are taken there and planted as you read. Whether it's a crowded street corner, hospital waiting room, or local ramen diner, you will feel your surroundings.
True to its title, Rainy Season gave me an immediate sense of sadness and danger ahead. When Rich and Miko meet, from the first scene with them together, the author gave me a feeling that perhaps there would not be a happily ever after.
The story progressed quickly, and I was intrigued to read more, read longer. Miko, the sultry jazz singer, is an enigma. Rich wants her despite red flags waving. The author does an exceptionally good job of keeping the reader guessing as to where her loyalties lie.
A thread of mystery flows through the story. I think the author would shine writing thrillers full of secrets, crimes, and heart-pounding scenes. Brindley has a Navy SEAL vigilante title: The Good Kill. While I haven't read that book, I'm sure the action is well done.
I gave the novella four stars because I wish I had known more about Rich's past earlier in the story. I feel I would have connected with the plot more if I could have had a stronger insight into him, his personality, fears, losses. And I'm not exactly sure I agreed with his treatment of Miko.
Pick up this book and decide for yourself as a reader. This is a quick, powerful read. Perfect for in-between longer titles.
Book Reviewer – Jenna
---
Purchase online from:
---
About the Author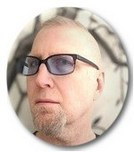 A husband and father of three, Kurt Brindley is also a retired sailor who lives in Southern Pennsylvania in a house on top of a windy and rolling hill. He traveled much of the world while serving in the navy and, aye, he's got some stories to tell…
Kurt served twenty years and four days in the navy and "retired" as a Senior Chief Petty Officer. He has an undergraduate degree in English from the University of Maryland and a graduate degree in Human Relations from the University of Oklahoma.
In 1998, he took a hiatus from his regular duties as a navy telecommunications specialist to attend the U. S. military's Defense Equal Opportunity Management Institute. The institute is little known to most but is internationally renowned to those in the human relations field.
Upon graduation, Kurt was certified as a Navy Equal Opportunity Adviser and assigned the responsibilities of providing diversity management training and equal opportunity consultation and assistance to navy personnel throughout the navy's Western Pacific area of operations.
Much of this work focused on awareness and outreach seminars in an effort to mitigate the harassment and abuse that resulted from the confusion and resentment surrounding the military's Don't Ask Don't Tell policy.
Kurt's assignment as an EOA was one of the most challenging, and rewarding, assignments of his navy career, and it served as the impetus behind much of his early writing, including his novel THE SEA TRIALS OF AN UNFORTUNATE SAILOR and his short story "Leave."



---
What did you think of Rainy Season? Share your thoughts in the comment section below!
---
The above links are affiliate links. I receive a very small percentage from each item you purchase via these link, which is at no extra cost to you. If you are thinking about purchasing the book, please think about using one of the links. All money received goes back into the blog and helps to keep it running. Thank you.
Like us on Facebook – Tweet us on Twitter – Pin us on Pinterest