She Saw What He Did by Lynda Renham – Book Review
She Saw What He Did by Lynda Renham – Book Review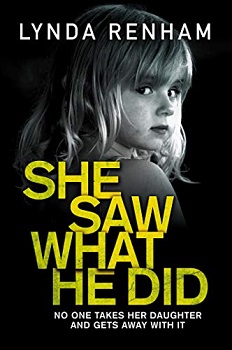 She Saw What He Did
Author – Lynda Renham
Publisher – Raucous Publishing
Pages – 270
Released – 1st February 2019
Format – ebook
Reviewer – Stacey
Rating – 4 Stars
I received a free copy of this book.
This post contains affiliate links.
Abby Miller thought she had the perfect family; a good looking, loving husband and a beautiful daughter. Her life was complete. The shock discovery that her husband, Jared, had been having an affair rocked her world.
So when Jared suggested a short break to the Cannard Islands, to heal their fractured marriage, Abby agreed. An idyllic holiday turns into a nightmare when Abby sees something through the telephoto lens of her camera. Suddenly her life and the life of her daughter are in serious danger and no one seems able to help them.

Husband and wife Abby and Jared Miller have travelled to the Cannard Islands for a short break leaving their daughter Sam with her Grandparents. The couple is really into Geocaching and hires a boat to travel to a nearby uninhabited island where there are Geocaching sites.
Whilst on the little island Abby witnesses an altercation between two men on the beach and watches on in horror as one man pulls out a gun and a fight ensues resulting in one of the men being killed. Unfortunately, the killer notices Abby watching and gives chase. Abby and Jared manage to get away but the man isn't done with them yet. The couple has taken something that is his believing it to be a Geocache find and he needs it back.
The couple reports the incident to the local police but with no evidence that there were two men on the island, nor a dead body, the police are not sure that the couple is telling the truth.
Abby and Jared return home but the killer hasn't finished with them yet and he will use everything in his power to obtain what the couple has taken and finish the job he has been paid for.
I've loved Lynda's books for a very long time, so I was happy to see she had written another and was eager to jump in. The idea behind someone witnessing a murder and the killer going after the witness isn't a new one, but the way that Lynda has written this book gives it a lovely twist as neither actually see the others face and the killer would rather just walk away but his buttons are being pushed by someone higher up and becomes a 'get the item back or die' situation.
There is also the scenario that the police team on the island is sparse, just three officers, as it is a place that the worse crime is sheep breaking out of their field! Though one officer wants to believe the couple and sets out to do her own investigation.
The pace throughout was good and the action played out well. The characters were likeable and believable with one exception the couple's daughter Sam. Sometimes the things she said to me didn't seem right for someone her age, even in the situation she found herself.
There are a few moments in the book that I didn't see coming and there were times when I did wonder where Linda was taking us but the scenes were well thought out and I liked the few surprises that had been thrown in too.
Overall She Saw What He Did is another great thriller by Lynda Renham, I just hope she doesn't give up on writing her comedies as it was these that gave me a love for her work.
Reviewed by Stacey
---
Purchase online from:
---
About the Author

Lynda Renham is famous for her romantic comedy novels. She has been called A Comedian in a Book, Chicklit Royalty and A Comic Genius.
Her writing style has been likened to Sophie Kinsella but is refreshingly down to earth with characters that become your friends. Lynda is a prolific writer, blogger and when not writing can usually be found wasting her time on Facebook.
Lynda lives in Oxfordshire with her second husband and cats.
Want to find out more about Lynda, have a read of our interview – 'The Writing Life of: Lynda Renham'




---
If you enjoyed our review of She Saw What He Did, then please share your thoughts in the comment section below!
---
The above links are affiliate links. I receive a very small percentage from each item you purchase via these link, which is at no extra cost to you. If you are thinking about purchasing the book, please think about using one of the links. All money received goes back into the blog and helps to keep it running. Thank you.