The Start of Something Wonderful by Jane Lambert – Book Review
The Start of Something Wonderful by Jane Lambert – Book Review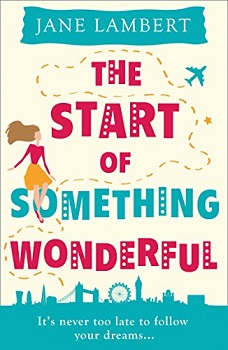 The Start of Something Wonderful
Author – Jane Lambert
Publisher – HQ Digital
Pages – 364
Released – 5th January 2018
Format – ebook
Reviewer – Stacey
Rating – 4.5 Stars
I received a free copy of this book
Post contains affiliate links
It's never too late to follow your dreams…
Forty-year-old air stewardess, Emily Forsyth, thought she had everything a woman could wish for: a glamorous, jet-set lifestyle, a designer wardrobe and a dishy pilot boyfriend. Until he breaks up with her…
Catapulted into a mid-life crisis she wishes she'd had earlier, she decides to turn her life upside-down, quitting her job and instead beginning to chase her long-held dreams of becoming an actress!
Leaving the skies behind her, Emily heads for the bright lights of London's West End – but is it too late to reach for the stars?

Emily Forsyth worked for Amy Air for most of her life, she had the beautiful apartment, flash car, enough designer items to open her own shop and a pilot boyfriend, Nigel, who she loved dearly.
When Nigel announces that he's leaving, Emily takes the news badly. After some pet talking from her friends she realises that it's the perfect time to follow her heart and have a go at being an actress, a job she has always wanted to do, before it's too late, or is 40 too late already?
There has to be some sacrifices, though to becoming an actress including living in someone's backroom instead of the swanky apartment, riding a bike not a flashy car and doing lots of low paid jobs just to bring some money in.
Was Emily right to quit her job and follow her heart? Time will tell.
The Start of Something Wonderful is pure chick-lit and a real joy to read. Emily is a lovely character, far stronger than she thinks she is. I mean, how many of us would have the bottle to change careers at 40? Especially if it meant giving up a life of luxury and stepping into the unknown – not many I would guess.
From the opening chapter to the final page I was captivated by this book. It has that 'just one more chapter' pull, although my only crumble is that the chapters are really long, so that one more chapter could see me sat for another 20 minutes reading, although, that's not something to really complain about!
The plot is filled with lots of amusing scenes, weaved within uplifting, thought-provoking, heart-warming scenes. If you take anything away from this book, it is that it is never too late to follow your dream.
You can tell from the writing that Ms. Lambert has first hand experience of Emily's situation and if this book is anything to go by, as well as acting, she is also a brilliant novelist.
I am looking forward to reading more from Ms. Lambert, and especially more about Emily.
Reviewed by Stacey
---
Purchase online from:
---
About the Author

Jane taught English in Vienna then travelled the world as cabin crew, before making the life-changing decision to become an actor in her mid-thirties. She has appeared in "Calendar Girls", "The Curious Incident of the Dog in the Night-time" and "Deathtrap" in London's West End. "The Start of Something Wonderful" is her debut novel.

---