2084: An Anthology – Book Review
2084: An Anthology – Book Review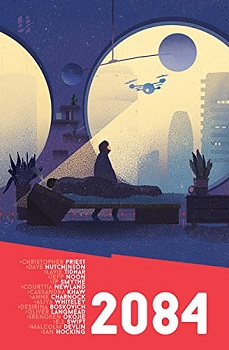 2084
Author – Various
Publisher – Unsung Stories
Released – 1st October 2017
ISBN 13 – 978-1907389504
Format – ebook, paperback
Reviewer – Clive
I received a free copy of this book
Post contains affiliate links
In 1948 Orwell saw a world in flux, at risk of losing liberty so recently won. In response he wrote Nineteen Eighty-Four, a prophetic book. Now, in 2017, the themes are still with us.
This anthology of new short stories draws together leading science fiction writers – famous for their visions of our near future – and asks them to look into our future, to the year 2084.
Put humanity on trial as the oceans rise. Slip over borders in a Balkanised Europe. Tread the bizarre streets of cities ruled by memes. See the world through the eyes of drones. Say goodbye to your body as humanity merges with technology.
Warnings or prophesies? The path to Paradise or destruction? Will we be proud of what we have achieved, in 2084?
Our future unfolds before us.
Review
Here we have fifteen short stories from different authors, all with a pedigree. The stories were specifically commissioned by George Sandison and in his introduction he explains that like Orwell's 1984 this is not a book about the future but an extrapolation of today's society. We therefore have stories based around technology, social media and European immigration alongside the expected space travel and post-apocalyptic themes.
Sandison has chosen well because there is a lot of variety and not a bad story in the collection. One or two I found hard to understand and some appeared to overestimate our development capacity over the following sixty seven years. Every story was the thought-provoking.
Sadly, the other common theme was that they were all gloomy about our future. There was very little humour and not much hope that tomorrow can be better than today. In particular Saudade Minus One was bleak and Fly Away Peter was very dark.
If I had to name two favourites, I would have to recommend Percepi by Courttia Newland which covers the launch of Buddy 3000i, the latest in a line of house robots. The tale compares it to a current day iPhone launch but the consequences are much worse.
The other stand-out was the final story, Christopher Priest's Shooting an Episode which is the ultimate combination of today's passions for reality TV, gaming, gambling and social media.
As an exercise in repeating the ideas of 1984 this book really succeeds; it will challenge your thoughts about the future and about the present time. I am pleased to award 2084 four and a half stars.
Reviewed by Clive

---