Fooling Around with Cinderella by Stacy Juba – Book Review
Fooling Around with Cinderella by Stacy Juba – Book Review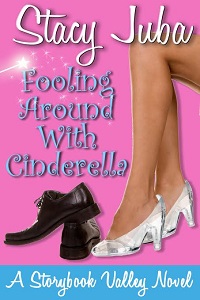 Fooling Around with Cinderella
Storybook Valley #1
Author – Stacy Juba
Publisher – Self Published
Page – 226
Release Date – 6th November 2015
Format – ebook, paperback, audio
Reviewer – Stacey
I received a free copy of this book
Post Contains Affiliate Links

What happens when the glass slippers pinch Cinderella's toes?
When Jaine Andersen proposes a new marketing role to the local amusement park, general manager Dylan Callahan charms her into filling Cinderella's glass slippers for the summer.
Her reign transforms Jaine's ordinary life into chaos that would bewilder a fairy godmother. Secretly dating her bad boy boss, running wedding errands for her ungrateful sisters, and defending herself from the park's resident villain means Jaine needs lots more than a comfy pair of shoes to restore order in her kingdom.
First in the Storybook Valley series, a blend of sweet romance, chick lit, and fairy tale fun.

Jaine Andersen thinks she has found the perfect job at her local theme park – 'Storybook Valley' working as their Marketing Coordinator.
On meeting her potential new boss, Dylan Callahan, Jaine finds that her heart is all in a flutter with Dylan's astonishing good looks and sexiness.
After a stellar of an interview, Jaine is offered the job. There is one catch however, the position isn't available until November. In the mean time, Dylan thinks that he may just have the perfect job for her, playing the part of Cinderella.
With the option of staying at home until November running errands for her twin sisters who put everything, including child care and planning a wedding onto her, Jaine decides to accept – I mean how hard could it be?
"Fooling Around with Cinderella", is a relaxing, easy read that is pure chick lit. It is a sweet story with plenty of fun-loving and comedic moments throughout.
Jaine (spelt with an i so that she wouldn't get called 'plain Jane'), is a lovable young woman. She is hard working, determined and stubborn and once she has an idea in her head, she won't let it go.
Her feelings towards Dylan keep on rising to the surface, but a relationship with the boss is a definite no-no, especially when he's still proving to his parents he can manage the park, and Jaine is trying to stay on their good side, if they have one?
Dylan, you get the feeling used to be a bit of a ladies man, before he lost his job and ended up managing the family owned theme park. He's desperate for his family to see that he can run it successfully. He loves Jaine's ideas and wants to put some in to place, as long as there is enough money in the kitty.
He came across as a very sexy young man, who has his head screwed on, and knew where his loyalties lied. He's also seemed to be quite sensitive.
The book plays out like a fairy tale, with over demanding twin sisters, a fairy godmother, a prince (or two), and a forbidden love. We also have an evil witch, Gabrielle, although I would of loved to of seen her have more of a role in the book.
If you're after a quick read, that will pick you up and put a smile on your face then "Fooling Around with Cinderella" will certainly do that for you.
Book Reviewed by Stacey
Purchase Links


Dylan scrutinized Jaine, arms folded across his royal blue shirt with the Storybook Valley logo stamped over the left in white block letters. "Do you wear contacts?"
"I have plenty of media contacts. Wait. Did you say wear contacts? You mean instead of these?" Jaine fingered the earpiece of her gold-rimmed glasses.
"Right. Contact lenses."
She gave a nervous chuckle. "I scheduled a consultation in college, but was too squeamish to insert the lens. I was more comfortable in glasses."
Was she really justifying her vision enhancement choices to her prospective new boss? Maybe he intended to discuss medical benefits. Or did he think she looked nerdy? What was the saying? Guys don't make passes at girls who wear glasses? Not that she wanted him to make a pass even if he was hot.
"How blind are you without glasses?" Dylan persisted.
"You wouldn't want to drive with me."
"How about if you're walking around a building? Are you in danger of hurting yourself?"
This interview had taken the Mad Hatter Freeway from Fairy Tale Land into Wonderland where nothing made a damn bit of sense. Did this guy have a glasses fetish, like those weirdoes with shoe fetishes?
"I should be okay. I take them off for special occasions." In fact, Jaine's older sister Bree, who was getting married in August, remarked just last week, "You are losing the glasses for my wedding pictures, right?"
What the hell. She'd be a good sport and hope Dylan would be so grateful to pick the brain of a real, flesh and blood, bespectacled person that he would appoint her marketing director. Jaine removed her glasses and the fine details of her surroundings fuzzed. She nodded toward the framed print hanging on a side wall, the picture a wash of symbols and colors. "I can tell that's a park map, but the words and images smear together."
And that was myopia in a nutshell. Jaine adjusted her glasses back into place so she could see his reaction. Dylan examined her with such intensity that a blush stained her cheeks. She patted her blonde French braid, in case stray strands were straggling out.
"Here's the situation," Dylan said. "I took over the general manager position a few months ago. I'm evaluating possible changes and researching how other theme parks run. My grandfather and father have worked with a marketing firm for years to create our brochures, billboards, print, and radio ads."
Jaine's shoulders caved, imperceptible to him, but it felt as if her whole body was sinking.
No fairy tale job ending for her.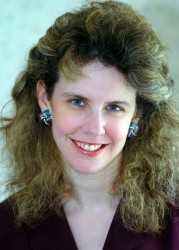 Stacy Juba got engaged at Epcot Theme Park and spent part of her honeymoon at Disneyland Paris, where she ate a burger, went on fast rides, and threw up on the train ride to the hotel.
In addition to working on her new Storybook Valley chick lit/sweet romance series, Stacy has written books about ice hockey, teen psychics, U.S. flag etiquette for kids, and determined women sleuths. She has had a novel ranked as #5 in the Nook Store and #30 on the Amazon Kindle Paid List.
When she's not visiting theme parks with her family, (avoiding rides that spin and exotic hamburgers), or writing about them, Stacy helps authors to strengthen their manuscripts through her Crossroads Editing Service. She is currently writing the next book in the Storybook Valley Series, Prancing Around with Sleeping Beauty.
Author Links