The Girls in the Woods by Helen Phifer – Book Review
The Girls in the Woods by Helen Phifer – Book Review

The Girls in the Woods


The Annie Graham series- Book Five
Author – Helen Phifer
Publisher – Carina
Pages – 277
Release Date – 28th January 2016
Format – ebook
Reviewer – Stacey
I received a free copy of this book
Post Contains Affiliate Links

Don't go into the woods. Because you're in for a big surprise…
In an old album there is a beautiful Victorian photo that captures three young sisters, staring silently at one another. Only the trained eye can see the truth hiding in plain view. One of the sisters is already dead.
Annie Ashworth is currently off duty. With her baby bump growing fast, she is under strict instructions to stay away from police work and look after herself, especially as she has a history of leading danger right to her door. So when her police officer husband, Will, is called to the discovery of a skeleton buried out in the local woods, Annie tries to keep out of the investigation. But as another body is discovered and her own niece suddenly goes missing, staying away just isn't an option.
As Annie is soon to discover, a picture really does tell a thousand stories. But which one leads to a killer?
The gripping new detective thriller that will haunt you

This is the first book that I have read written by Helen Phifer, so I didn't realise until I was part way through the book that this was part 5 in a series. However, this book mainly works as a standalone, though there is information about title character Officer Annie Graham that came as a bit of a shock that I would of known had I read the earlier books in the series.
The book opens in Victorian England 1895 with two young girls being forced to stand next to their dead sister for one last family photograph. It then jumps to 1995, where one young man has become obsessed with the picture so much that he decided to photograph dead people himself, though they might not already of been dead when he met them!!
Moving on to present day, Annie Graham is 6 months pregnant and supposed to be on maternity leave, but when her officer husband is tasked with finding the murderer of a young girl whose skeleton has been found in the woods, Annie can't help getting involved.
Annie Graham is a tough character, who is also exceptionally likeable, the perfect protagonist. Helen's writing is touching and spooky at times. I love the supernatural side to the story which worked really well with the case, and the fingernail biting that you do as you wait to see if Annie can solve the murders.
The Girls in the Woods has a brilliant plot brought together with a superb cast of characters. I just need to go back and read the other Annie Graham books now.
Book Reviewed by Stacey
Purchase Links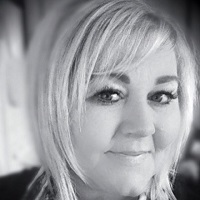 Helen lives in a small town called Barrow-in-Furness with her husband and five children and has done since she was born. It gets some bad press, but really is a lovely place to live. Surrounded by coastline and not far from the beautiful Lake District. She has always loved writing and reading, she loves reading books which make the hair on the back of her neck stand on end. Unable to find enough scary stories to read she decided to write her own.
Her debut novel 'The Ghost House' was published by Carina UK in October 2013 and went on to become a best seller along with the rest of the Annie Graham series. The Secrets of the Shadows, The Forgotten Cottage, The Lake House and The Girls in the Woods. Her next book The Good Sisters which is a stand alone, ghost story is released on the 13th October 2016.
Author Links
www.helenphifer.com
@helenphifer1
Facebook
Pinterest
Goodreads