Rosetta by Simon Cornish – Book Review
Rosetta by Simon Cornish – Book Review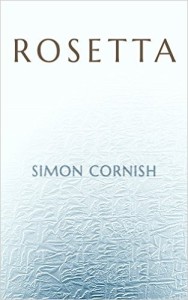 Rosetta
Author – Simon Cornish
Pages – 61
Release Date – 10th February 2015
Format – ebook
Reviewer – Stacey
I received a free copy of this book
Contains affiliate links

Damaged, enigmatic and beautiful, Rosetta could prove to be the key to unlocking a three-thousand-year-old mystery that would shake modern science to its roots.
With the unexpected death of his old university professor, Graham Chandlers travels to Exeter for the funeral. He is surprised to learn the professor had a daughter, Rosetta.
He is even more surprised when she performs a strange ritual at the funeral service. A ritual delivered in an ancient language that only a handful of paleolinguists, Graham included, would have a hope of understanding.
Already intrigued by Rosetta, he is drawn in further when he is left the professor's journals. Journals that hint at a cover up concerning the professor's last dig and a mystery for which Rosetta holds the key. But the more he learns, the more fascinated he becomes with her.

'Rosetta' is a short, six chapter novella following the life of Dr. Graham Charmers, whom whilst attending the funeral of his former boss and Professor of Archaeology, Alan Hargreaves, discovers that Dr. Hargreaves has an adopted daughter, a mysterious young woman, with numerous unusual disabilities, Rosetta.
There is something about Rosetta though that is puzzling Dr. Charmers, especially when she has a strange accent that he can't place, can speak a language that only a handful of people can speak, and has a strong attachment to a shard, one which Dr. Charmers believes to be fake.
With the help of old notes and journals that have been left to him by Dr. Hargreaves noting his archaeological digs, can Dr. Charmers piece together the mystery that is Rosetta? Can The last dig, in Turkey, that Dr. Hargreaves organised, reveal any clues? During his investigation, Dr. Charmers discovers that the Turkish authorities banned Dr. Hargreaves and his team from the dig site without any reason or warning, and Dr. Hargreaves never went on another dig again. What is the significance in this?
The novella is split into six chapters and each has been given a particular town or country title, so that you know where the scenes are taking place.
Dr. Charmers is a very inquisitive man who didn't know anything about Dr. Hargreaves having a daughter, and wants to know why she was kept hidden and why she is very protective of a shard at her home. He's made it his mission to seek out the truth and discover exactly what Dr. Hargreaves was hiding and why, though he may not be prepared for some of the answers.
Dr. Charmers has help in the form of his former colleague, Dr Tim Bell (Tinkerbell). Dr. Bell is an alcohol-swilling, boisterous, immature professor, who at first seems genuinely interested in helping, but as time progresses, his behaviour becomes erratic. Dr. Charmers suspects that he knows more about Rosetta than he's willing to share.
The book is full of mystery and delves in to the past to try to fathom out the truth. It is a great book for those of an inquisitive nature, who are open to all possibilities.
It is cleverly written to give you just enough insight into the mystery through out, to keep you intrigued, and there's an air of romance stirring within the pages.
I did enjoy Rosetta, but it didn't grab me and hold me captive in its pages. My need to find out who Rosetta really was, was the sole reason that I kept on reading. Simon Cornish has done a good job at giving you enough clues, but just not enough to be able to figure out the ending. Well I didn't anyway!
Book reviewed by Stacey
Purchase Links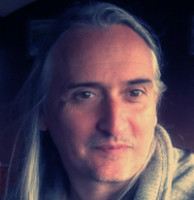 Always a storyteller, both in words and visually, Simon has worked as a professional animator, scriptwriter and illustrator for most of his career.
He has directed commercials, short films and lots of dubious corporate miscellany. A number of his short films have been shown at festivals, garnering several awards. Simon has also created illustrations for industry magazines and children's publications.
Wanting to explore his writing in more depth he undertook an MA in Professional Writing at Falmouth University, graduating in 2011. He has been working on script and prose writing since.
His short story "And God Said" was published in the 2010 Fish Anthology as a runner-up in the One-page Fiction Prize. His spoof article "The Hemmingway Virus" won the Brighton COW Spring Break non-fiction competition in 2011.
In 2014 his short story "The Words" was a runner up in the Fish Short Story Prize, getting an honorary mention and publication in yet another Fish Anthology.
Author links