The Writing Life of: Kerry Fisher
Kerry Fisher
This week on 'The Writing Life of:' I am thrilled to be interviewing author Kerry Fisher. Kerry will be sharing with us detail of her writing life, telling us all about her latest book 'The Island Escape', which was released on 21st May 2015 and answering a few fun questions too. Post contains affiliate links.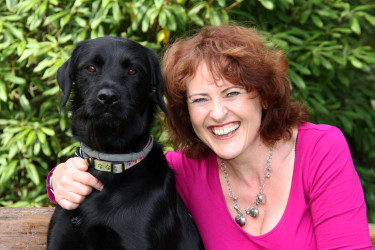 I live in Surrey with a very tolerant husband, two teenage children and Poppy the dog. When I'm not writing, I'm either chasing across the South Downs to stop the dog eating other people's picnics or cooking.
My husband and I have moved around so much that we have friends all over the place and invite lots of people to stay. I'm always happy when I'm cooking a vat of soup or casserole and have lovely friends sitting round my kitchen table, drinking wine.
---
1) Do you remember the moment you decided that you would like to become a writer?
I always wanted to write but it seemed such a lofty ambition for someone ordinary like me, with no connections in the industry, so I never really thought that being an author would be a possibility.
Eventually though, I trained as a journalist and part of my job was reviewing books. I read some fabulous novels and started to read in an analytical way, examining how the authors put their stories together. I decided to have a go myself but of course, I was ridiculously naïve – I had no idea how hard it would be to get published.
2) How did you go about following your dream?
I took creative writing classes with the University of California (UCLA), which runs a brilliant on-line creative writing programme.
After about three years of courses, I gradually got the hang of combining all the elements of a novel – character, setting, plot, conflict, but it still took me five years to get published.
3) Is there a particular author that inspires you?
Kathryn Stockett who wrote "The Help" (the story of black maids in 1960s Mississippi) really inspired me because she helped me see that it was possible to write about serious issues in a funny way.
4) What is your average writing day like? Do you have any strange writing habits?
I have a very demanding Lab/Giant Schnauzer so I have to go to Starbucks to write, otherwise she sees me sitting down and thinks I have nothing to do except play with her.
I don't really have any strange writing habits, more a strange 'listening' habit… whenever I sit on a train, I try to sit near teenagers or women chatting so I can listen to how they speak and what they talk about… very nosy!
5) Do you write Longhand, Type writer, Computer?
Always on a computer – I have no idea how people manage to type out manuscripts without the ability to move things around. I guess they are much more careful with their first drafts.
6) From all your books, do you have a favourite character?
I particularly loved the posh hippie, Clover, from "The School Gate Survival Guide" because she's a bit outrageous and doesn't care what people think about her, but has a really kind heart. She's the person I'd like to be if I wasn't so constrained by trying not to embarrass my kids!
7) Do you plot your books completely before hand or do you let your imagination flow whilst in the writing process?
I know how every book starts and finishes with about twenty key things that happen in between, but not necessarily in which order. Of course (at the risk of sounding pretentious), the characters do sometimes lead you down some unexpected paths.
Concerning your latest book: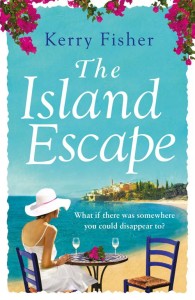 The Island Escape
Author – Kerry Fisher
Publisher – Avon
Pages – 416
Release Date – 21st May 2015
Format – ebook, paperback, audio

Octavia Shelton thought she'd have a different life. One where she travelled the world with an exotic husband and free-spirited children in tow.
Instead she's married to safe, reliable Jonathan, and her life now consists of packed lunches, school runs and mountains of dirty washing. She's not unhappy. It's just that she can barely recognise herself.
So as Octavia watches her best friend's marriage break up, it gets her thinking. What if life could be different? What if she could escape and rediscover the person she used to be? Escape back to the island she visited years ago? And what if the man she used to love was there waiting for her?

8) How long did it take to get from the ideas stage, to the date of publication?
It took so long that I can't even remember when I started "The Island Escape". I got a two-book deal with Avon (HarperCollins) in 2013. They bought "The School Gate Survival Guide" and "The Island Escape" at the same time – both were complete, so I was in the unusual situation that I didn't have to write to a deadline.
I probably started writing "The Island Escape" in about 2011 and it was published in 2015.
9) Did you suffer from writer's block at any stage? How did you overcome it?
I'm very lucky – I don't seem to suffer from writer's block, though there are some days when I sit there like a constipated cow, wondering how on earth I ever managed to write a novel before!
I write 1000 words a day – sometimes very good words, sometimes rather ropey, but I just keep pushing the story forward – if you don't get the story down, there's nothing to improve upon.
10) How did you come up with the name(s)for your lead character(s)?
My favourite names when I was a child were Roberta and Octavia. I just put them down as 'holding' names so I could start writing but in the end, the characters began to fit their names, so I kept them.
11) If your book was made in to a film, who would you love to play the lead character(s)?
That's a really good question. A young Julie Walters-type actress would be brilliant for Octavia – feisty and straight speaking. Julianne Moore would be good as Roberta – I think she could portray Roberta's slightly uptight, perfectionist personality really well.
12) Did you get anyone in particular to read your work before sending it to the publisher i.e family member, friend etc?
'The School Gate Survival Guide' was self-published before Avon picked it up, so I had an array of 'proper' readers.
But before self-publishing, I had a couple of professional critiques, then feedback from some friends whose judgement I trust. Now, I've been lucky enough to find a couple of other authors I work really well with – we read each other's work in the early stages and give honest and constructive advice.
I'm also very fortunate that my agent, Clare Wallace at Darley Anderson, works very hard with me to get the manuscripts into the best shape possible. It's one of the key parts of writing – learning to listen to your feedback without being defensive – though of course, 'absolutely brilliant' would also be really welcome! (I live in hope…)
Author Links