General Falconius Fox and the Roman Invasion of Britain by Andrew Lauder – Book Review
General Falconius Fox and the Roman Invasion of Britain by Andrew Lauder – Book Review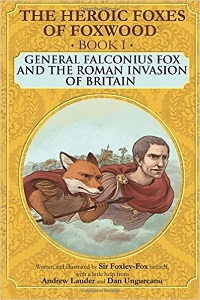 General Falconius Fox and the Roman Invasion of Britain
The Heroic Foxes of Foxwood Book One
Author – Andrew Lauder
Illustrator – Dan Ungureanu
Publisher – Squid Inc Publishing
Pages – 40
Release Date – 4th September 2015
Format – paperback
Reviewer – Stacey
I received a free copy of this book
Post Contains Affiliate Links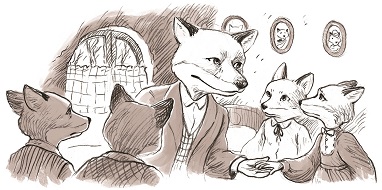 This series of historically based children's books is written in beautiful English, follows much of the UK school history curriculum and is full of exciting and evocative scenes at key moments of British history, with the amazing Foxes of Foxwood as the star characters.
Sir Foxley-Fox is a great story teller and The Heroic Foxes of Foxwood series is all about generations of his family of foxes who have all played a leading role in great moments of British history, dating back to Julius Caesar. Both parents and grandparents will discover amusing, adult orientated nuggets hidden in each book – (hence the tales are for ages 8-108!)- and there are wonderful coloured illustrations by prize-winning artist Dan Ungureanu.
Falconius Fox is a bright young fox living in Rome, with a liking for Roman chickens. When he is caught stealing from a farm belonging to Julius Caesar, his only way to avoid a brutal death is to convince all the other foxes around Rome, NOT to steal the Romans' chickens. Julius Caesar is so impressed that Falconius is witty, speaks several languages and is a very quick thinker, he is invited to invade Britain with Caesar ……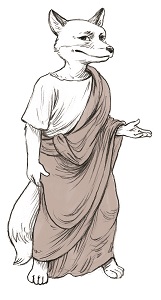 Mr and Mrs Fox were relaxing after a tasty and fulfilling meal, when a lightning storm brought their four young cubs hurtling into the room.
With them now unable to play outside, Mrs Fox persuades Mr Fox to tell the youngsters one of his thrilling stories. Settling the cubs down, Mr. Fox tells them the story of 'General Falconius Fox', the first fox to make a name for himself.
As the young cubs listen in awe, Mr Fox tells them the exciting tale of how Falconius Fox became a general in Julius Caesar's Roman army, by helping to stop all the foxes in Rome, from eating the chickens, and save the Romans from starving to death.
This is the first book in a series of stories aimed at kids from 8-108! Each book tells the story of a famous Fox relative, and incorporates factual events in history, amidst a fun and exciting story, that is supported by beautiful illustrations, drawn by the award-winning illustrator, Dan Ungureanu.
The book is narrated directly to the audience by Sir Foxley-Fox and gets the children (or adults), actively involved in the plot.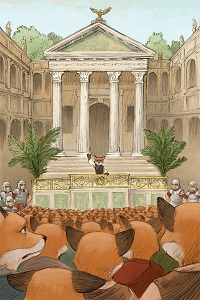 Historically fact story books are a fun and exciting way of engaging children in history and "The Heroic Foxes of Foxwood" is no exception to that rule. Andrew Lauder, or should I say Sir Foxley-Fox, has written the book in such an inventive and amusing way, that children will take on board the factual information from Roman times, without becoming overwhelmed by an overload of input.
The book has everything a child could want to keep them entertained, fantastic characters, a full and exciting plot with plenty of dramatic moments and a little bit of gore here and there.
It has been written with the UK school's history curriculum in mind, and I feel that it would work perfectly with any Roman History lessons that the teachers have in mind, whether to be used as story-time, for the kids to read themselves, or as a tool for something more explorative, such as a drama lesson.
At the back of the book is a quiz all about the story, which will help the kids with their reading comprehension, alongside a list of facts about Roman times.
A wonderful book that will subtly teach, whilst still telling a captivating and impeccable story.
Book Reviewed by Stacey
Purchase Links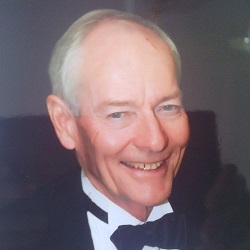 From an early age Andrew Lauder always enjoyed acting, writing poetry and stories and was lucky enough to go to Christ's College at Cambridge University, where he studied French and German both of which he speaks fluently.
His career began in export and was fortunate enough to have had adventures in over 70 countries. For the last 20 years of his business life, he turned companies around from loss to profit, as Managing Director, including Waddington Games.
He now lives in Cyprus with his wife where he is retired. It was after a life-threatening accident just 10 months ago that he realised he wanted to do something for future generations, having been given an extra chance.
His favourite books are the 'Wind in the Willows' and 'The Jungle Book' "so it was only a short step before Sir Foxley-Fox became a real character in my mind" he says. On writing his stories, Andrew adds: "My aim in writing what will be a series of historically based books, is to show everyone from 8 – 108 how much fun history can be and through exciting descriptive scenes, show them the beauty of the English language, all tied in with larger than life foxy characters who have been responsible for great moments in British history!"
Author Links