The Long Way Home by Corrinne Averiss – Book Review
The Long Way Home by Corrinne Averiss – Book Review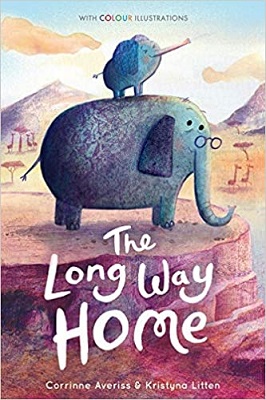 The Long Way Home
Author – Corrinne Averiss
Illustrator – Kristyna Litten
Publisher – Stripes Publishing
Pages – 96
Released – 4th March 2021
ISBN-13 – 978-1788951685
Format – hardcover
Rating – 4 Stars
I received a free copy of this book.
This post contains affiliate links.


Synopsis
A range of simple stories for new readers, with beautiful colour illustrations.
Nanu and Otto are off on a climbing adventure – to the top of Lion Mountain! Otto is a born explorer, just like his grandma, who is brave and bold and can't resist the urge for adventure.
But Nanu is having a forgetting day. She forgets her backpack and the name of the mountain … and then she forgets the way home and leads them deep into the forest.
Can Otto remember all the things Nanu taught him about being a great elephant explorer and guide the expedition home?
A tender story celebrating the importance of keeping memories alive by Corrinne Averiss, the acclaimed author of A DOT IN THE SNOW and THE BOY ON THE BENCH, with illustrations by Kristyna Litten, author and illustrator of CHICKENS CAN'T SEE IN THE DARK.
Little Elephant Otto and his Grandmother Nanu were going on an adventure to 'Lion Mountain'. The young elephant was all excited and Nanu explained that they must pack their backpack for the long journey and have a nice long drink before they set off.
Not long into the journey, Otto notices things about his grandmother that don't seem quite right, such as she calls the mountain by the wrong name and forgets their backpack so they have no lunch to eat. She even forgets which way is home and takes them on a journey to a scary place. Luckily they find help from a gorilla who points them in the right direction.
Otto has to be brave and help his grandmother find their way home. She is getting older and her memory isn't what it used to be but she is still his fearless, adventurous, and loving grandmother.
The Long Way Home is a beautiful story that is about the relationship between a Grandmother and her grandchild and how as she is ageing she is starting to forget things that she used to know and how her grandson realises that her memory might be failing but she is still the same person inside.
The book is a quick read and is adorned with pastel-coloured illustrations that are beautiful and bring the story to life. This is the first in a new range of books for children who have just learned how to read, though there is quite a lot of text so they still might need a hand with some of it.
Overall, the story was super sweet and poignant and I'm sure young readers will enjoy going on an adventure with Otto and his Grandmother Nanu.
Purchase Online From:
---
What did you think of 'The Long Way Home'? Share your thoughts in the comment section below!
---
The above links are affiliate links. I receive a very small percentage from each item you purchase via these link, which is at no extra cost to you. If you are thinking about purchasing the book, please think about using one of the links. All money received goes back into the blog and helps to keep it running. Thank you.
Like us on Facebook – Tweet us on Twitter – Pin us on Pinterest