The Bedtime Book by S Marendaz – Book Review
The Bedtime Book by S Marendaz – Book Review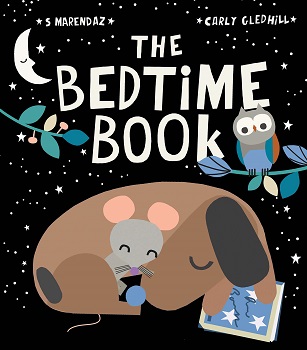 The Bedtime Book
Author – S Marendaz
Illustrator – Carly Gledhill
Publisher – Little Tiger Press
Pages – 32
Released – 4th March 2021
ISBN-13 – 978-1788818766
Format – paperback, hardcover
Rating – 4 Stars
I received a free copy of this book.
This post contains affiliate links.


Synopsis
It's a cool, still night in the garden, but Mouse is not asleep. Someone has taken her bedtime book! Where could it be? And how will she possibly sleep without it?
Join Mouse and Frank the sausage dog on a brilliant bedtime romp.
Frank the Dog was just going to sleep when Mouse came along to ask him had he seen her bedtime book as it wasn't where she had left it and she couldn't sleep without it.
The two friends began to search for the book, but what could have happened to it and will they be able to get it back?
The Bedtime Book is a lovely, sweet story about friends helping and caring for one another. When Mouse loses her book Frank offers to help her find it so that she can read it and go to sleep but it is harder than he expected trying to find it. It is also a book about sharing too.
I loved the dark pages with bright colours to represent the night-time and the illustrations are beautiful to look at and emphasised the tale.
The story felt relaxed, even though the animals were searching for something and the plot flowed nicely. The wording was right for the targeted age group and I loved the ending that came with a little twist.
The book is very adorable and just like its title, this book would make a wonderful bedtime story for youngsters to settle down with.
Purchase Online From:
---
What did you think of 'The Bedtime Book'? Share your thoughts in the comment section below!
---
The above links are affiliate links. I receive a very small percentage from each item you purchase via these link, which is at no extra cost to you. If you are thinking about purchasing the book, please think about using one of the links. All money received goes back into the blog and helps to keep it running. Thank you.
Like us on Facebook – Tweet us on Twitter – Pin us on Pinterest