The Squirrel's Tail by Julian Reisz – Book Review
The Squirrel's Tail by Julian Reisz – Book Review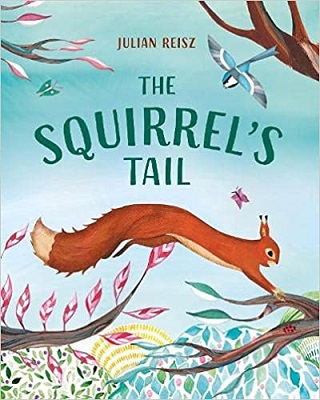 The Squirrel's Tail
Author – Julian Reisz
Illustrator – Alex Beeching
Publisher – Otherwise
Pages – 32
Released – 7th October 2021
ISBN-13 – 978-1999922269
Format – hardcover
Rating – 5 Stars
I received a free copy of this book.
This post contains affiliate links.


Synopsis
When a bouncy little squirrel named Hazel loses her tail, her dad decides to make her a new one. But first he has to venture out into the dark dangerous night to gather everything he needs…
Inspired by a bedtime story the author made up to comfort his daughter, who underwent a series of operations when she was very small, this vibrant picture book celebrates both the extraordinary strength of children as they face life's challenges, and the tireless devotion of their parents.
With a touching father-daughter relationship at its heart, the story takes place in the Great Forest, a magical world teeming with colourful creatures and dazzling lollipop trees.
Hazel the Squirrel was a very adventurous squirrel. She loved roaming the woods, climbing trees, and meeting her friends. One day she came across a very big old oak tree. Hazel wanted to climb the tree. Unfortunately, what goes up must come down.
As she was partway down the worst thing happened, a branch snapped and Hazel tumbled. When she landed with a bump her tail was still in the tree. Oh dear, Hazel is so upset she cried all the way home. Her dad had a great idea, he would make her a new one.
What will Hazel's new tail look like and will she like it?
The Squirrel's Tail is a very sweet children's picture book featuring an even sweeter squirrel. Hazel is so adorable and lovely. She is so full of life and loves everything. She is also very curious and that is how she happened to find herself at the top of the biggest oak tree.
The father-daughter relationship is truly lovely. Her father hates seeing his daughter upset and will happily go out of his way to help her and put the smile back on her face. It is heart-warming to witness.
With its beautiful full-page illustrations that showcase and emphasise the plot perfectly, this is a book that I can see becoming a child's favourite read and asked for over and over again. It is also so charming and captivating that you won't mind how many times you have to read it.
Purchase Online From:
---
What did you think of 'The Squirrel's Tail'? Share your thoughts in the comment section below!
---
The above links are affiliate links. I receive a very small percentage from each item you purchase via these links, which is at no extra cost to you. If you are thinking about purchasing the book, please think about using one of the links. All money received goes back into the blog and helps to keep it running. Thank you.
Like us on Facebook – Tweet us on Twitter – Pin us on Pinterest – Join us on Instagram