The Killing Crew by Murray Bailey – Book Review
The Killing Crew by Murray Bailey – Book Review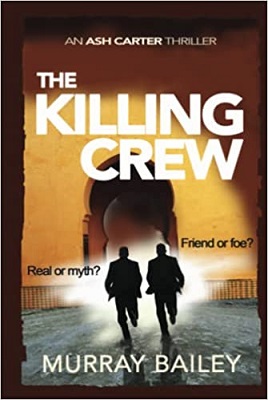 The Killing Crew
Ash Carter Near East Crime-Thriller Book Two
Author – Murray Bailey
Pages – 299
Released – 9th November 2021
ISBN-13 – 979-8763279368
Format – ebook, paperback
Rating – 5 Stars
I received a free copy of this book.
This post contains affiliate links.


Synopsis
Ash Carter and Bill Wolfe are in Israel hunting a group of British Army deserters known as the Killing Crew. Some people think they were a myth, others believe they were the most hated of British soldiers.
In the newly formed state that's at war with the Arab nations, hated by Jews and despised by Arabs, the two SIB officers think they face an uncomfortable task.
But when they become targets they realise this is more than just a job. It's life or death.
The Killing Crew is the second book in the Ash Carter Near East Crime-Thriller series, with book one being 'Cyprus Kiss', which I reviewed earlier in the year.
The series is a historical crime-thriller set in 1948 with military investigator Ash Carter in Cyprus searching for a connection between a gang, a missing woman, and a murder.
In this second book, it is now June 1948 and Ash Carter is in Israel. The State of Israel is at war and most of the British Army has been evacuated but a few remain to find British deserters. Ash and Captain Bill Wolfe are on the hunt for a group of deserters known as 'The Killing Crew' along with fellow officers Finney and Rom.
I really enjoyed this book and especially the history within as the time period was well-described and gave me a clear picture of the era and the setting. All the drama being played out showed exactly how things were in Israel in the late 1940s. Ash Carter is a good guy. I love his character immensely, especially his determination to get to the truth. He has both a sensitive side, such as when he comes across a lady with a young baby in desperate need of food and better lodgings. Then we see his more fierce side as he deals with destruction, cruelty, and violence of war.
The Killing Crew is an excellent read with lots of action throughout. There were a great many twists and turns which kept me on my toes and interested. Plus, this was a real page-turner as I didn't want to put it down once I had begun. I loved the ending too which I presume might mean there will be a book three?
Ash Carter Near East Crime-Thriller series is for anyone who loves a good military action book. It is gritty and dark at times and loving and heartfelt at others. It is also one of the best series I have read.
Purchase Online From:
---
What did you think of 'The Killing Crew'? Share your thoughts in the comment section below!
---
The above links are affiliate links. I receive a very small percentage from each item you purchase via these links, which is at no extra cost to you. If you are thinking about purchasing the book, please think about using one of the links. All money received goes back into the blog and helps to keep it running. Thank you.
Like us on Facebook – Tweet us on Twitter – Pin us on Pinterest – Join us on Instagram