The Trials of Isabella M Smugge by Ruth Leigh – Book Review
The Trials of Isabella M Smugge by Ruth Leigh – Book Review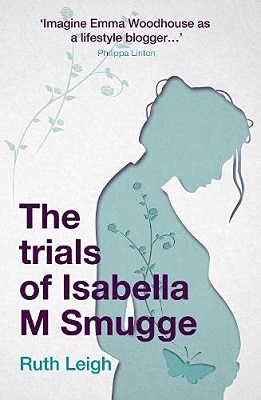 The Trials of Isabella M Smugge
Isabella M Smugge Book Two
Author – Ruth Leigh
Publisher – Instant Apostle
Pages – 256
Released – 22nd October 2021
ISBN-13 – 978-1912726509
Format – ebook, paperback
Rating – 4.5 Stars
I received a free copy of this book.
This post contains affiliate links.


Synopsis
Life in the country isn't going as Issy Smugge planned it. However, the woman Gorgeous Home magazine once called 'Britain's Most Relatable Mum Designer' is nothing if not resilient! With an unexpected baby on the way, a good-for-nothing husband and a mother who never seemed to care but now needs caring for, her hands are full.
Her venal agent and creative socials guru keep work fizzing, but how will she cope with the mysterious village snitch and poisonous gossip columnist Lavinia Harcourt? Discovering others' problems can be far worse than her own, she confronts bizarre church sub-culture and braces herself to use the NHS, rethinking all she thought she wanted.
Could true happiness be just a few hashtags away?
'The Trials of Isabella M Smugge' is the second book featuring social media influencer, Issy Smugge, from the pen of Ruth Leigh. We pick up the story from where the first one finished, with Izzy's near perfect life thrown into turmoil by the desertion of her philandering husband, who has left her for their au pair. A brief ill-judged night of passion with her errant spouse has left Issy pregnant with her fourth child. As time goes by she realises she misses their au pair perhaps more than her husband, Johnnie, as she struggles to hold everything together at home and continue to promote her brand.
The themes from the first book continue through this second instalment with the structure remaining the same with each chapter being devoted to a month of the year. Despite the setbacks in her personal life, Issy is determined to remain relevant and grow her audience. We witness her making decisions Johnnie would disapprove of and start to throw off the emotional control he had exerted over her during their marriage. Her self-awakening continues and by the end we leave a more grounded and empathic Issy Smugge than the image-obsessed influencer we met when she first moved to the country. She's still materialistic but as her fortieth birthday approaches, she strives to be more sincere with her new friends and reconnecting with people from her past. She's also open to new avenues to explore in the future.
The author employs the same literary techniques which worked well with the first book and this sequel doesn't disappoint. I admire the author's ability to take wring so much content out of minutiae and turn it into a tongue-in-cheek account of life which is, at times, hilarious. It is a well-written slick production which although light on plot, does tentatively flirt with some complex issues and is a very easy and entertaining read. The fourth wall approach can be a little disconcerting but in this instance it helps to create the illusion that the character is real and chatting informally with her loyal followers.
Issy's hesitant faith journey will strike a chord with some, as will her relationship with her mother and their changing dynamic. I quite enjoyed the continued malevolent jealousy of Lavinia Harcourt and would have liked a bit more depth to the conflict. Arguably, the school angle is a little thin as a motive for so much vitriol after so many years.
This tale will appeal to anyone who enjoyed this influencer's first outing; if you haven't read it, I would recommend doing so before starting this instalment, as I suspect the way has been left open for another year in the life of Isabella M Smugge.
Purchase Online From:
---
What did you think of 'The Trials of Isabella M Smugge'? Share your thoughts in the comment section below!
---
The above links are affiliate links. I receive a very small percentage from each item you purchase via these links, which is at no extra cost to you. If you are thinking about purchasing the book, please think about using one of the links. All money received goes back into the blog and helps to keep it running. Thank you.
Like us on Facebook – Tweet us on Twitter – Pin us on Pinterest – Join us on Instagram