The Cornish Hideaway by Jennifer Bibby – Book Review
The Cornish Hideaway by Jennifer Bibby – Book Review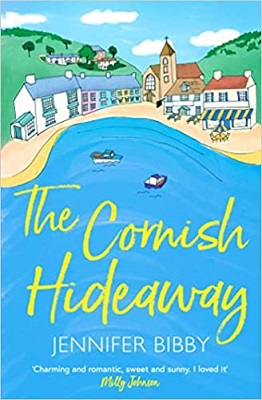 The Cornish Hideaway
Author – Jennifer Bibby
Publisher – Simon & Schuster UK
Release Date – 30th March 2023
Pages – 400
ISBN 13 – 978-1398517813
Format – ebook, paperback
Star Rating – 4
I received a free copy of this book.
This post contains affiliate links.

Synopsis
All Freya has ever wanted to do is paint. So when she fails her Master's Degree in Art, on the same day that her boyfriend decides he needs a 'more serious' partner, to Freya it feels like the end of the world.
Luckily, she has a saviour in the shape of best friend Lola, who invites her to the sleepy Cornish village of Polcarrow, to work in her café. With nothing keeping her in London, Freya jumps at the chance of a summer by the sea.
Freya needs time to focus on herself. But then dark and mysterious biker Angelo blows into town on a stormy afternoon, with his own artistic dreams and a secretive past, and Freya's plans of a romance-free summer fly straight out of the window…
Twenty-seven-year-old Freya dreams of being an artist, passing her degree with flying colours. However, her master's degree is a different story and after all her hard work she fails. Feeling low and sad she heads home to the comfort of her boyfriend Matt, but Matt isn't in a comforting mood and adds to Freya's bad day by dumping her and telling her she has to move out of their shared flat.
Presuming she has to head home to move back in with her parents, she is thrown a lifeline by her friend Lola who offers her a job and somewhere to stay in the Cornish village of Polcarrow. Free spirit Lola has opened up a café and wants Freya to come and help out over the summer. Lola's tarot reading skills tell Freya that not only should she not give up on her dream but a darkly troubled man will be making his way into her life and she is to trust him.
The Cornish Hideaway is the debut novel by author Jennifer Bibby. Set in the gorgeous fictional town of Polcarrow Cornwall and featuring a fabulous array of characters, this book is just a glorious summery read.
The setting gives you that relaxing feeling and the café a warm invite. Freya is a troubled young woman who has had a few knocks to her confidence lately and Lola and Polcarrow are the perfect pick-me-ups for her. Angelo, the dark man coming into her life is too troubled and they worked well together and bounced off one another.
For me though, Lola stole the show. I simply adored her. Plus, elderly ex-fisherman Alf, who is such a sweetheart, and his dog too. There's even a dishy vicar, well you can't leave one of those out in a book set in Cornwall, can you!!
Overall, The Cornish Hideaway is a beautiful story that will touch your heart and leave you feeling happy and uplifted. Once I started I didn't want to put it down and I hope you feel that way too.
---
Purchase Online:
Jennifer Bibby

As a lifelong lover of stories, Jennifer Bibby spent her teenage years wowing various teachers with her historical epics before finding her feet exploring the everyday lives of modern women through literature.
In addition to being a bibliophile she loves classy cocktails, cake and medieval history. She's happiest by the sea and loves to travel, and firmly believes that dinosaurs improve everything. The Cornish Hideaway is her debut novel.
Author Links: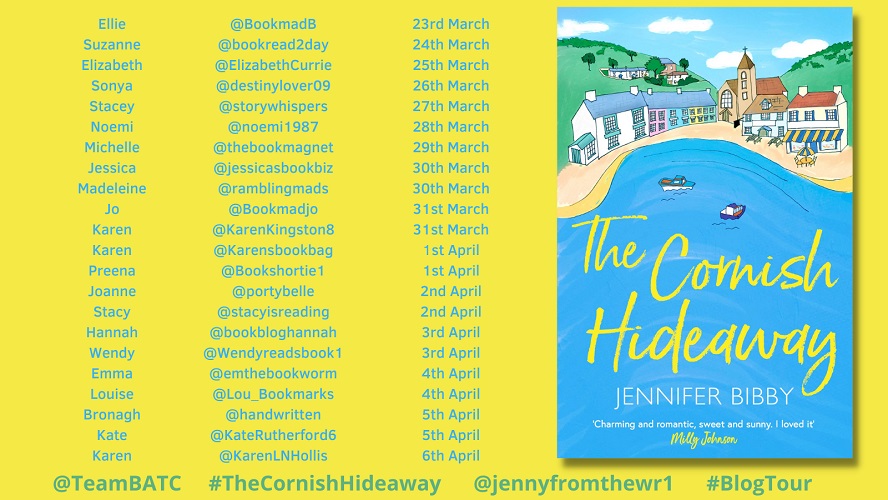 ---
The above links are affiliate links. I receive a very small percentage from each item you purchase via these links, which is at no extra cost to you. If you are thinking about purchasing the book, please think about using one of the links. All money received goes back into the blog and helps to keep it running. Thank you.