Who Stole the Bees' Wings? by Jeff Falyn – Book Review
Who Stole the Bees' Wings? by Jeff Falyn – Book Review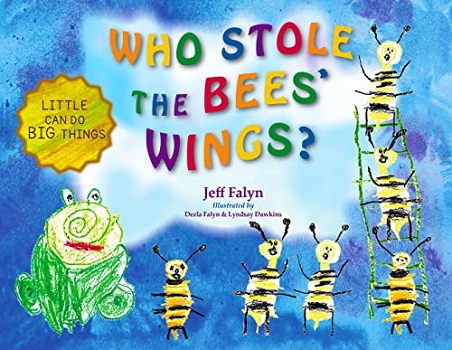 Who Stole the Bees' Wings?
Author – Jeff Falyn
Illustrators – Dezla Falyn & Lyndsay Dawkins
Publisher – Nature's Theater
Release Date – 19th March 2023
Pages – 33
ISBN 13 – 978-1940255064
Format – ebook, hardcover
Star Rating – 4
I received a free copy of this book.
This post contains affiliate links.

Synopsis
Who would be silly enough to steal the bees' wings?
Do you like to smile and giggle?
Join a little frog and his friends on a quirky quest to find the missing wings.
"The bees are gone," says a blue flower. "Will you help me?" Frog thinks he's too little to help, but the animals won't have enough food if the bees don't buzz. Timidly, he agrees.
On his quest, Frog meets a Fox who plays practical jokes and a Know-It-Owl with a Magical Book Tree. Together, they follow the clues until they find a whole bunch of silliness in the forest.
Who Stole the Bees' Wings? is a funny eco-fairy tale about:
Working together when nature is out of balance.
Bad things happen when you make fun of others.
Little can do BIG things.
This playful bedtime story enchants children 4-8, their parents, and level 2 readers and up.
Who Stole the Bees' Wings? is a children's picture book that teaches children how the ecosystem needs bees to survive. The author states that this book is for children 4-8, and their parents. I'm not so sure a four-year-old will fully understand the book, so I would suggest that this book is more aimed at 6-8 year-olds. However, does an eight-year-old want to read a picture book still? I know mine had moved on to middle-grade stories by that age.
In the book, we are introduced to a frog who meets a sad blue flower. The flower tells the frog she is sad because the bees have all gone and without them she can't make her seed babies and tells him to get fox to help him find the bees.
Together the frog and the fox go to Know-It-Owl who helps them to find the bees but when they do their wings are missing – Who could have taken them?
Who Stole the Bees' Wings? is fun, entertaining, and contains lots of factual information, though I am concerned that children may believe what the bees do with their wings each night! The story is quite wordy and takes a while to read, so be prepared for this if you are planning on reading it as a bedtime story.
I have mixed feelings about the illustrations. Whilst I think it is lovely of the author to let a six-year-old do the crayon drawings, and they are certainly age-appropriate drawings, I'm not sure I particularly like them being part of the book. To me, they just don't look right and I would have preferred more professional drawings to bring the book to life. To a child reader, however, they may love them.
Overall, this is a lovely book for teaching children about bees. There is even a page at the back with a message from Know-It-Owl, a section on looking closer at the book, another with questions, and lastly a bit about how the reader can help the bees. I also love the message that runs through the book 'Little can do big things'.
---
Purchase Online:
---
The above links are affiliate links. I receive a very small percentage from each item you purchase via these links, which is at no extra cost to you. If you are thinking about purchasing the book, please think about using one of the links. All money received goes back into the blog and helps to keep it running. Thank you.