Why Elliot has Two Daddies by Julian Ferry – Book Review
Why Elliot has Two Daddies by Julian Ferry – Book Review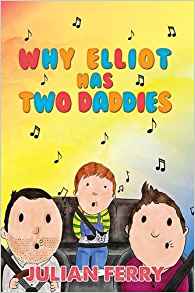 Why Elliot has Two Daddies
Author – Julian Ferry
Publisher – Austin Macauley
Pages – 26
Release Date – 28th April 2017
ISBN-13 – 978-1786298140
Format – ebook, paperback, hardcover
Reviewer – Stacey
I received a free copy of this book
Post Contains Affiliate Links

Once upon a time, Elliot had a Mummy, called Mummy Mim. This is the story of how he ended up with not one, but two daddies…
Review
From the title of the book I was expecting a story about a child being brought up in a diverse family. This is somewhat right, but it is not how I thought the story would go.
Why Elliot has Two Daddies, is about a mum who couldn't look after her son anymore, so she thought about giving him new parents. She, and her friends thought about giving him a new mum and dad, or two mummies, instead they found two daddies to look after him, as his mum didn't want to be replaced.
I presume from the acknowledgement at the beginning of the book that the story is based on real events. It is a lovely short children's book, which has been well written, and has beautiful illustrations from beginning to end. It certainly will grab children's attentions.
The book focuses more on Elliot than the adults. It's about how he goes from being a sad little boy, to a happy one via the help of his new parents.
Hopefully Why Elliot has Two Daddies will help make children understand that not every child lives with a mum and dad. It helps to emphasis that as long as a child is loved and cared for, and that they are happy, this is all that they really need and what matters.
Book reviewed by Stacey
Purchase Links